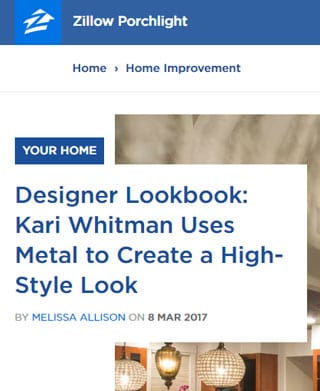 Zillow Porchlight
In this article on interior designer Kari Whitman, she talks about the design elements in her own home in Boulder, Colorado.  One of the features she talks about is the strip of brass feathers on her wall which stretch all the way to the ceiling, emphasizing the height of the vaulted ceilings.  Her love of metal comes through as she touches on the brass port-hole feature which allows for light and air flow in the loft space, matching the feathers opposite them. 
Her love of metal features is also shown in the brass and silver ball bearing curtain which separates the open space.  While she admits that metal curtains aren't for every room, she recommends that instead, ropes can be hung, braided, and customized as a curtain wall of your own creation.
About Kari Whitman Interiors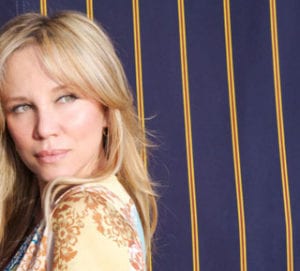 Celebrity interior designer Kari Whitman founded Kari Whitman Interiors in Los Angeles in 1994 as a design build firm specializing in high-end residential interior design. Now based in Los Angeles and Boulder, Colorado, Kari is one of Hollywood's most sought-after interior designer talents. Residential clients including Jessica Alba, Kristen Bell, Melanie Griffith and Antonio Banderas, Nikki Sixx, Justus Parmar, and Don Johnson have embraced her eclectic design style and knowledge of eco-friendly interior design. Kari's expertise also extends into commercial interior design, and projects range from condos to estate homes, boutique hotels to large-scale residential developments. A member of the prestigious American Society for Interior Design,  Kari has showcased prominent design projects throughout California, New York, Denver, Colorado, Aspen, Jackson Hole, Miami, and Dallas. To spend more time in nature, Kari now operates out of her residential interior design office in Boulder, Colorado.