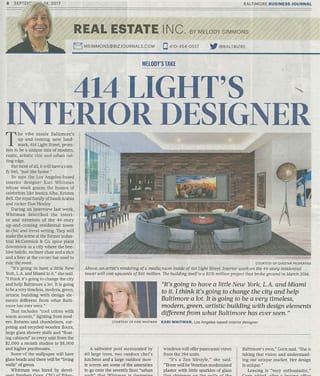 414 Light's Interior Designer
Baltimore Business Journal
In this news article for the Baltimore Business Journal, Los Angeles designer Kari Whitman brings a little bit of LA, Miami, and New York flair to her project at 414 Light Street, the new landmark building in the Baltimore skyline. 
In addition to living walls, custom glass tiling, and chandeliers throughout the building, Whitman also included an outdoor area with a cinema, pool, and two chef's kitchens, as well as a park right inside the building for tenants to grow their own gardens.  The design costing upwards of 50 million dollars, this building takes elements of bi-coastal vision to create a zen living space that is chic, timeless, modern, and green, and brings a new style to the city of Baltimore.
Click here to view the article
Originally published in the Baltimore Business Journal
About Kari Whitman Interiors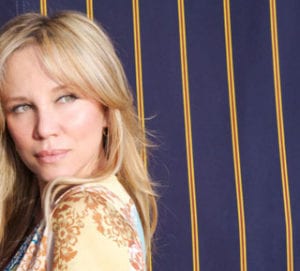 Celebrity interior designer Kari Whitman founded Kari Whitman Interiors in Los Angeles in 1994 as a design build firm specializing in high-end residential interior design. Now based in Los Angeles and Boulder, Colorado, Kari is one of Hollywood's most sought-after interior designer talents. Residential clients including Jessica Alba, Kristen Bell, Melanie Griffith and Antonio Banderas, Nikki Sixx, Justus Parmar, and Don Johnson have embraced her eclectic design style and knowledge of eco-friendly interior design. Kari's expertise also extends into commercial interior design, and projects range from condos to estate homes, boutique hotels to large-scale residential developments. A member of the prestigious American Society for Interior Design,  Kari has showcased prominent design projects throughout California, New York, Denver, Colorado, Aspen, Jackson Hole, Miami, and Dallas. To spend more time in nature, Kari now operates out of her residential interior design office in Boulder, Colorado.