Kari's Top Tips for Cat and Dog-Friendly Design
Choose washable paint with a Satin Finish instead of Flat which will resist marks and keep your walls looking fresh and clean for longer.
When choosing upholstery, select colors that closely match your dog. If you have a white dog, pick a white or light-colored fabric. If you have a multi-colored dog, patterns and tweeds are less likely to show signs of shedding.
Use stain-resistant fabrics such as Crypton, or opt for washable fabrics like Ultrasuede or Pleather, which look like the real thing and are animal and environmentally friendly. You can find these faux hides in a wide variety of colors and textures (from Ostrich to Snakeskin).
In feeding areas, hard surfaces are your best option. Ceramic tile, concrete and laminate flooring are recommended.
Choose a feeding station that not only matches your décor, but allows your dog to stand in an upright position, as it will be easier on his joints. There are a variety of options on the market in wrought iron, wood, and faux stone. You should also choose a feeding station that doubles as a storage container for convenience.
Find a unique storage bin for your dog's toys such as a large basket or a vintage crate to keep from losing your pet's favorites and to keep order in your house.
If you choose hardwood flooring, Beech, Bamboo or Recycled Teak are all hardwoods that will be more scratch resistant than other varieties of wood. I love Bamboo Flooring Hawaii for beautiful, Eco-Friendly Bamboo flooring.
Place slip resistant mats on the floors inside and outside of doggie doors to reduce the amount of dirt and debris being tracked into your home.
If you plan on bathing your pet at home, install a handheld shower spray in the bathroom or try something more adventurous like I did with Kristen Bell's Outdoor Doggie Oasis.
Looking to add a cat tree to your home or office area? Laura Murphy from Consumer Reports wrote a wonderful article detailing Kari's expert tips to help you find the right cat tree.
About Kari Whitman Interiors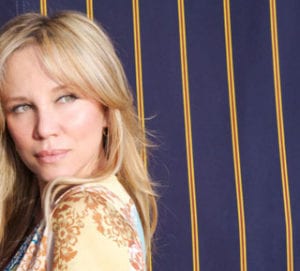 Celebrity interior designer Kari Whitman founded Kari Whitman Interiors in Los Angeles in 1994 as a design build firm specializing in high-end residential interior design. Now based in Los Angeles and Boulder, Colorado, Kari is one of Hollywood's most sought-after interior designer talents. Residential clients including Jessica Alba, Kristen Bell, Melanie Griffith and Antonio Banderas, Nikki Sixx, Justus Parmar, and Don Johnson have embraced her eclectic design style and knowledge of eco-friendly interior design. Kari's expertise also extends into commercial interior design, and projects range from condos to estate homes, boutique hotels to large-scale residential developments. As an Allied Member of the prestigious American Society for Interior Design (ASID), and a member of the Interior Design Society and the International Interior Design Association, Kari has showcased prominent design projects throughout California, New York, Denver, Colorado, Aspen, Jackson Hole, Miami, and Dallas. To spend more time in nature, Kari now operates out of her residential interior design office in Boulder, Colorado.