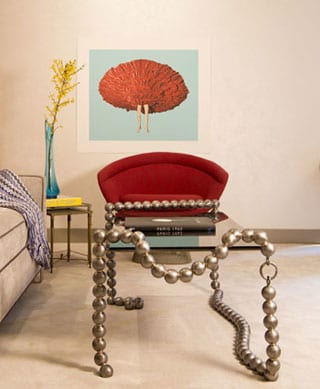 Ball Bearing "Necklace" Table
This chic and unique table was inspired by a piece Kari saw while traveling through France. Perfect for a sitting room, or any space you want to add a fun focal point, the Ball Bearing "Necklace" Table is available in solid stainless steel or brass, or a mixture of the two.
Custom sizes available.
List Price: from $3700 (3'D x 4'L)
Ships in 10-12 weeks.
Mid Century Modern Desk
A replica of a Leon Rosen piece, this stunning desk has stainless steel legs and a gorgeous Macassar Ebony wood top. Notable design elements include the cut out detail on the desk legs and the dramatic striped appearance of the desktop.
Custom sizes and various sustainable wood desktops available.
List Price: from $5200 (6'L x 4'D).
Ships in 10-12 weeks.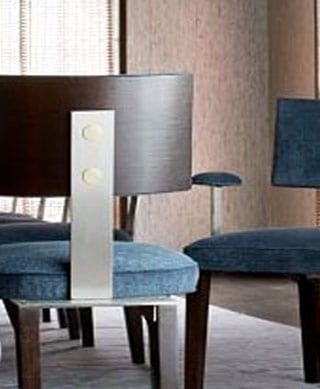 Madilu Dining Chairs
Evocative of mid century design with a traditional twist, the chairs were inspired by pieces Kari admired from around the world. Constructed from stainless steel with brass accents, these are available as arm chairs or side chairs. Cushion fabric available in an array of colors of mohair, or can be upholstered COM.
List Price: $2300 for side chairs; $2600 for arm chairs.
Please contact us for fabric samples.
Ships in 10-12 weeks.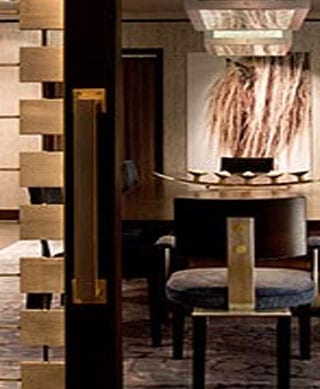 The Morrison Door
This original stainless steel and Macassar Ebony wood door is set off with brass accents. The eye-catching portal must be framed sufficiently due to its weight.
Custom sizes are available.
List price: $5000-$20,000 (12'L x 8'H).
Ships in 10-12 weeks.
About Kari Whitman Interiors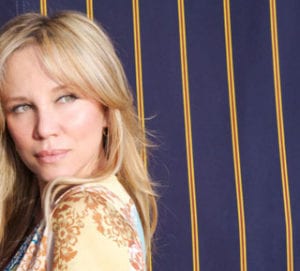 Celebrity interior designer Kari Whitman founded Kari Whitman Interiors in Los Angeles in 1994 as a design build firm specializing in high-end residential interior design. Now based in Los Angeles and Boulder, Colorado, Kari is one of Hollywood's most sought-after interior designer talents. Residential clients including Jessica Alba, Kristen Bell, Melanie Griffith and Antonio Banderas, Nikki Sixx, Justus Parmar, and Don Johnson have embraced her eclectic design style and knowledge of eco-friendly interior design. Kari's expertise also extends into commercial interior design, and projects range from condos to estate homes, boutique hotels to large-scale residential developments. As an Allied Member of the prestigious American Society for Interior Design (ASID), and a member of the Interior Design Society and the International Interior Design Association, Kari has showcased prominent design projects throughout California, New York, Denver, Colorado, Aspen, Jackson Hole, Miami, and Dallas. To spend more time in nature, Kari now operates out of her residential interior design office in Boulder, Colorado.