Kari Whitman: Eco-Friendly Designer to the Stars
Window Fashion Vision / Jan/Feb 2019
In this article from Window Fashion Vision, Kari Whitman talks about her start as a designer, and her focus on green, ecologically friendly design strategies.  She talks about some of the projects that she uses these strategies for; In Jessica Alba's house, she cut down and re-modeled the frame of an old couch to make a totally new one so she "wouldn't have to cut down a whole tree for a couch". 
She also talks about how to source green materials- it's difficult to find certified green products, and requires time and research.  But she is slowly turning even her most stubborn clients into converts- by presenting them with both green and non-eco-friendly products, most clients make the right choice when they are educated about their choices.
The article also covers her company, Wall Makeup, which allows the customer to customize their own paint colors with an at-home tint system.  This helps reduce the amount of paint that goes unused, because paint is difficult to recycle.  Go green!
Originally published in Window Fashion Vision
About Kari Whitman Interiors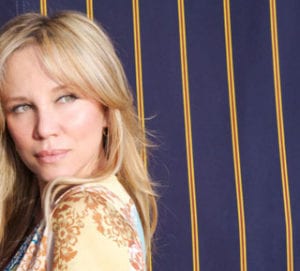 Celebrity interior designer Kari Whitman founded Kari Whitman Interiors in Los Angeles in 1994 as a design build firm specializing in high-end residential interior design. Now based in Los Angeles and Boulder, Colorado, Kari is one of Hollywood's most sought-after interior designer talents. Residential clients including Jessica Alba, Kristen Bell, Melanie Griffith and Antonio Banderas, Nikki Sixx, Justus Parmar, and Don Johnson have embraced her eclectic design style and knowledge of eco-friendly interior design. Kari's expertise also extends into commercial interior design, and projects range from condos to estate homes, boutique hotels to large-scale residential developments. A member of the prestigious American Society for Interior Design,  Kari has showcased prominent design projects throughout California, New York, Denver, Colorado, Aspen, Jackson Hole, Miami, and Dallas. To spend more time in nature, Kari now operates out of her residential interior design office in Boulder, Colorado.