Nikki and Courtney Sixx | Jackson Hole, WY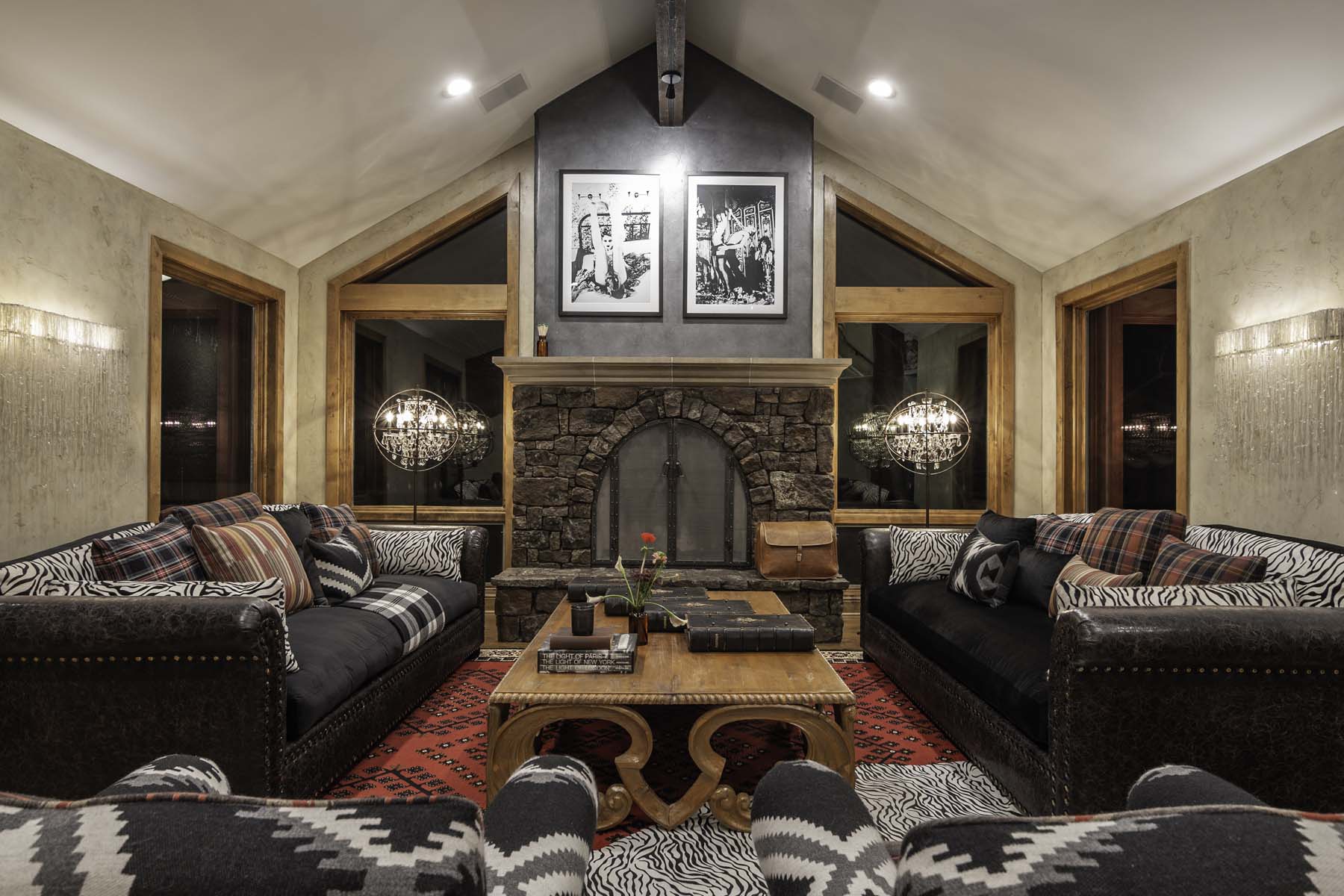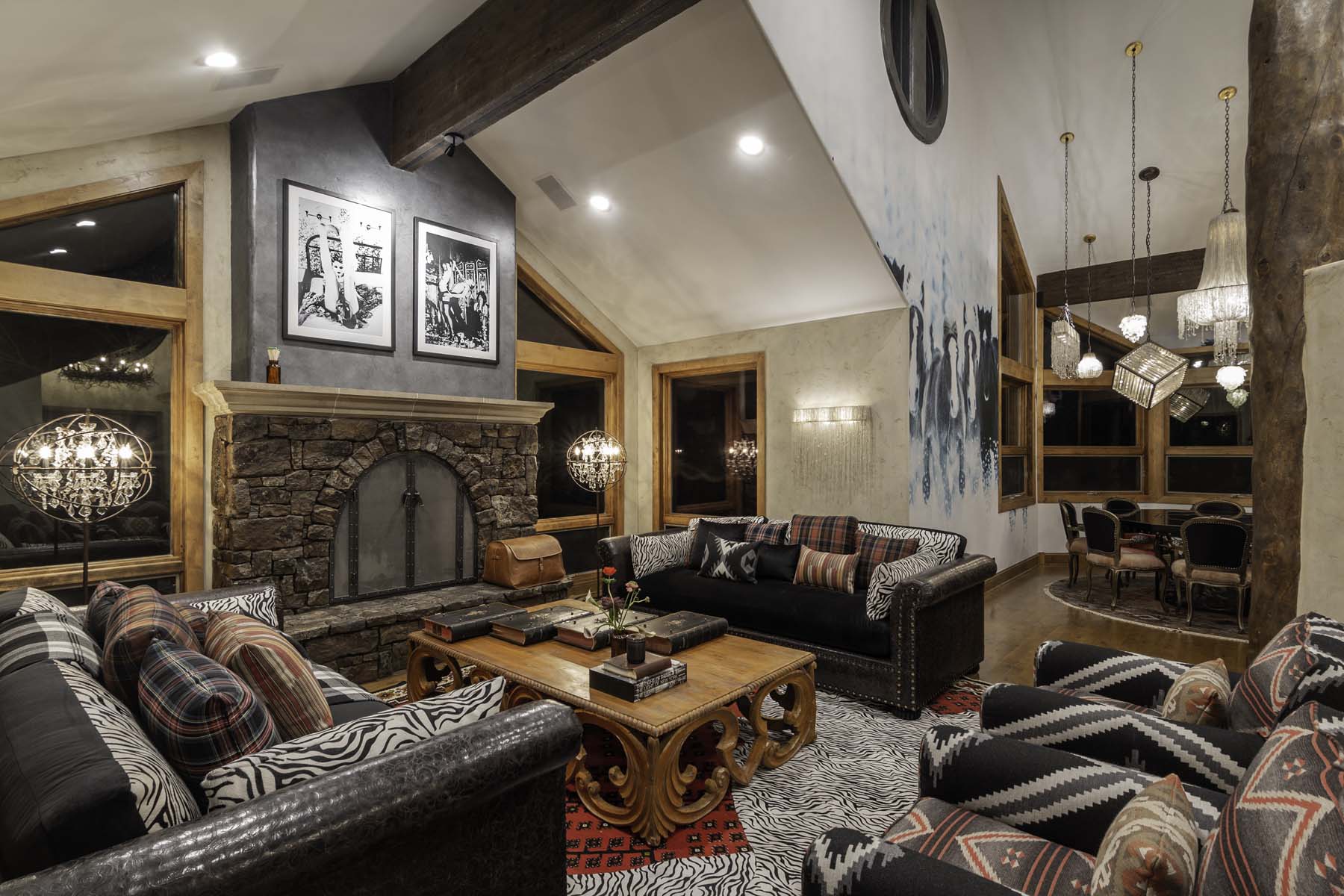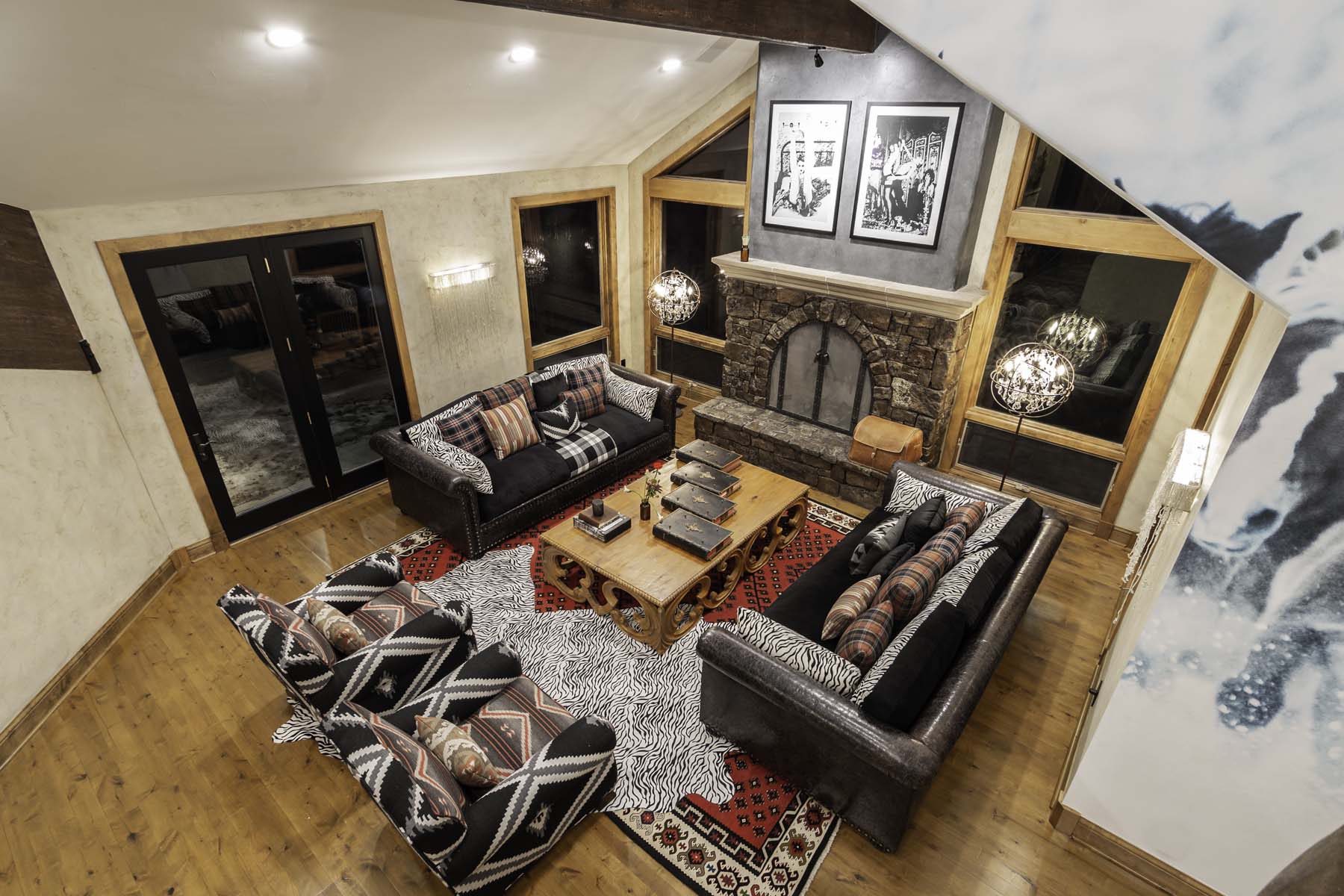 Celebrity designer Kari Whitman used wood, leather, and animal print, juxtaposed with high end finishes, crystals, and Ralph Lauren accents, bring together high end design and the Western aesthetic- perfect for this rockstar's home in Wyoming.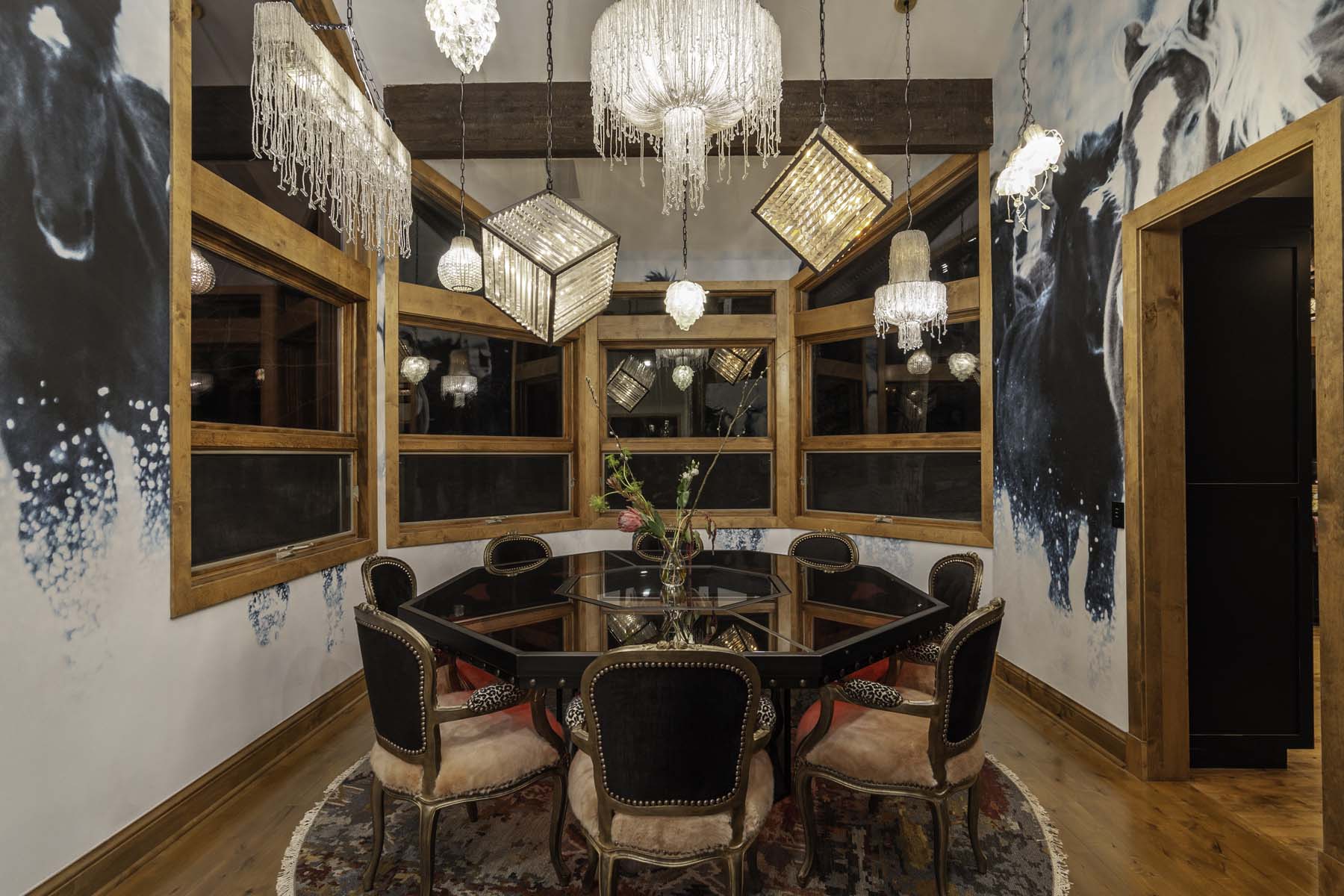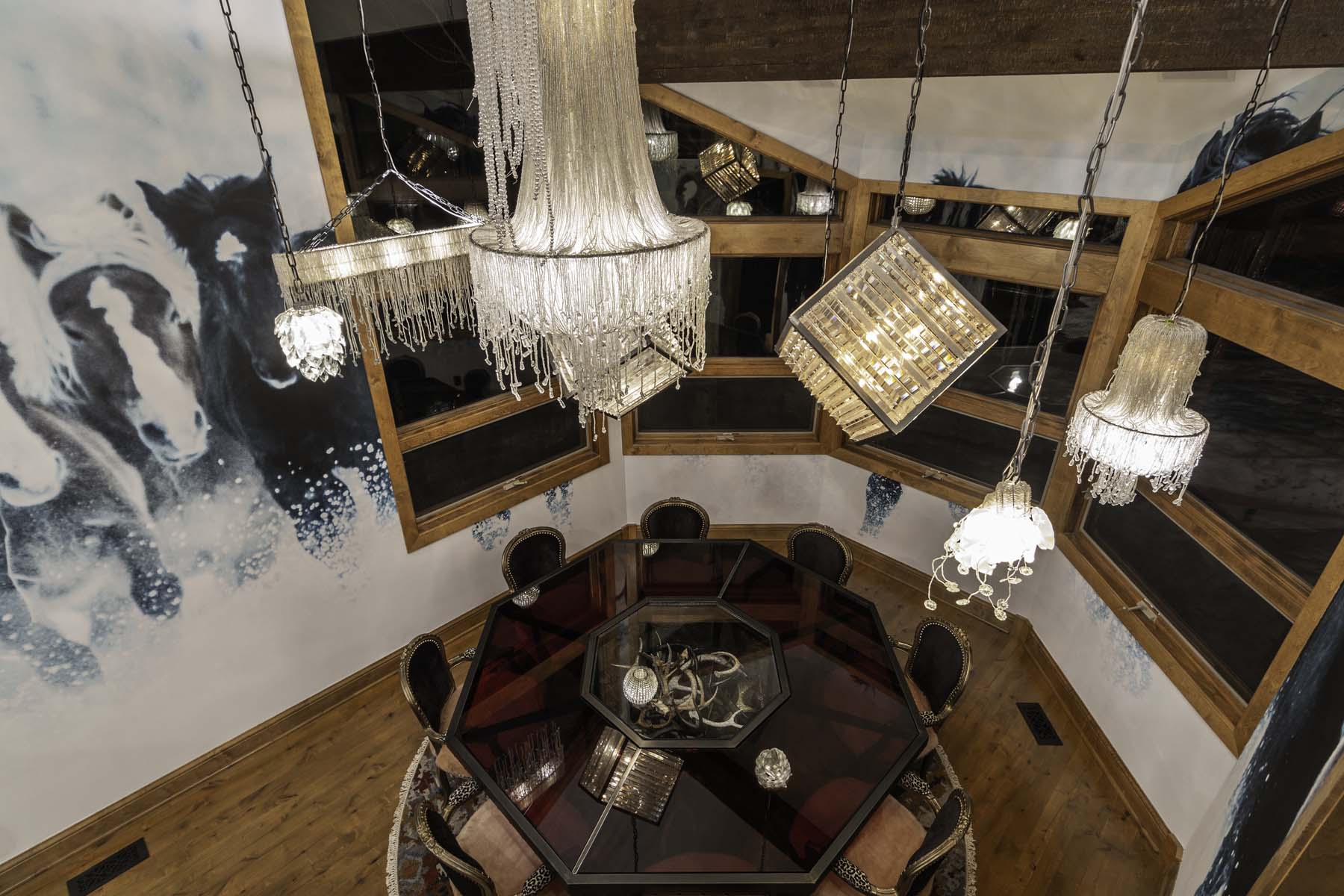 Modern lighting above a custom glass table designed by KWI brings chic elements to a dining room for a rockstar meets Western feel. A custom horse mural and real antler accents bring in the Wyoming feel to the space.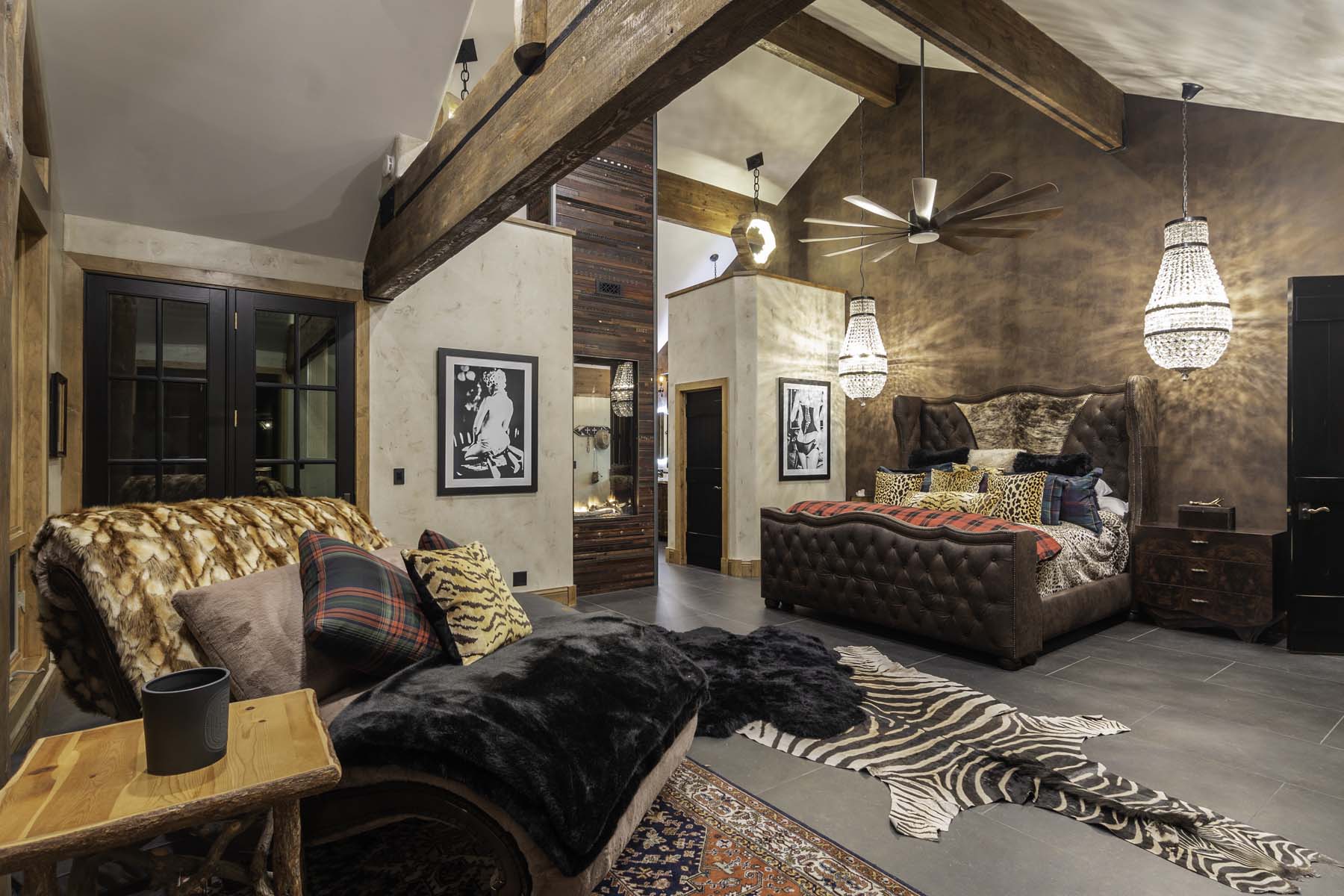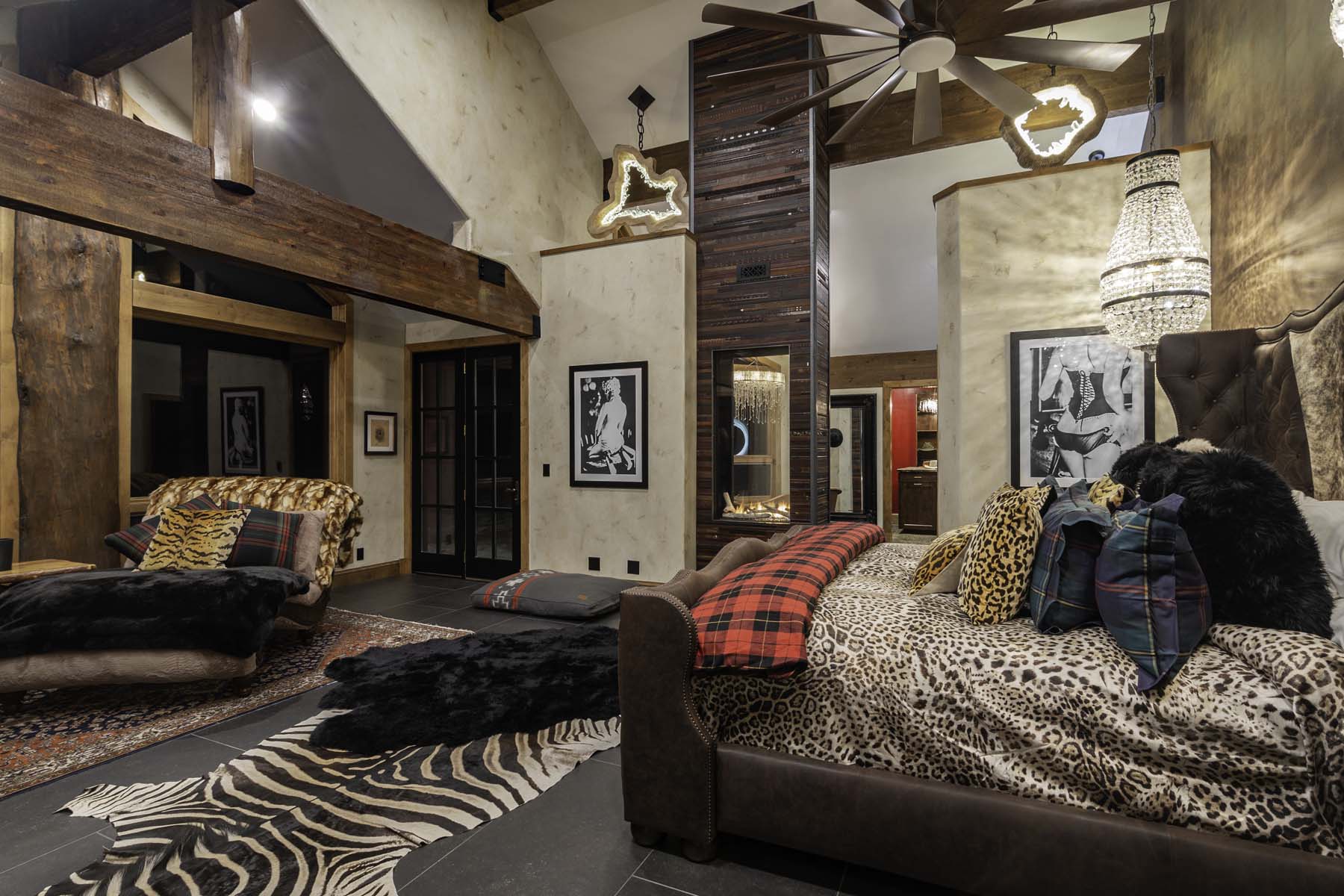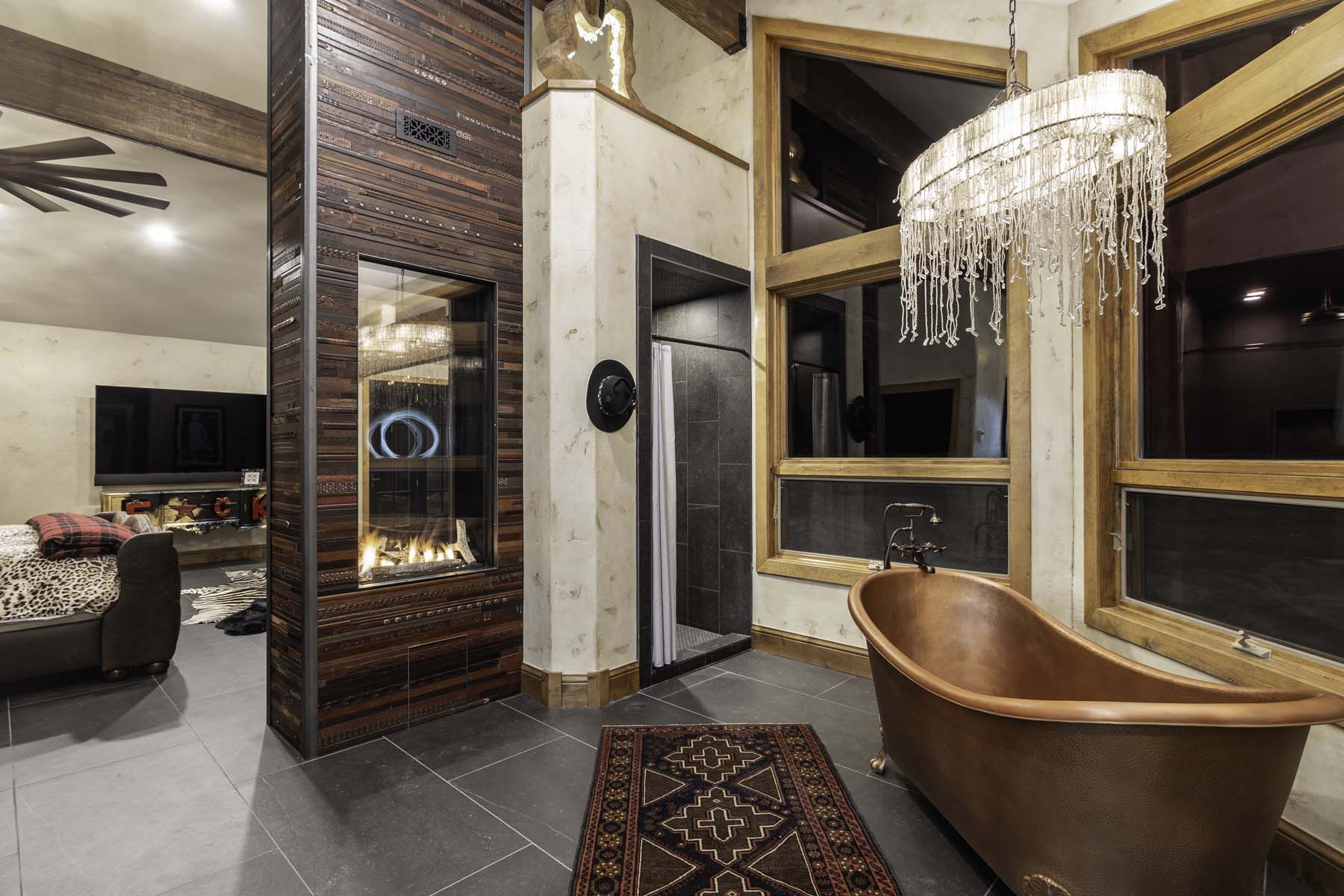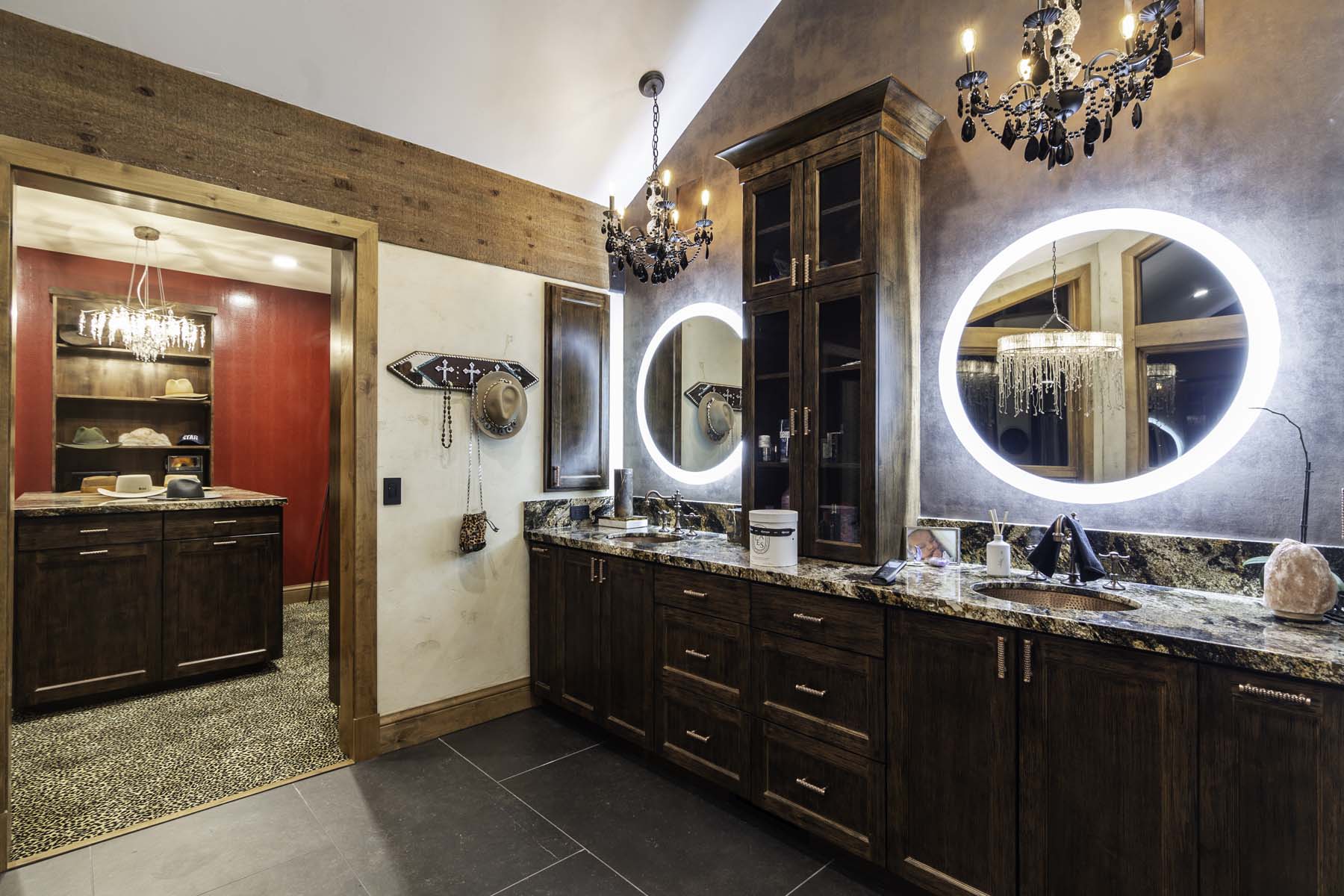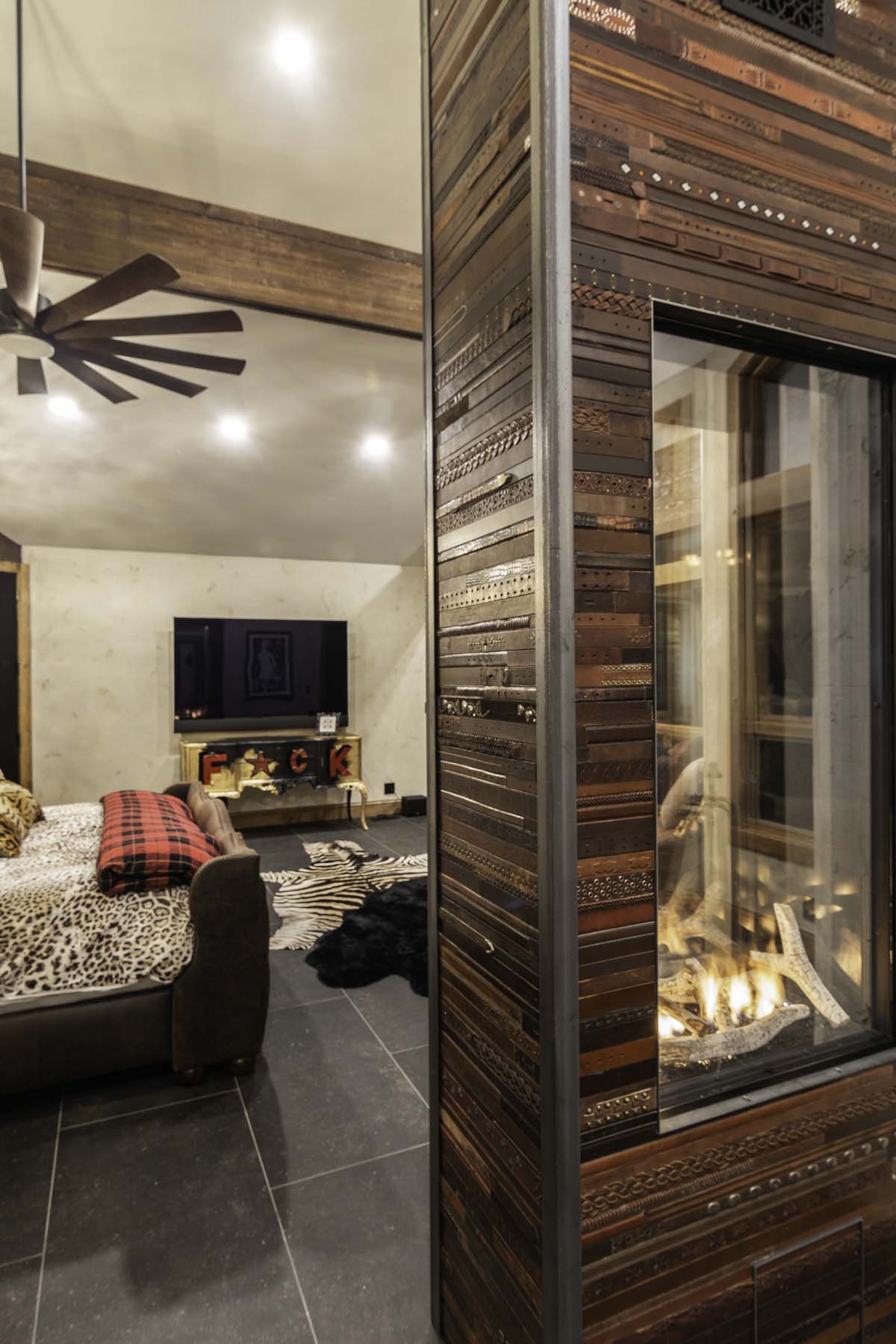 Although the master suite is full of wide open space, plenty of faux furs and rugs make the room feel cozy. With custom pieces like the Jimmie Martin F*CK piece and belt panels by EcoDomo, this room is a wild one. A copper soaker tub and look-through fireplace bring comfort and refinement to the space, and animal print with chandeliers framing the bed make this a bedroom fit for a rockstar! In the bathroom, black crystal chandeliers and a custom marble counter add refinement and interest to the room.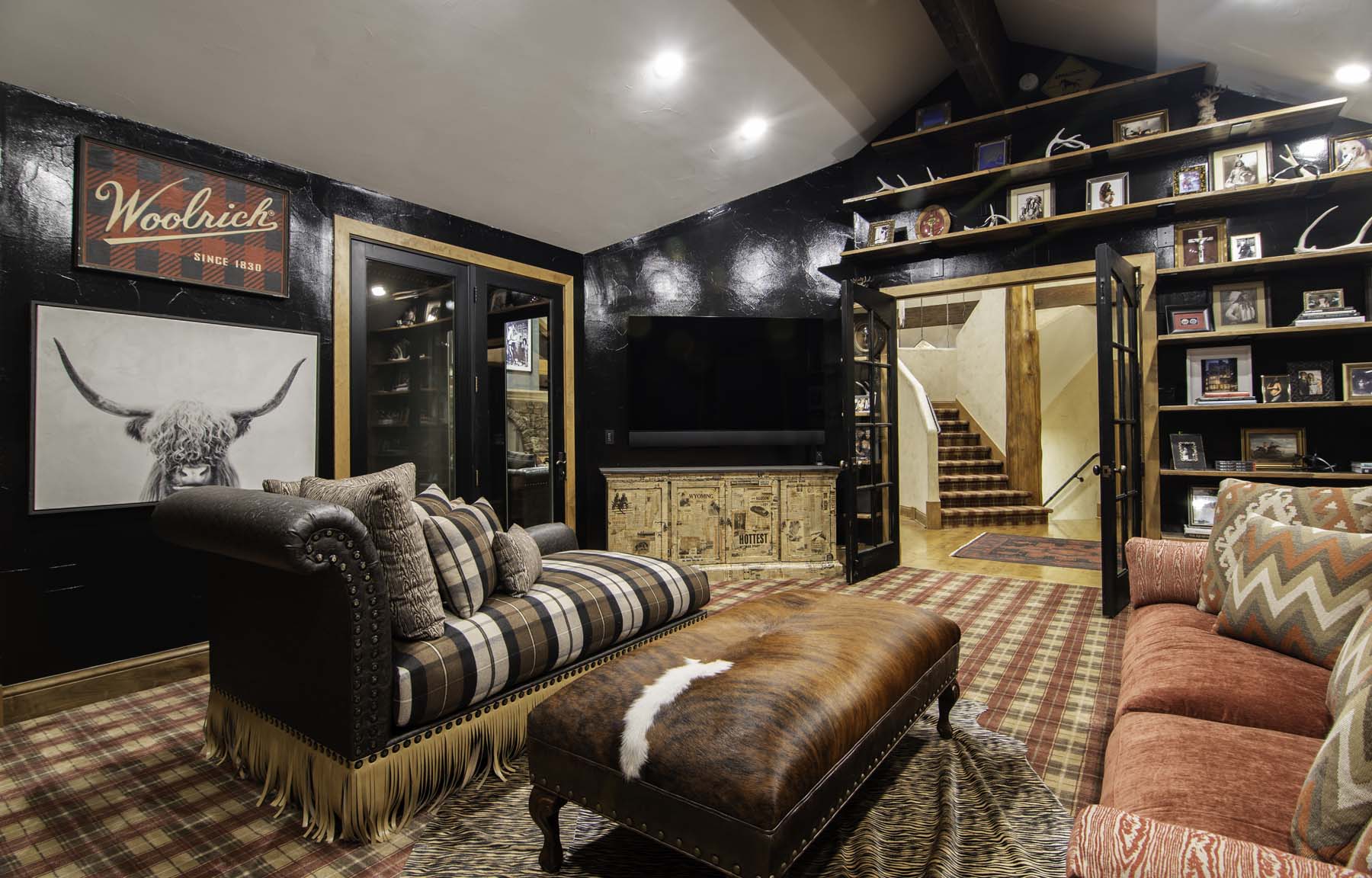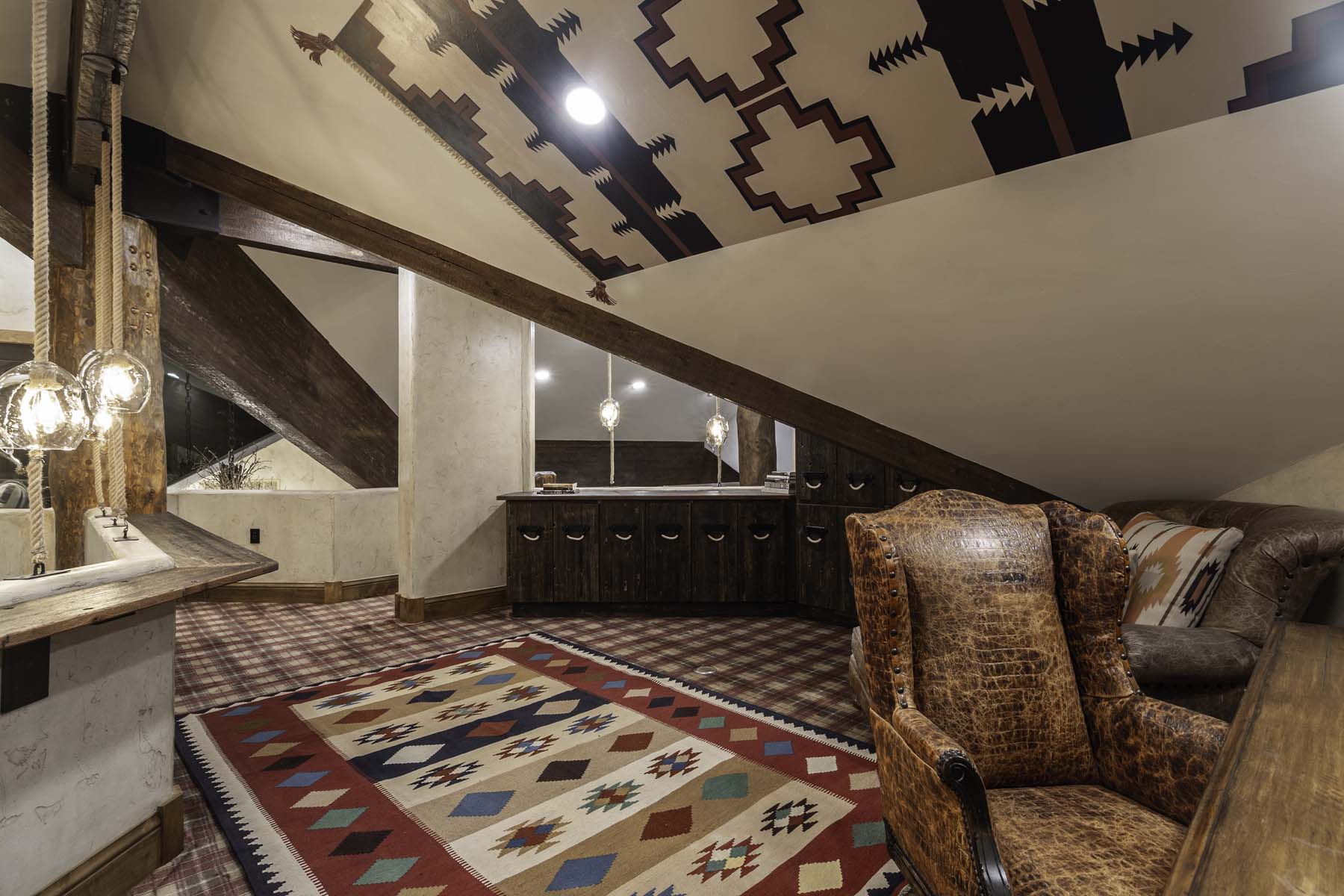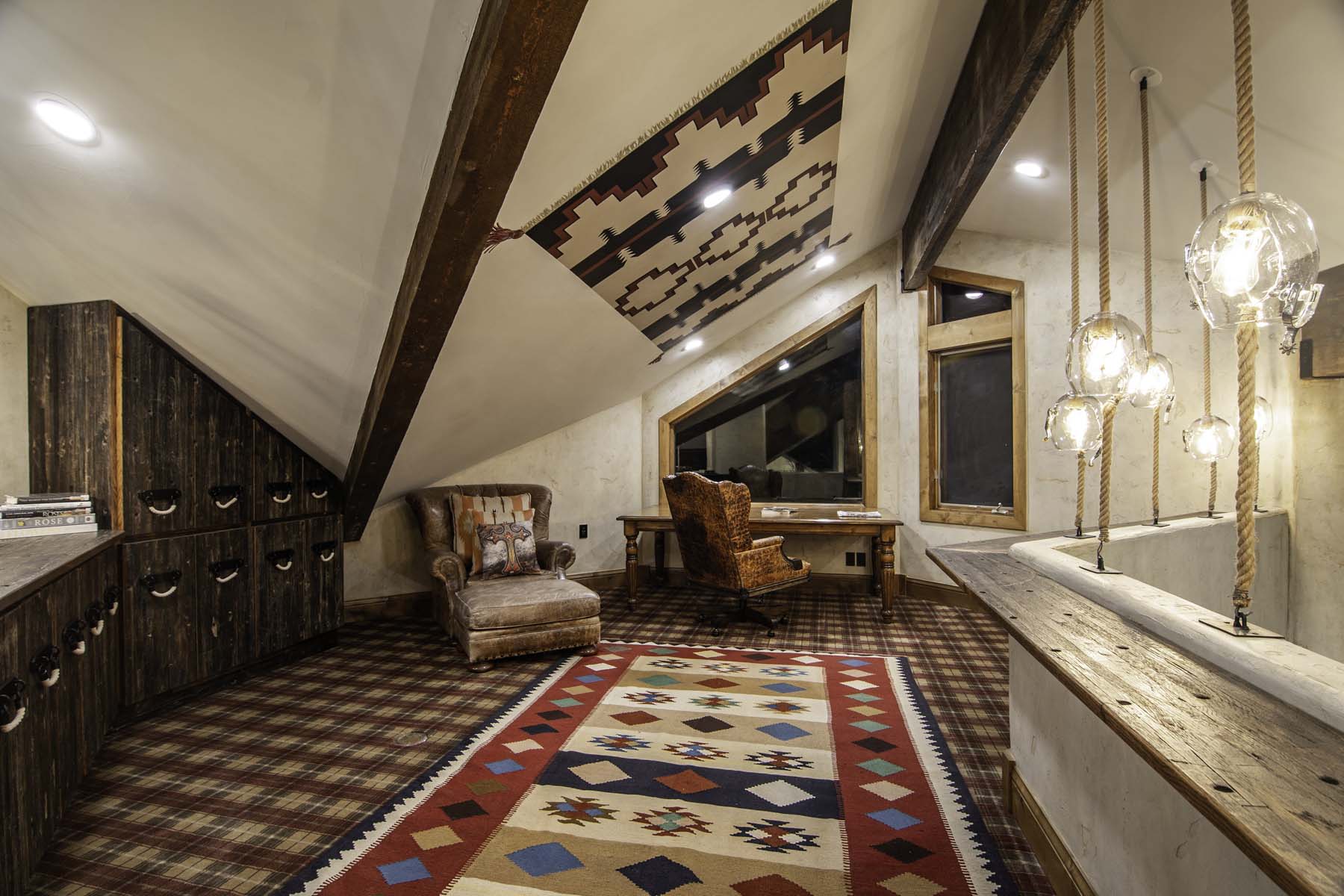 Designer Kari Whitman used plaids and patterns to make the natural wood finishes here pop and shine, while details like custom spur rope lamps and a hand painted ceiling mural bring the energy of "out west" into the living spaces. Of course, comfortable and beautiful seating makes these spaces both useful and stylish.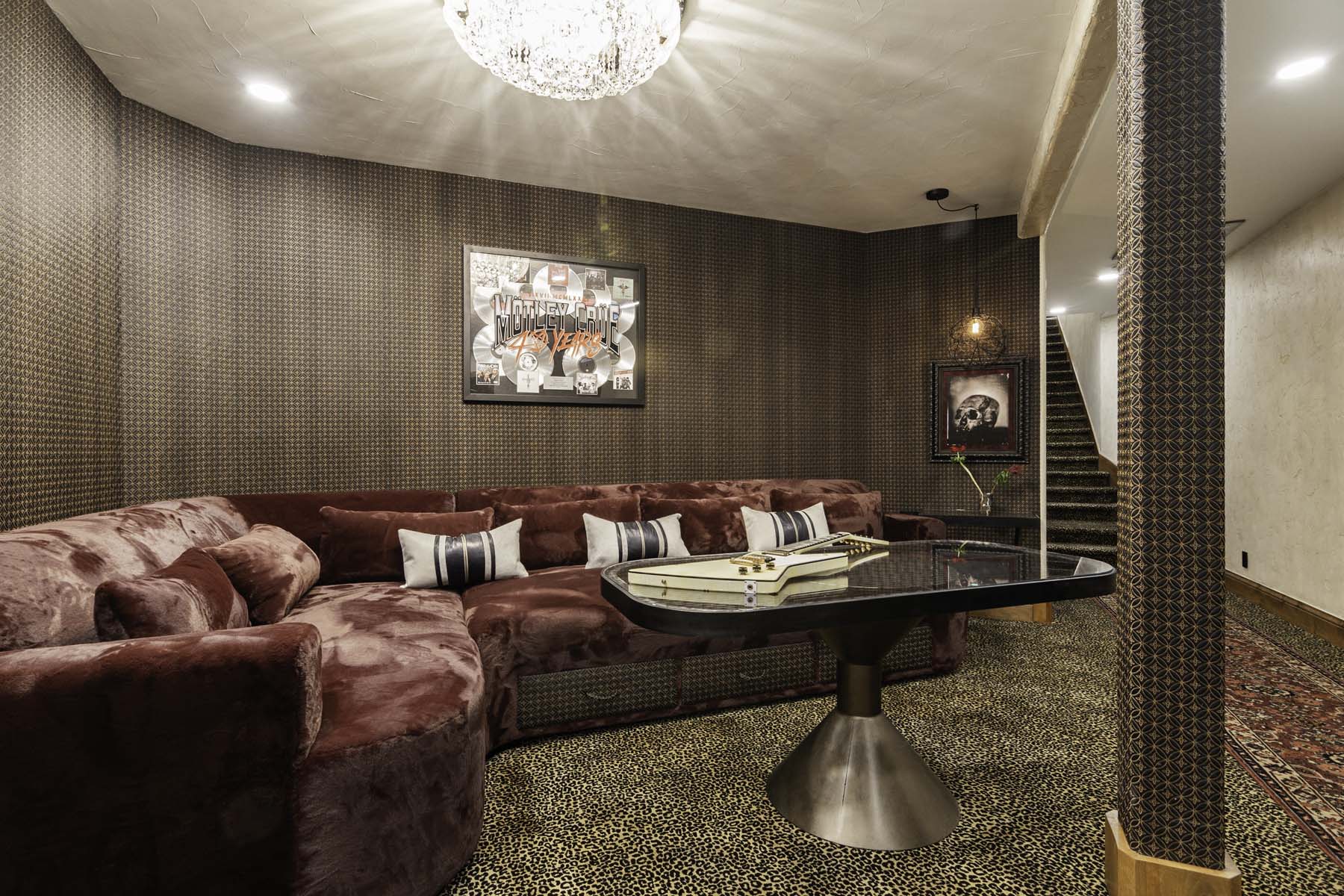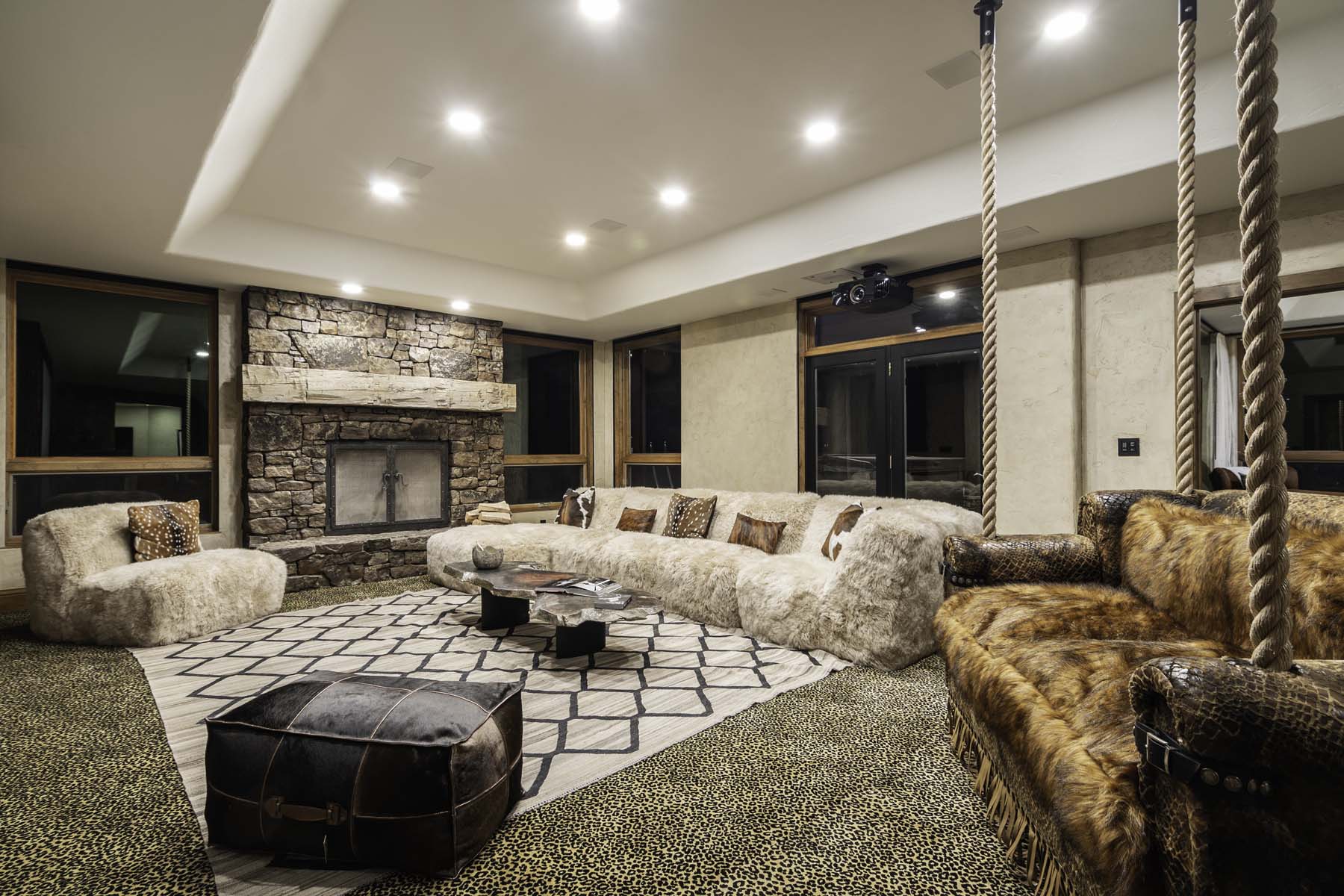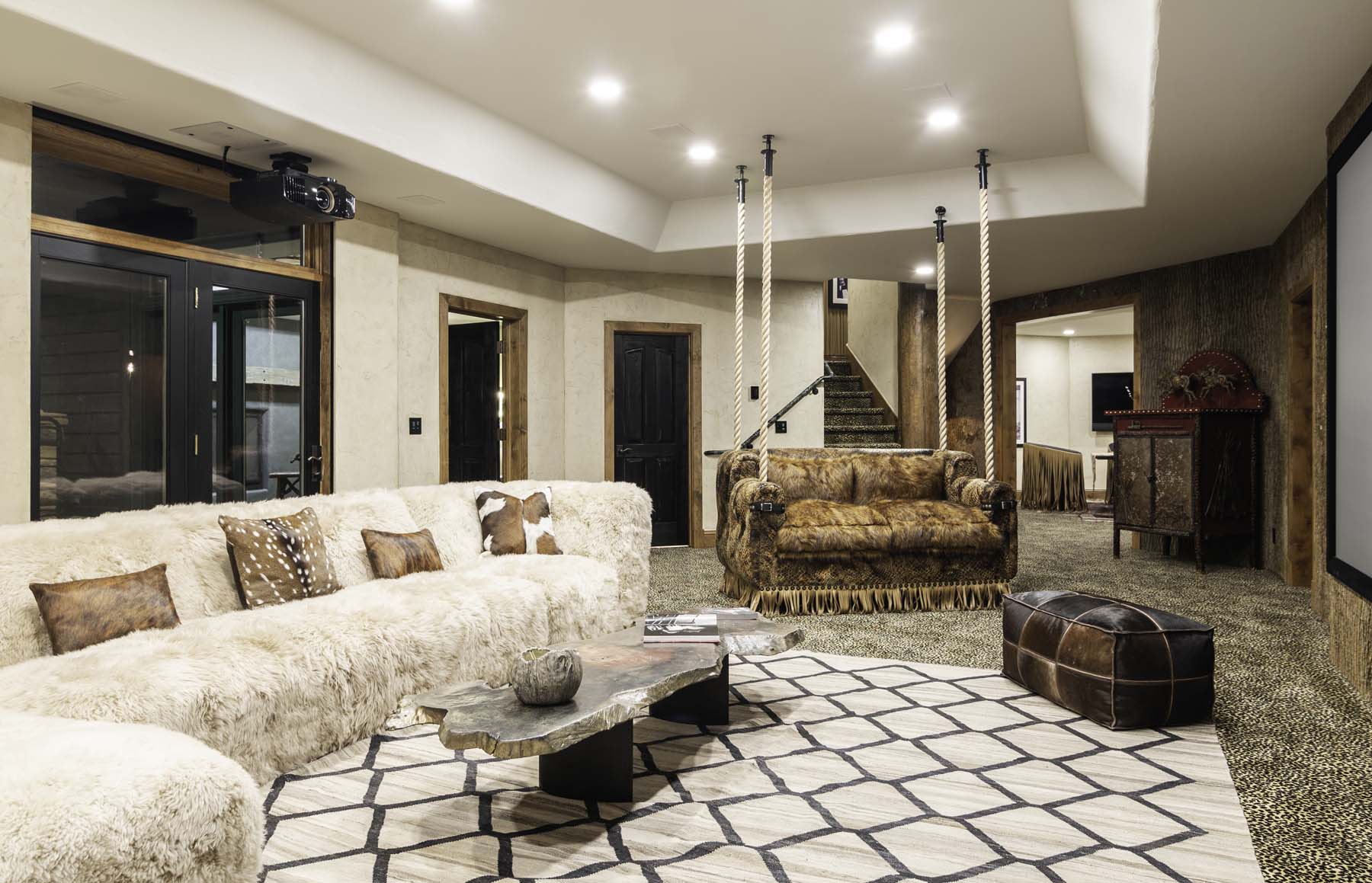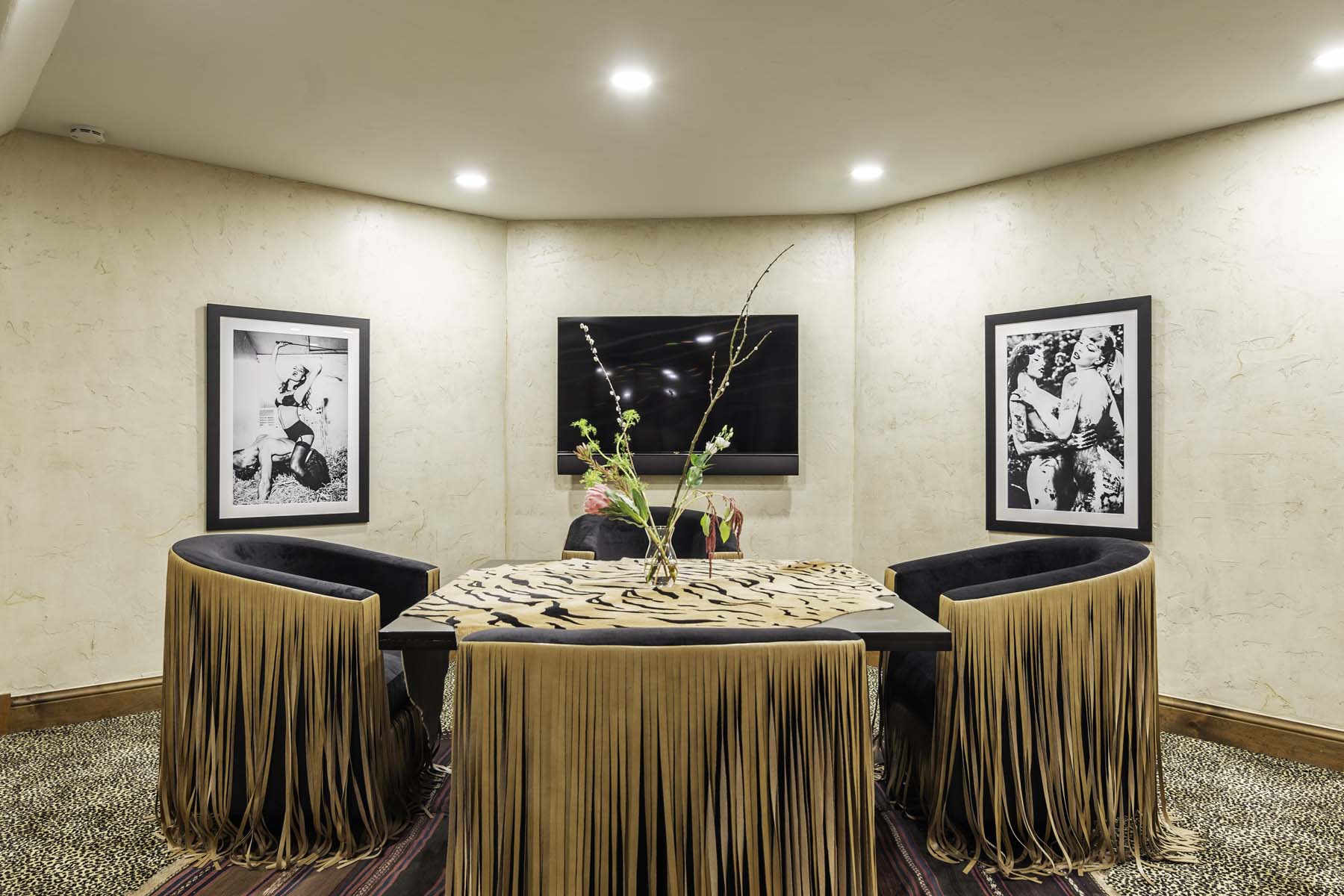 On the lower level, Kari Whitman designed the spaces to be perfect for entertaining- the seating in this space really shines. From two custom faux fur couches, tasseled chairs, saddle bar stools, and a loveseat suspended by ropes, this space was meant to be cool, funky, and be the perfect marriage of cowboy and rockstar aesthetic. Modern art adds an elegant "kari" touch to this fun space. Motley Crue's, Nikki Sixx, uses the music room with the purple custom couch to write new lyrics and his up and coming autobiography.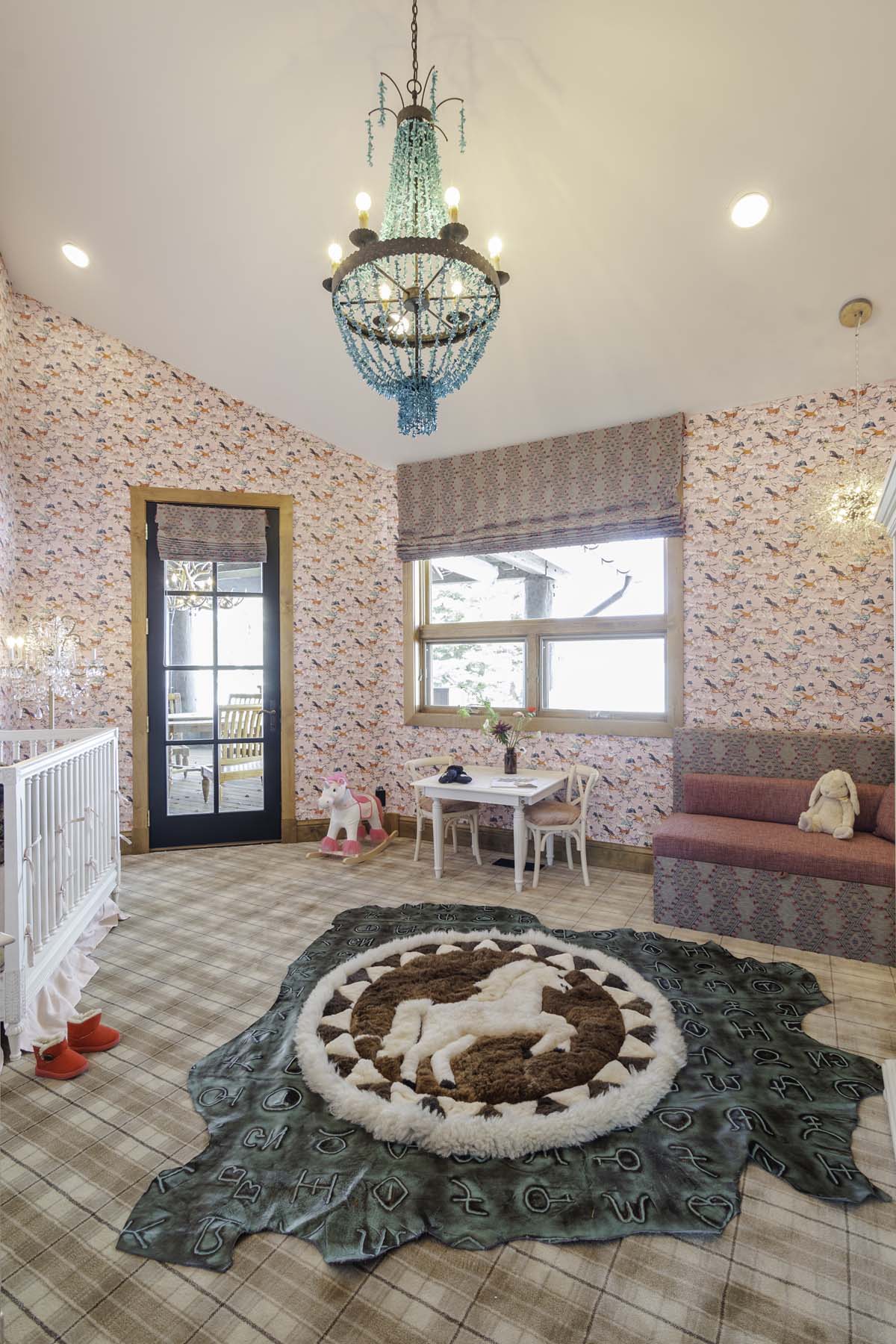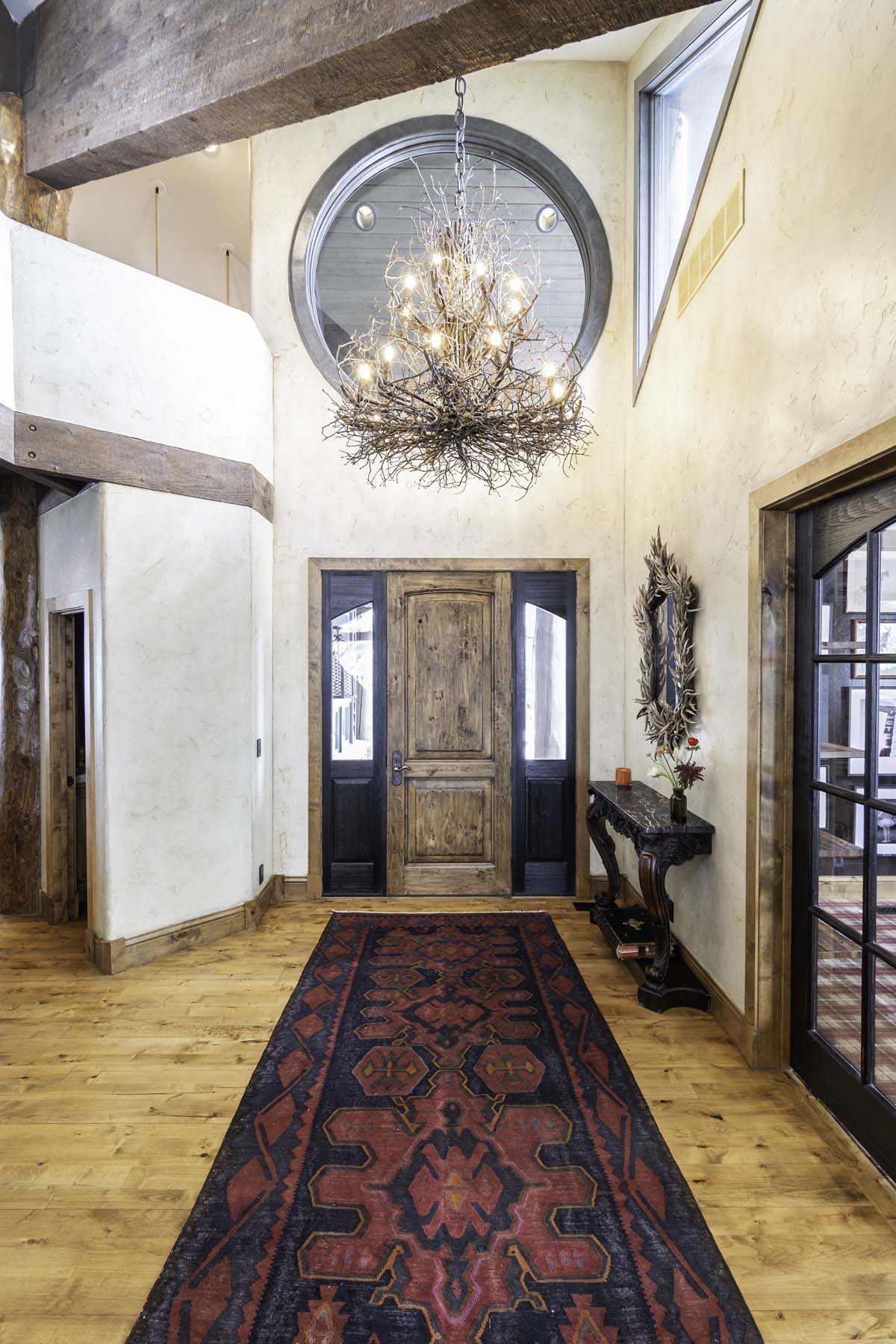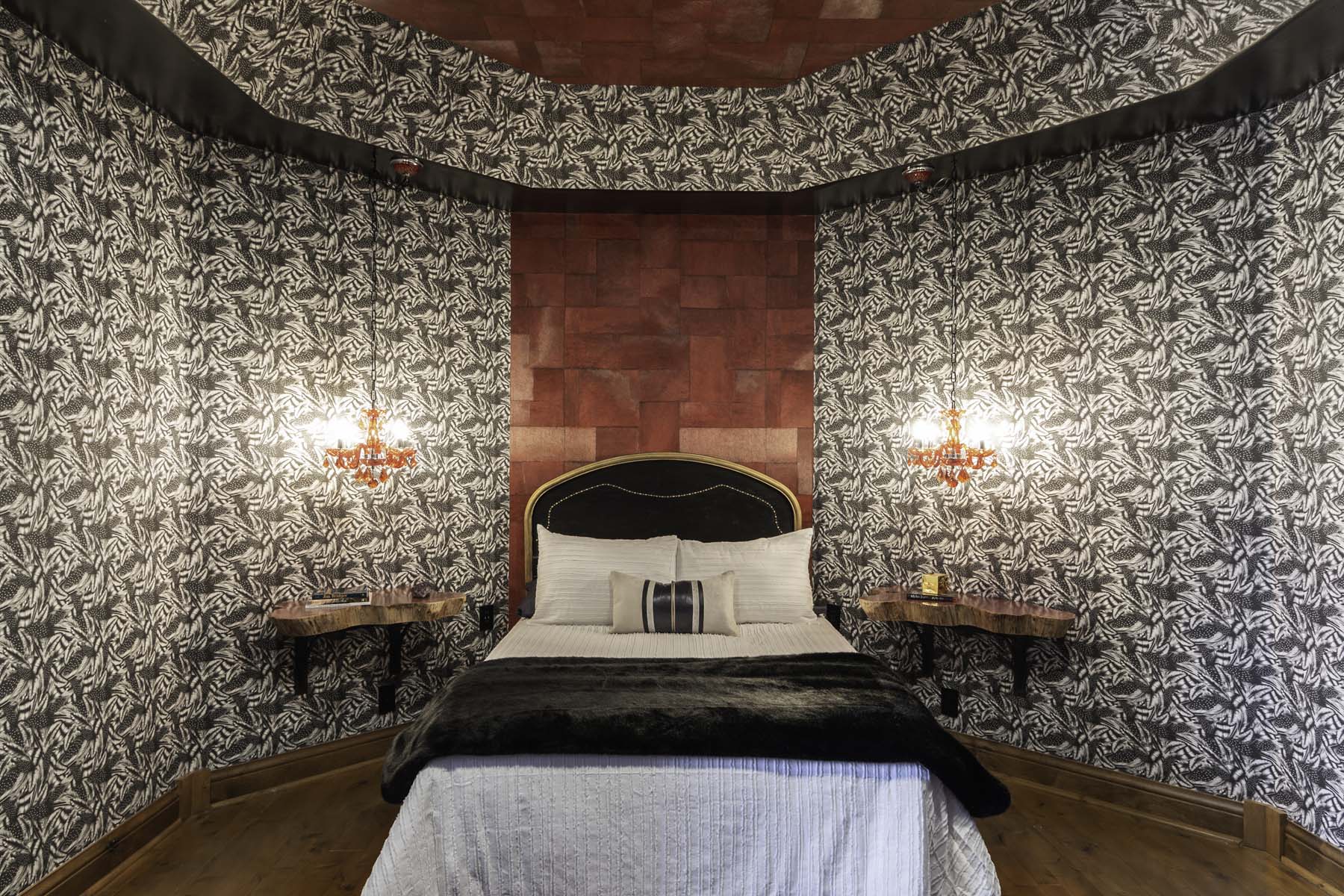 Glamorous lighting is placed throughout the home, with big chandeliers being featured in several rooms. Turquoise, red glass, deer antlers dripping with tiny crystals, and more, bring interest and elegance to all the spaces including these guest bedrooms.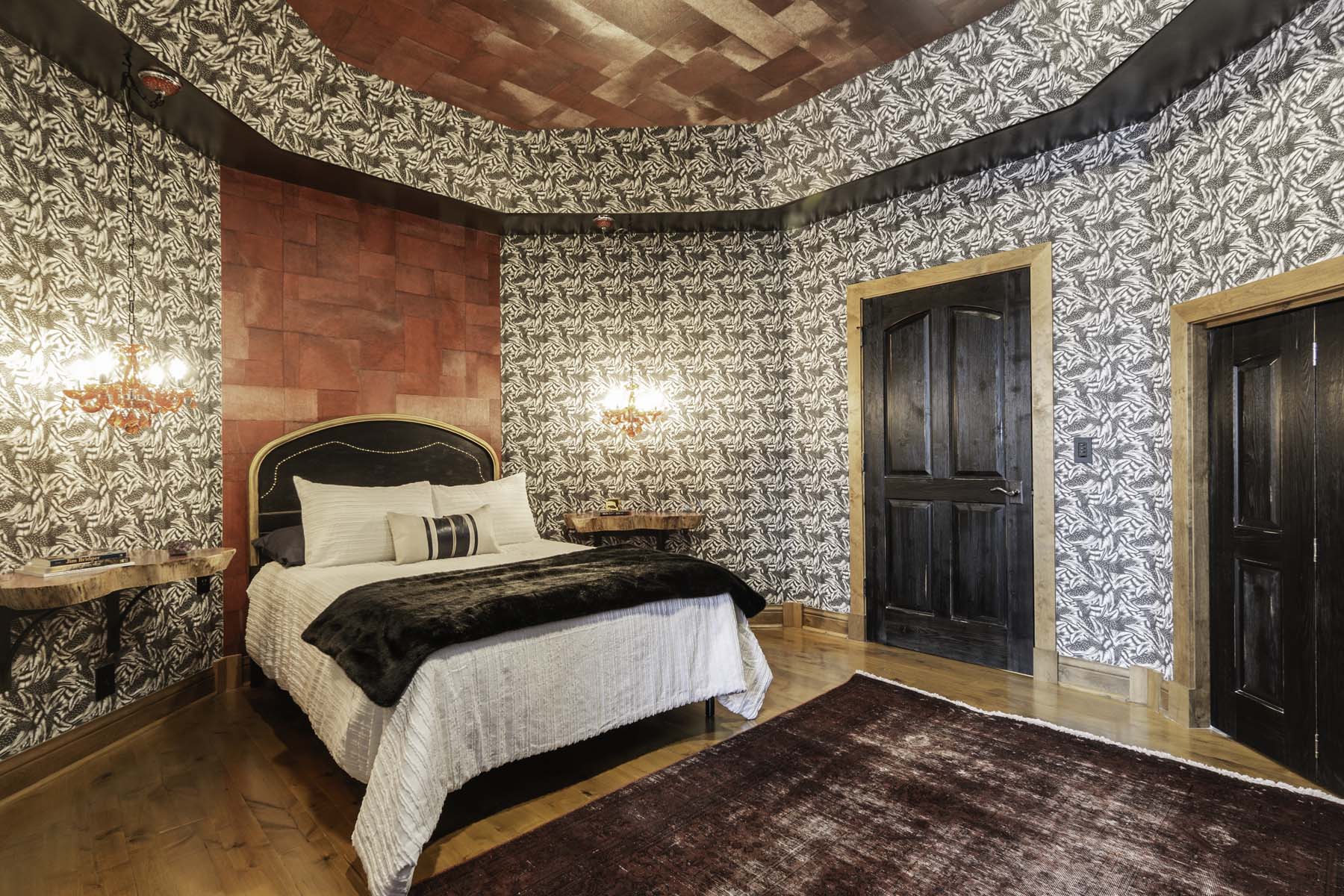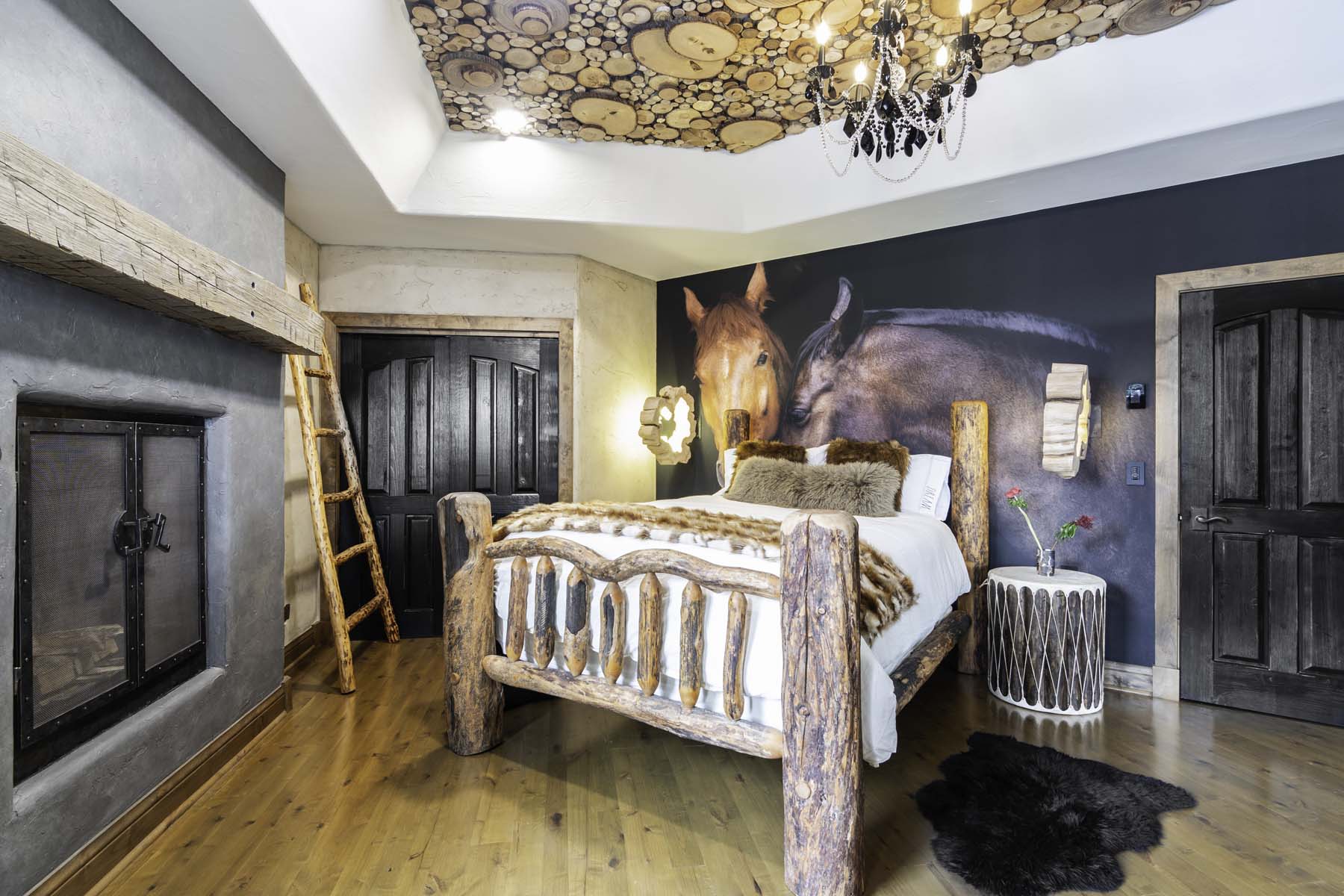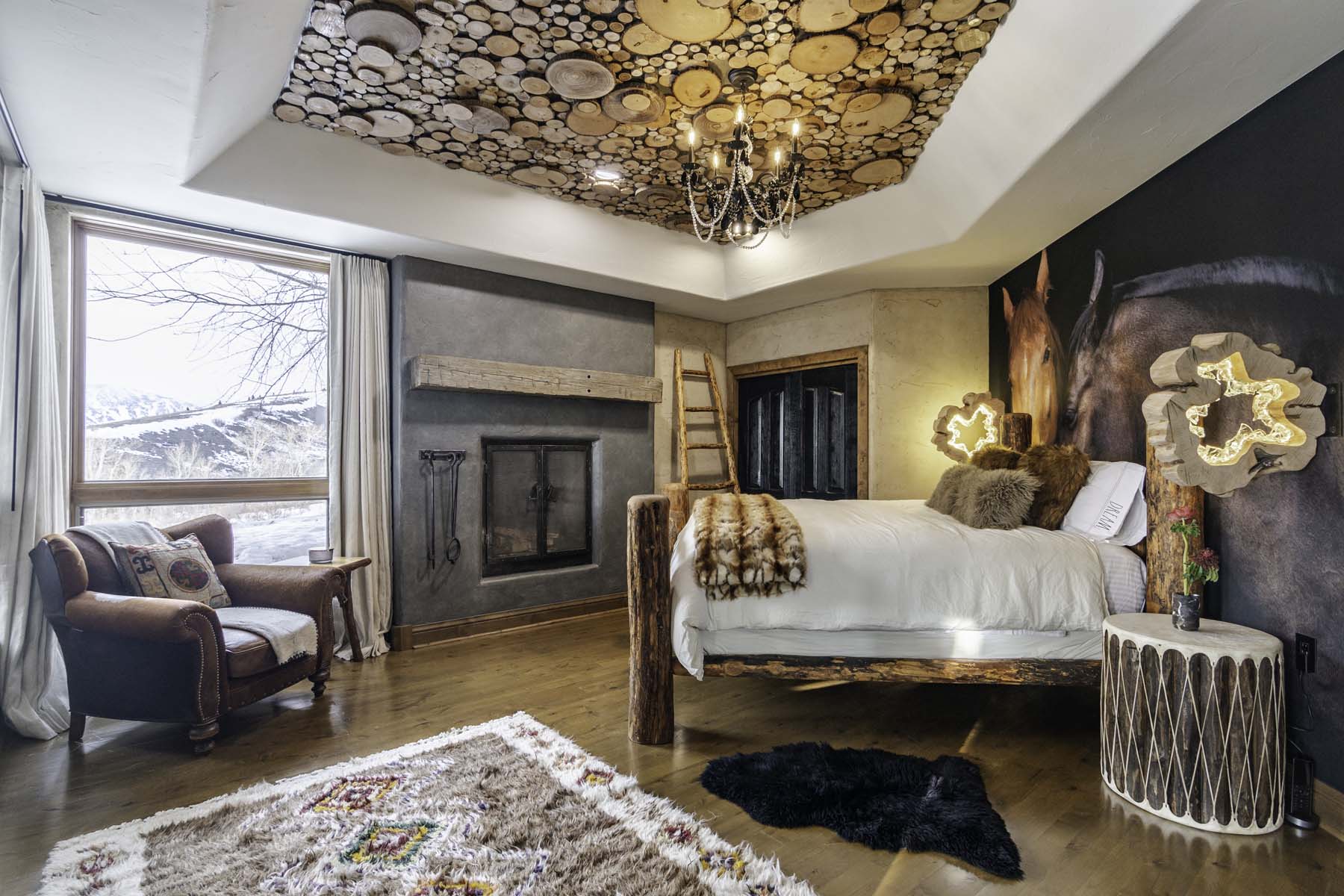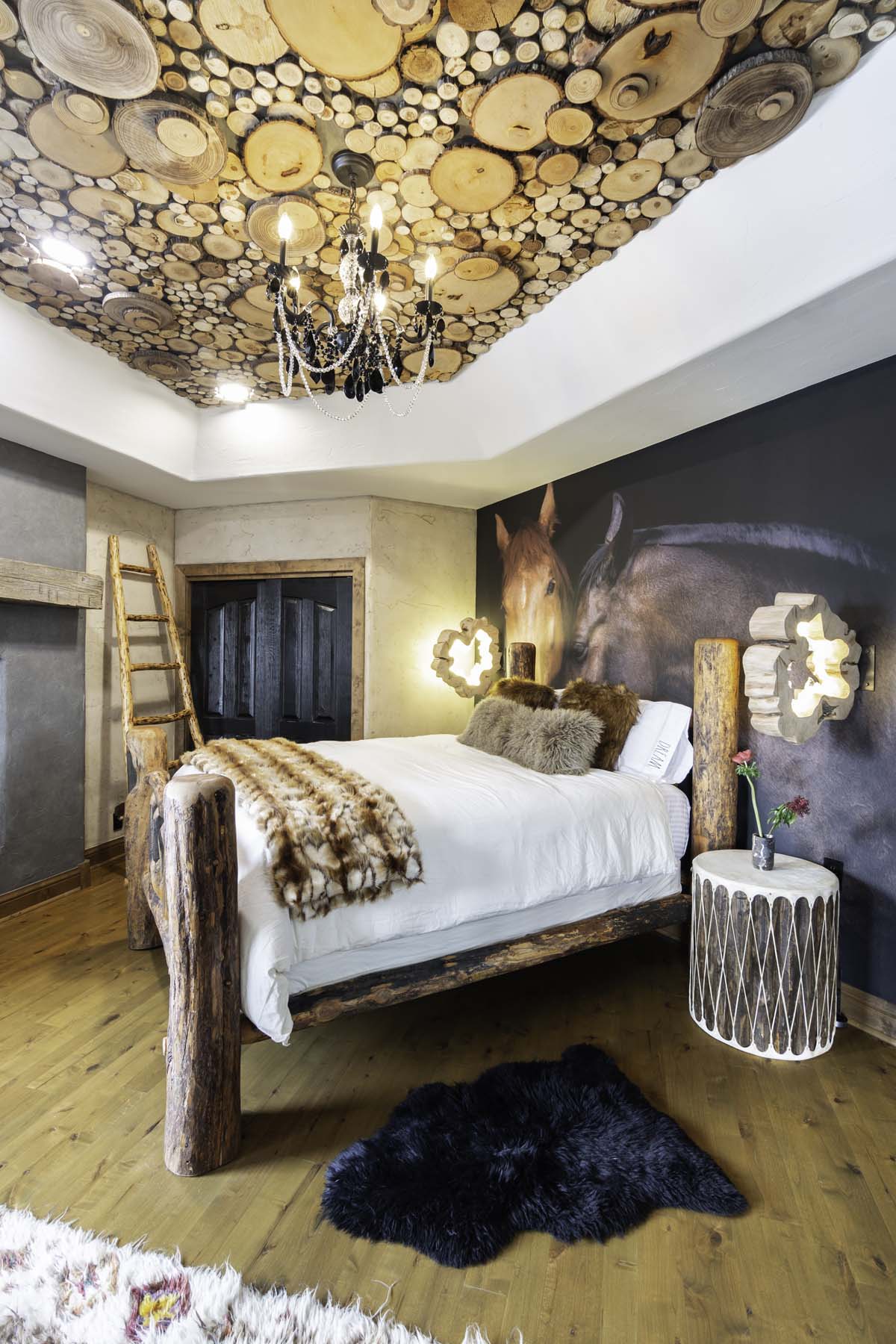 A natural wood ceiling, fireplace, and faux fur pelts turn this room into the perfect Wyoming getaway space. The pairings of rustic and modern throughout the room make you feel perfectly at home in this bedroom.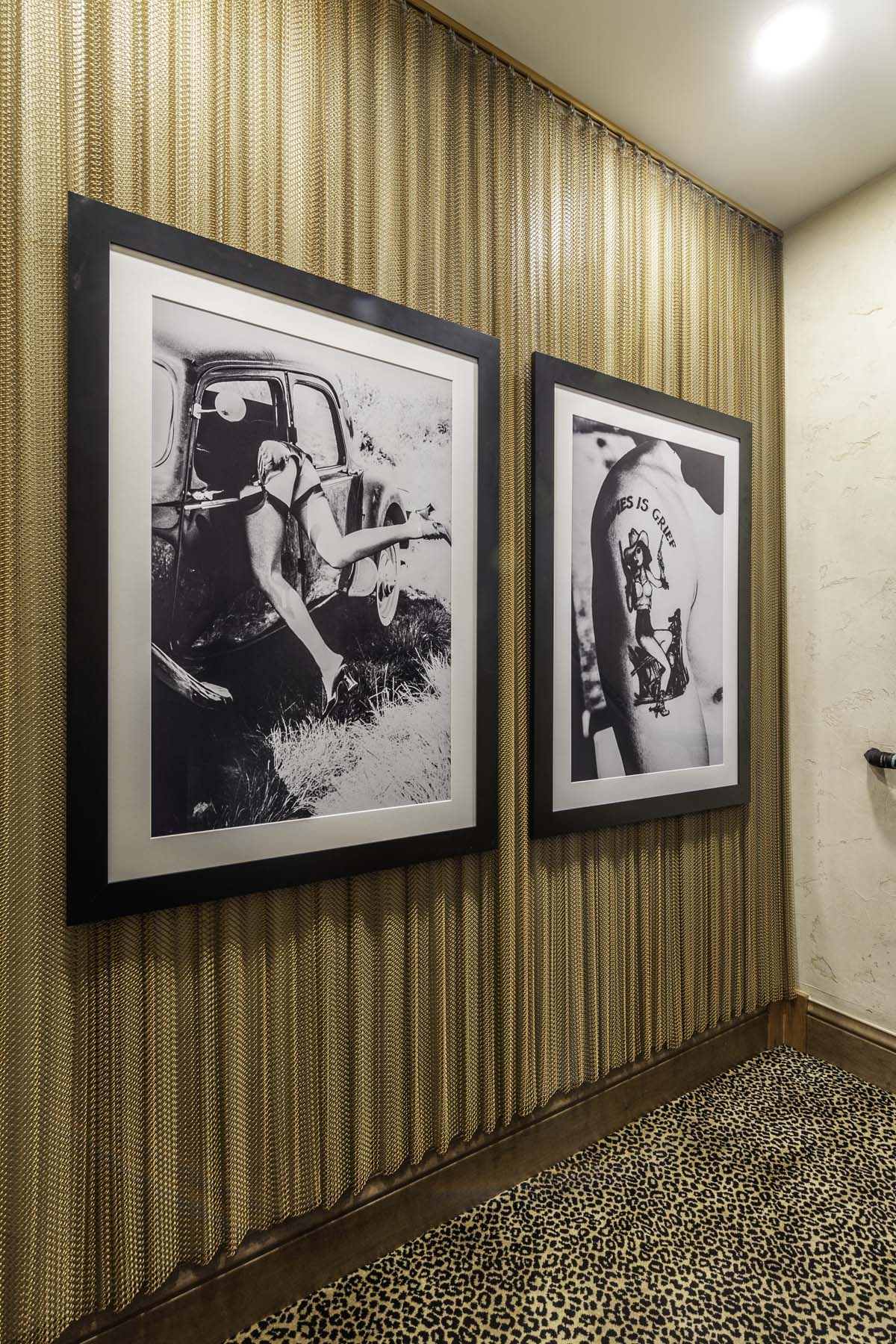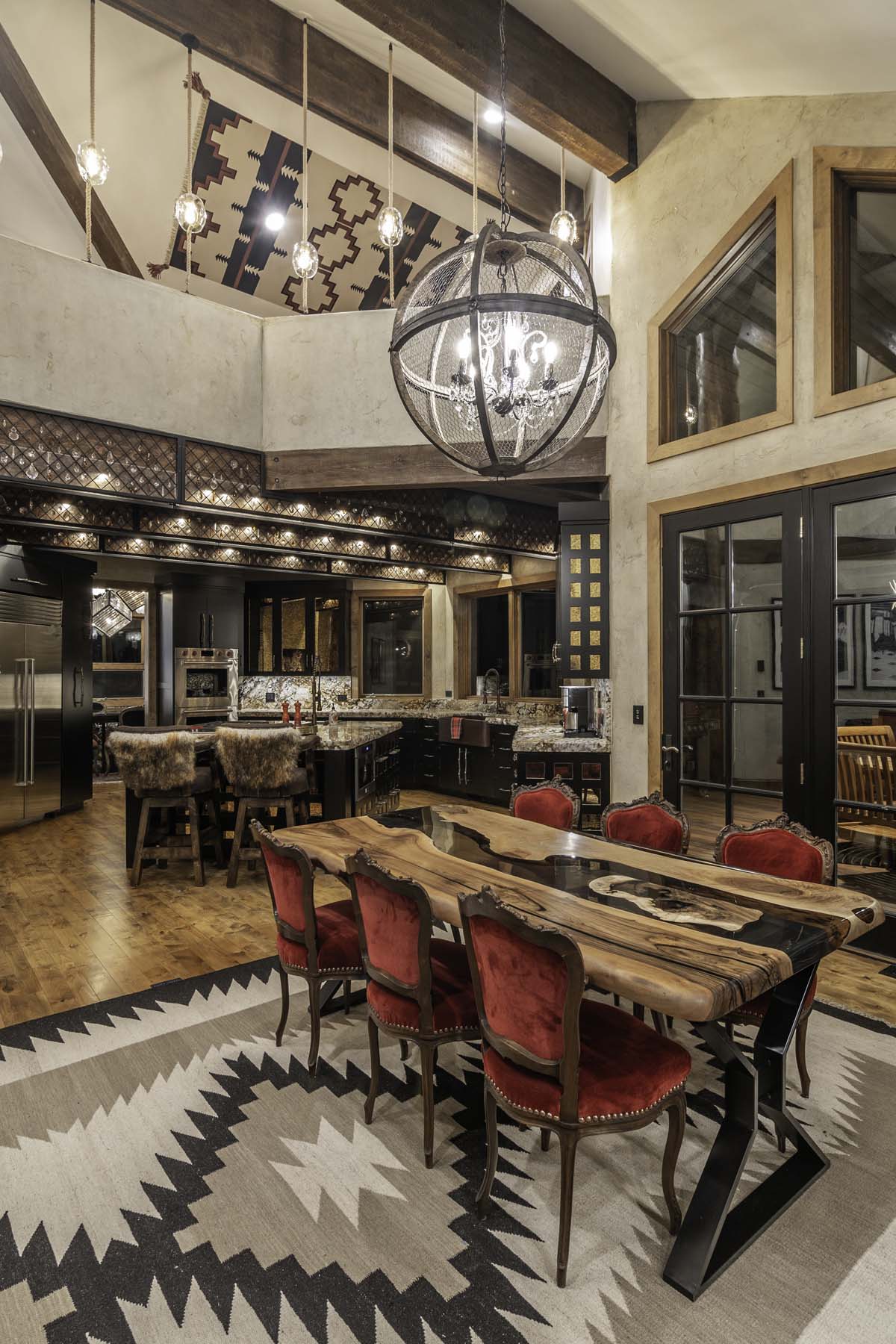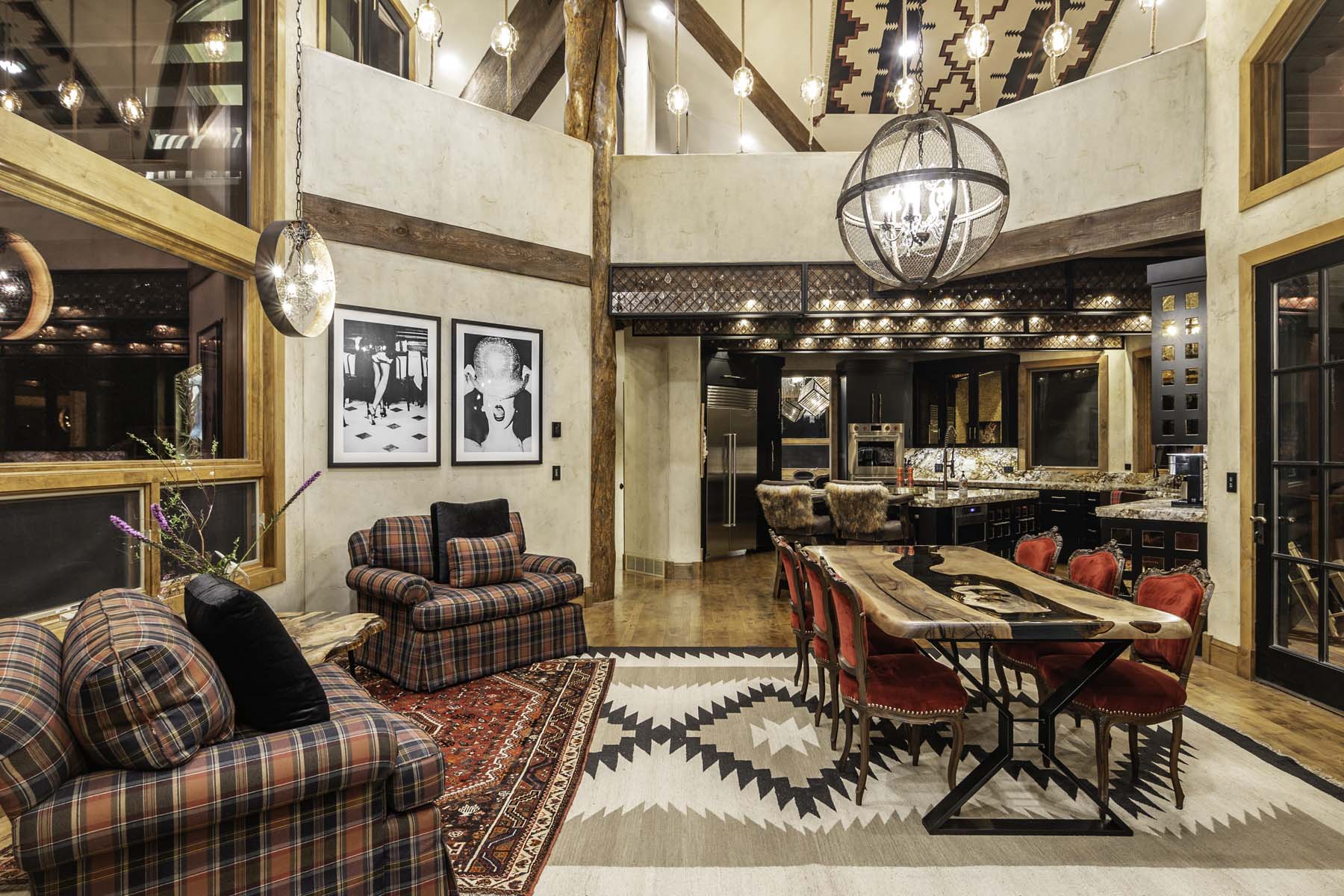 Modern art, warm colors, and decadent seating and lighting throughout the home elevate the aesthetic from western chic to rockstar cowboy! The touches of old and new, as well as the details present in everything from the finishes to the fixtures make this a unique space that really belongs in Jackson Hole, WY. Just think Motley Crue meets Ralph Lauren.
CLICK AN IMAGE BELOW TO VIEW THE FULL GALLERY
About Kari Whitman Interiors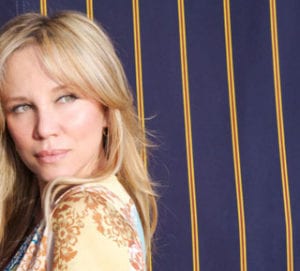 Celebrity interior designer Kari Whitman founded Kari Whitman Interiors in Los Angeles in 1994 as a design build firm specializing in high-end residential interior design. Now based in Los Angeles and Boulder, Colorado, Kari is one of Hollywood's most sought-after interior designer talents. Residential clients including Jessica Alba, Kristen Bell, Melanie Griffith and Antonio Banderas, Nikki Sixx, Justus Parmar, and Don Johnson have embraced her eclectic design style and knowledge of eco-friendly interior design. Kari's expertise also extends into commercial interior design, and projects range from condos to estate homes, boutique hotels to large-scale residential developments. As an Allied Member of the prestigious American Society for Interior Design (ASID), and a member of the Interior Design Society and the International Interior Design Association, Kari has showcased prominent design projects throughout California, New York, Denver, Colorado, Aspen, Jackson Hole, Miami, and Dallas. To spend more time in nature, Kari now operates out of her residential interior design office in Boulder, Colorado.