Modern in Denver / Fall 2019
In this article on Boulder celebrity interior designer Kari Whitman, Modern in Denver covers several of her projects all over the country; a modern Dallas estate, a cozy home on Boulder Creek in her hometown, a 1901 grocery store turned modern industrial living space, a chic, modern restaurant, and a mansion with jetliner views above the Chateau Marmont on the Sunset strip.
For her design of the industrial grocery store in downtown Boulder, Kari Whitman won a Crystal Award for design- she ties in elements of nature, like a living wall of lavender, sage, and moss, as well as natural rope hanging beds and seating, and natural wood throughout. The article also talks about Kari's life in design- growing up and growing into her design career through her friends in the film industry. The work included in the article also features her Forbes 40 under 40 client's mansion above the Chateau Marmont.
Another of her newer projects included is in her home town of Boulder- a home which she sourced the wood paneling for the walls from dead aspen trees on the property to bring some authentic Colorado nature into the space. The Dallas property she worked on for a Royal Family's second home is also covered within- a project for which she spent a year traveling the world to source one-of-a-kind artwork and furnishings for these high-profile clients. The last project featured is the restaurant chain, Lola, for which she went with a modern nautical theme, with touches of blue and brass to bring the beach vibe inside.
Boulder designer Kari Whitman speaks to her love for eco-friendly, accessible design that is beautiful and livable, and dreams to bring the beauty she finds in Colorado into the design style of the region as well. Whitman says "I am a perfectionist when it comes to the feel of a space. A house is about a vibe; it's not just about a piece of art or a chandelier. Every time I finish a project, I love it so much, I don't want to give it over."
Originally published in Modern In Denver
About Kari Whitman Interiors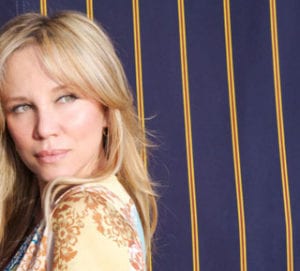 Celebrity interior designer Kari Whitman founded Kari Whitman Interiors in Los Angeles in 1994 as a design build firm specializing in high-end residential interior design. Now based in Los Angeles and Boulder, Colorado, Kari is one of Hollywood's most sought-after interior designer talents. Residential clients including Jessica Alba, Kristen Bell, Melanie Griffith and Antonio Banderas, Nikki Sixx, Justus Parmar, and Don Johnson have embraced her eclectic design style and knowledge of eco-friendly interior design. Kari's expertise also extends into commercial interior design, and projects range from condos to estate homes, boutique hotels to large-scale residential developments. A member of the prestigious American Society for Interior Design,  Kari has showcased prominent design projects throughout California, New York, Denver, Colorado, Aspen, Jackson Hole, Miami, and Dallas. To spend more time in nature, Kari now operates out of her residential interior design office in Boulder, Colorado.