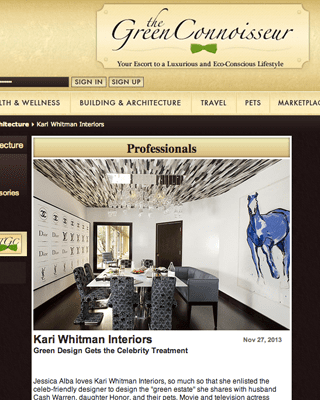 "The Green Connoisseur " – Green Design Gets the Celebrity Treatment
Jessica Alba loves Kari Whitman Interiors, so much so that she enlisted the celeb-friendly designer to design the "green estate" she shares with husband Cash Warren, daughter Honor, and their pets. Movie and television actress Virginia Madsen also loves Kari Whitman Interiors, and hired the California-based design firm to give her retreat a luxe and modern Eco-friendly makeover. Other notable names ranging from Emilio Estevez to Kristen Bell have also enlisted the designer's help to turn their homes into trendy, planet-friendly showcases. Why do Hollywood's elite love the Colorado-born and self proclaimed "tree hugger" so much? It's likely because the accessible and detail-oriented designer keeps luxury ideals in mind, while focusing on budget and planet-friendly materials, for the ultimate in high-class green living.
Kari Whitman is a designer extraordinaire, who was born in Denver, Colorado and raised to care for the Earth through recycling, having a heart for pets and animals, and finding the beauty and usefulness in existing items. She combined her love of the Earth with her love for design when she began Kari Whitman Interiors in 1994, and since then has worked diligently to build a highly successful residential and commercial design firm that keeps the needs of clients evenly balanced with a care for the environment. In addition to offering a full range of design services to her clients, she also runs a successful non-profit organization, Ace of Hearts, which places shelter dogs in homes, sells a line of Eco-friendly dog beds under the name "Greener Pup," and offers an eco-friendly paint mixing kit called Wall Makeup.
Kari Whitman Interiors tackles every project, from homes, condos and estates to boutique hotels and residential developments, all with a carefully selected team of talented architects, contractors and engineers, plus regular suppliers of textiles, appliances and furniture. The services offered take clients from the idea stage all the way through the completion of the project, with Kari personally overseeing each project from the creation of the plans, to selection of furniture, fabrics and materials, to securing permits and working with subcontractors. Her hands-on philosophy is apparent in every step of the design process, with Kari herself combing through salvage yards, antique stores, and online sites to find just the right pieces to fit her client's desires.
The fact that her designs are Eco-friendly doesn't take away from the luxury feel or the beauty of Kari's designs, and in fact serves to add character and charm. Before any new item is purchased, Kari first combs through her favorite shops and suppliers, and even the client's own personal items, to ensure that materials come from sustainable, re-purposed, or recycled sources. She works with a handful of trusted "green" suppliers, such as Forever Lawn for healthy and safe synthetic turf, Bamboo Flooring Hawaii for sustainable flooring, and Toto for water saving fixtures. She even encourages the use of Mrs. Meyer's brand of biodegradable cleaners for a safe, effective green clean.
In addition to her love for design, Kari has always had a heart for animals. She created her non-profit, Ace of Hearts, to ensure homeless pups could find forever homes, plus she makes an effort to design her projects with pets' needs in mind, too. Her line of healthy and safe dog beds, Greener Pup, came about because of the frustration of not finding Eco-friendly yet beautiful dog beds on the market. Kari offers tips for designing spaces that are dog-friendly as well as Eco-friendly, from picking the right fabrics to offering easy solutions for bathing your pet in your home. Pet lovers hire Kari Whitman Interiors because she makes an effort to design beautiful and cozy interiors that take all family members into consideration.
You don't have to be a Hollywood star to appreciate good design. But if you want an interior designer for your home or commercial project who is trusted by some of Tinseltown's biggest names, not only for her commitment to her client's vision, but also for her commitment to the environment, then Kari Whitman Interiors can help bring your Eco-friendly vision to life.
Originally posted in The Green Connoisseur
About Kari Whitman Interiors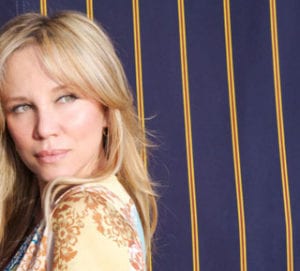 Celebrity interior designer Kari Whitman founded Kari Whitman Interiors in Los Angeles in 1994 as a design build firm specializing in high-end residential interior design. Now based in Los Angeles and Boulder, Colorado, Kari is one of Hollywood's most sought-after interior designer talents. Residential clients including Jessica Alba, Kristen Bell, Melanie Griffith and Antonio Banderas, Nikki Sixx, Justus Parmar, and Don Johnson have embraced her eclectic design style and knowledge of eco-friendly interior design. Kari's expertise also extends into commercial interior design, and projects range from condos to estate homes, boutique hotels to large-scale residential developments. As an Allied Member of the prestigious American Society for Interior Design (ASID), and a member of the Interior Design Society and the International Interior Design Association, Kari has showcased prominent design projects throughout California, New York, Denver, Colorado, Aspen, Jackson Hole, Miami, and Dallas. To spend more time in nature, Kari now operates out of her residential interior design office in Boulder, Colorado.