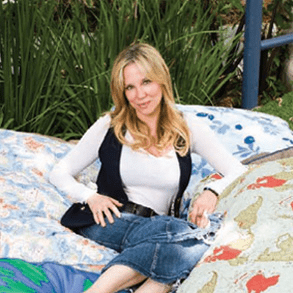 In Los Angeles, where animal shelters name pit bulls George Clooney and Taylor Swift to sooner adopt them out, it makes sense that Kari Whitman is a success. Whitman is the founder of Greener Pup, a boutique petwares line that grew out of her work as an interior designer for celebrities like Jessica Alba, Kristen Bell, Antonio Banderas and Melanie Griffith.
Her signature round Earth pup bed, made almost entirely of recycled plastic bottles, is not only stink-proof, weatherproof, flea-proof and Rottweiler strong, it also doubles as a Hollywood do-gooder. One hundred percent of Greener Pup sales goes to Ace of Hearts, the company's animal rescue and adoption foundation.
Whitman talked to Letter From L.A. about her mission to put the best paw forward.
First of all, how are you making a living?
Not from dog beds. My primary income is still interior design. Greener Pup is a non-profit and we don't make a profit from it. Our work wouldn't be possible without favors from friends in the design business. All the fabrics are donated from high-end houses like Donghia, Schumacher and Chris Stone. Normally it would cost $100 a yard for material of this quality. But most are misprints they can't sell and would otherwise end up in landfills. These companies are happy to give them to me. We now have around 60 dog beds to choose from.
What was the a-ha moment that led to Greener Pup?
I am always looking for ways to save the earth and save animals, and to do both in style.  Four years ago, I was designing Jessica Alba's house and she was looking for beautiful beds for two dogs she adopted from me. But nothing out there looked sophisticated enough. The fabrics were all solids and ugly or chintzy. I had always designed amazing-looking beds for clients. Why couldn't I do the same thing for their dogs?
How did you go from being a Playboy Playmate to entrepreneur-philanthropist?
Being a Playmate was not who I was. It was just something I did when I got off the bus from Colorado. Interestingly enough, it was Emilio Estevez who got me to try my hand at business. I played his girlfriend in Men at Work and was doing a little designing on the side. He said I should do it full time, and helped get me some of my first jobs. Coming to Hollywood and being a bimbo and worrying about Prada and boys – it wasn't who I wanted to be.
Give me a snapshot of your business now.
It's busier than you can imagine. I just finished designing a 45-room estate in Dallas for the Royal Family of Saudi Arabia. I started work on Melanie and Antonio's Upper West Side apartment in New York. I started a website called Wallmakeup that helps customers make more accurate matches with paint color than with paint chip samples. I'm in pre-production on a reality show about flipping houses with celebrities weighing in on the re-designs.
At Ace of Hearts, we've rescued more than 2,500 dogs and have many more to save. Los Angeles kills 500 dogs a day, the highest kill rate in America. These aren't ugly, awful mutts, either. Forty-seven percent are purebreds that come in with papers but just can't find a home.
How many dogs do you personally have?
Right now, just Hank. He's a 140-pound American bulldog-Mastiff mix, who needs a double knee replacement. It's crazy. He's got this skateboard that helps him get around and he goes with me everywhere.
About Kari Whitman Interiors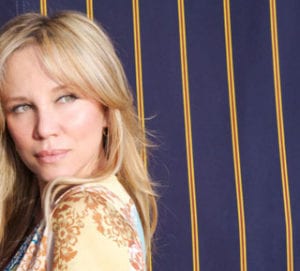 Celebrity interior designer Kari Whitman founded Kari Whitman Interiors in Los Angeles in 1994 as a design build firm specializing in high-end residential interior design. Now based in Los Angeles and Boulder, Colorado, Kari is one of Hollywood's most sought-after interior designer talents. Residential clients including Jessica Alba, Kristen Bell, Melanie Griffith and Antonio Banderas, Nikki Sixx, Justus Parmar, and Don Johnson have embraced her eclectic design style and knowledge of eco-friendly interior design. Kari's expertise also extends into commercial interior design, and projects range from condos to estate homes, boutique hotels to large-scale residential developments. As an Allied Member of the prestigious American Society for Interior Design (ASID), and a member of the Interior Design Society and the International Interior Design Association, Kari has showcased prominent design projects throughout California, New York, Denver, Colorado, Aspen, Jackson Hole, Miami, and Dallas. To spend more time in nature, Kari now operates out of her residential interior design office in Boulder, Colorado.