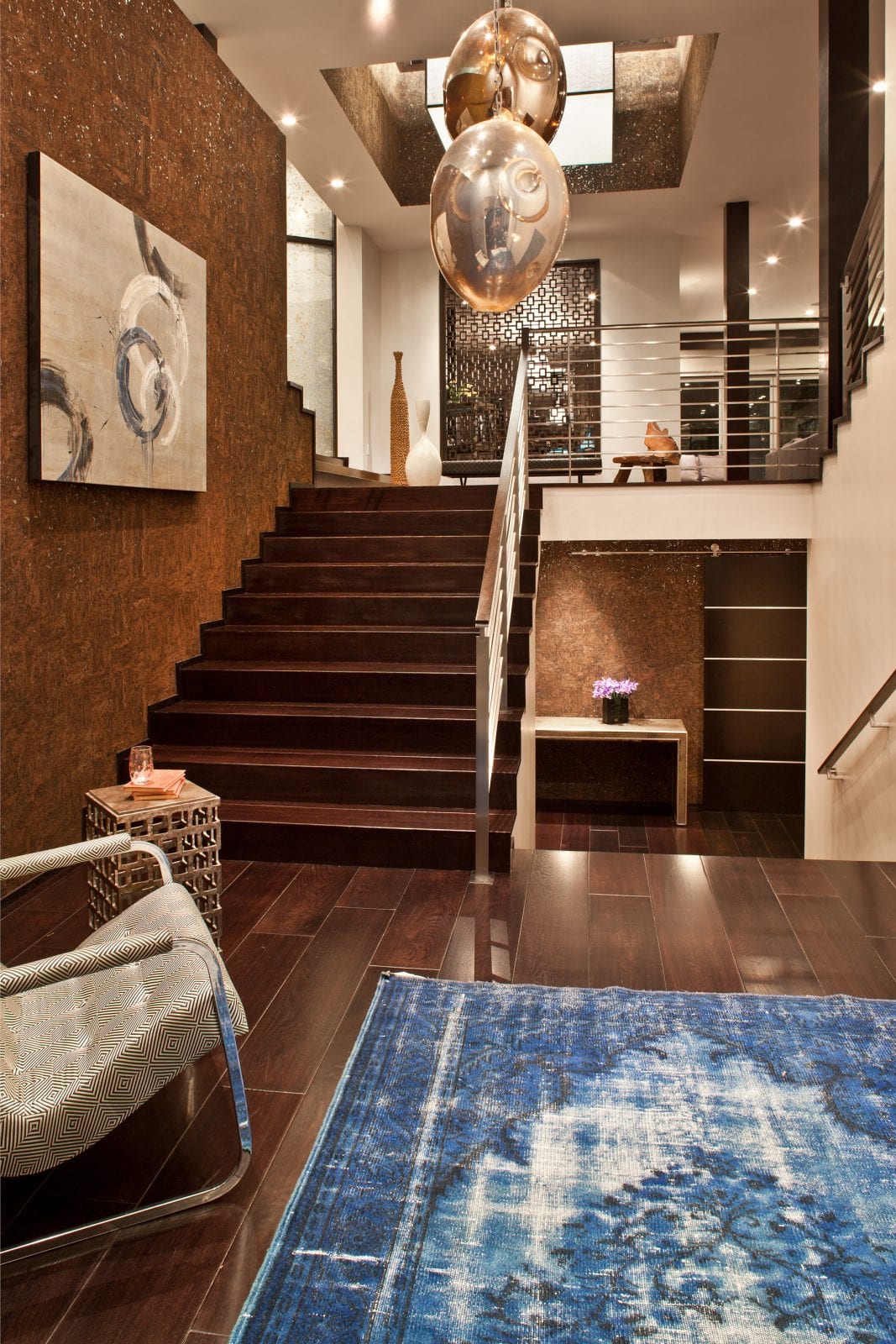 A 21-year-old Saudi royal university student asked luxury interior designer Kari Whitman to transform his Mulholland mansion into a space with a modern, masculine vibe where he could entertain his friends. Whitman tore-out walls, changed the floor plan, and incorporated warmer, elegant, custom elements for a whole new aesthetic and architectural look. Enter the stunning home via an eclectic "floating entry" comprised of a stepping-stone bridge that passes over a waterfall and pool made of mosaic glass tiles from Imperial Tile & Stone. As you step inside interior entry, two beautiful Italian onyx slabs from Quality Tile Works greet you on each side, a surprising design choice that Whitman had to talk her client into. Artistic interior designer Kari Whitman also hired a movie lighter to position LED lights to give the slabs their glowing appearance. "I couldn't pass up the chance to do this. The slabs looked like black-and-white photographs. I fell in love with the idea and knew we had to make it happen."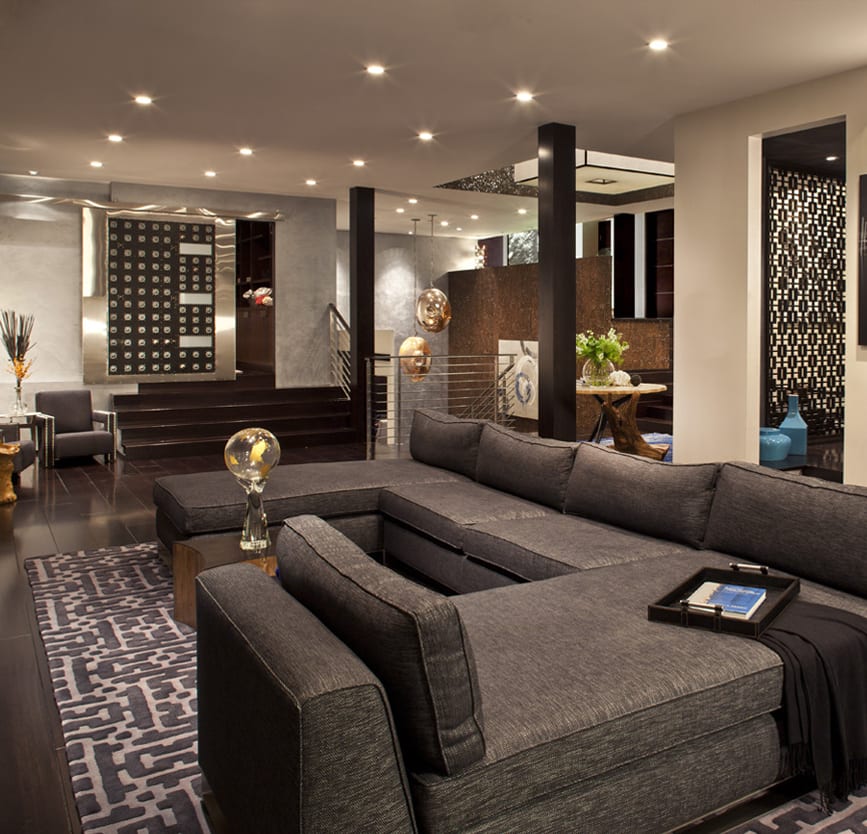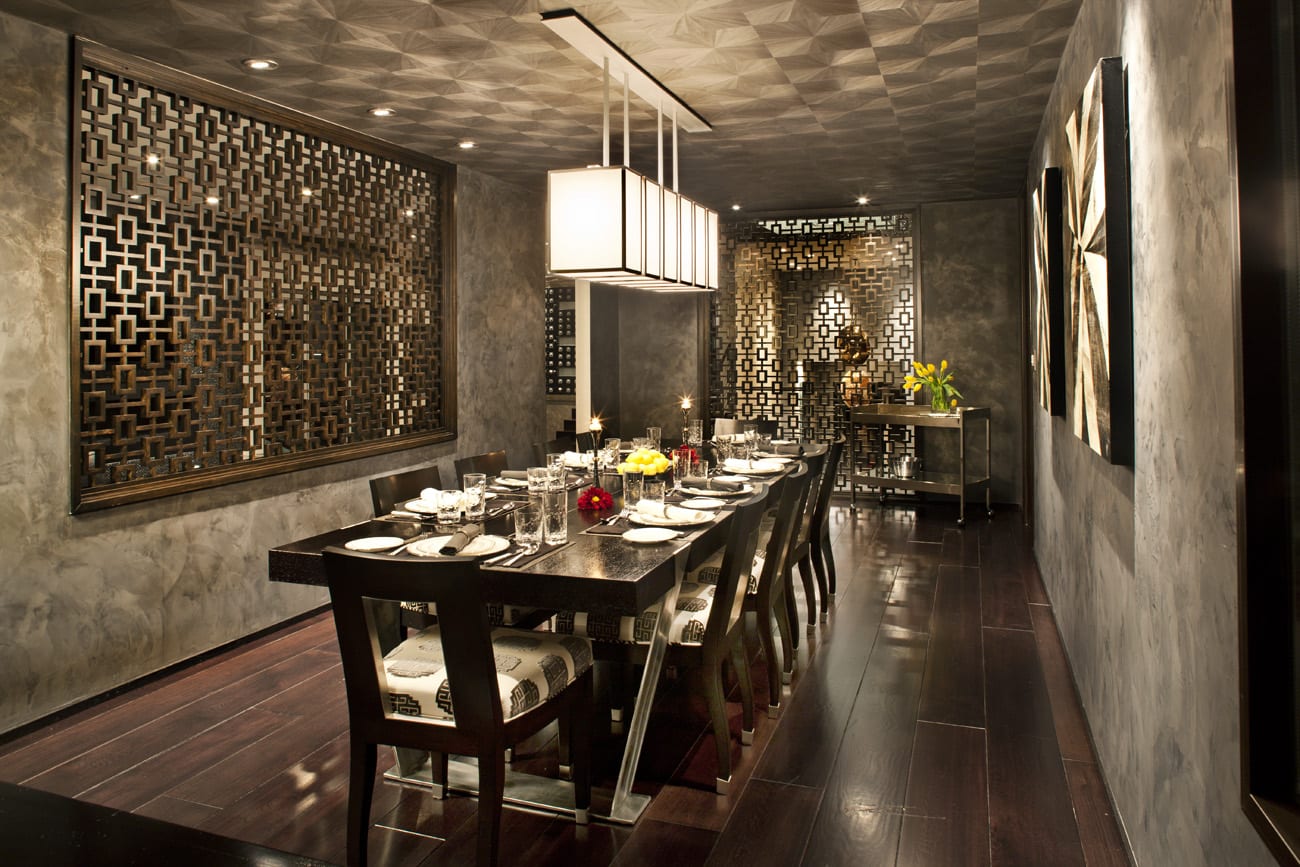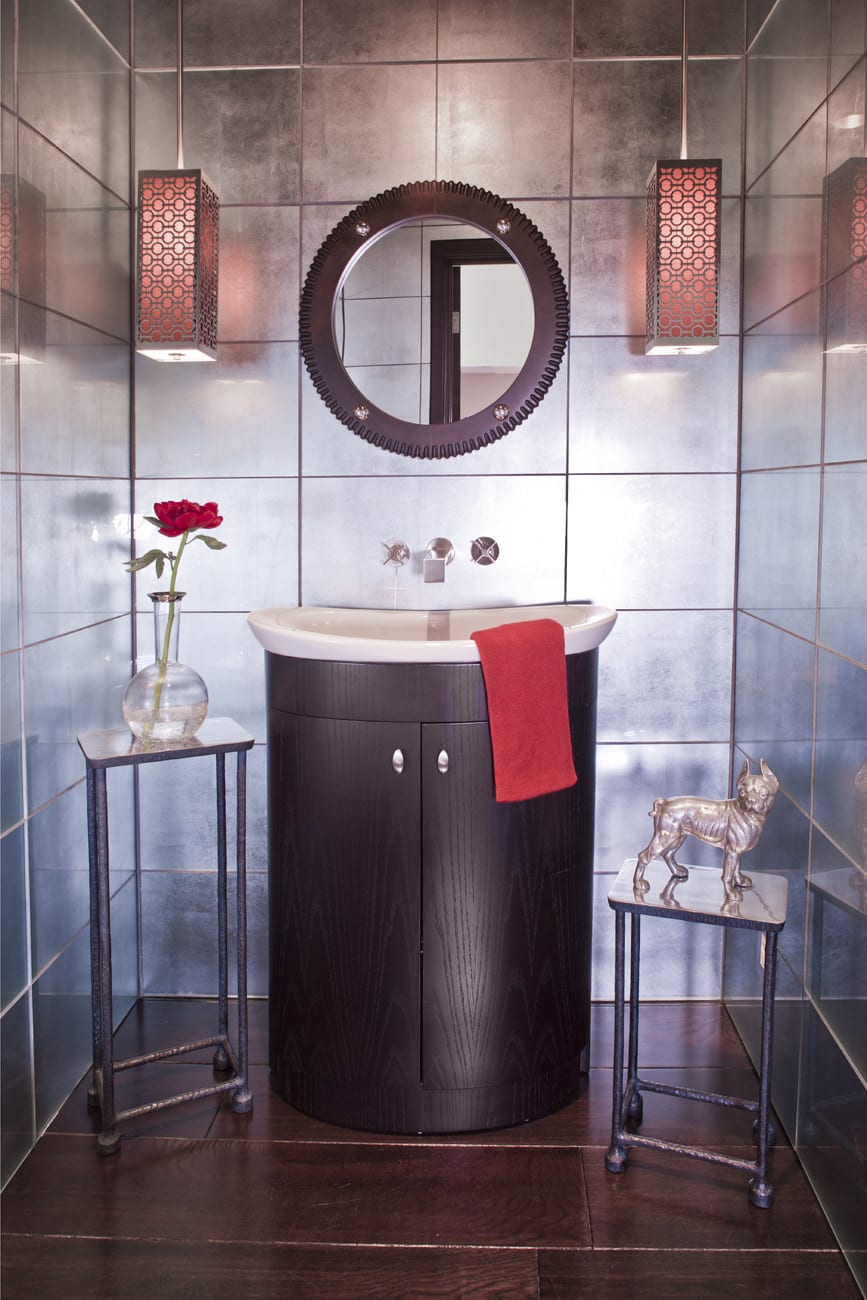 The door that closes off this Mulholland mansion's library from the living room is a vintage rolling cargo door that eco-friendly interior designer Kari Whitman spotted at Habité, a furniture gallery in LA that imports continental pieces. The living room is remarkably green yet elegant and masculine, featuring richly stained flooring made from refinished, reclaimed white oak planks from Floor Design. Eco-friendly interior designer Kari Whitman utilized wall-coverings and upholstery made, respectively, from pleather and ultra-suede, cruelty-free leather alternatives. Nearly all the furniture, including the sectional couch and the coffee table, was designed by Whitman and fabricated by Pacfic Design Furniture. Luxury interior designer Kari Whitman created the small powder room to appear larger by covering the walls from floor to ceiling with Ann Sacks glass tiles. Their reflective silver-leafing enhances the room's illumination, especially when the sconces, from Paul Marra Design, are illuminated.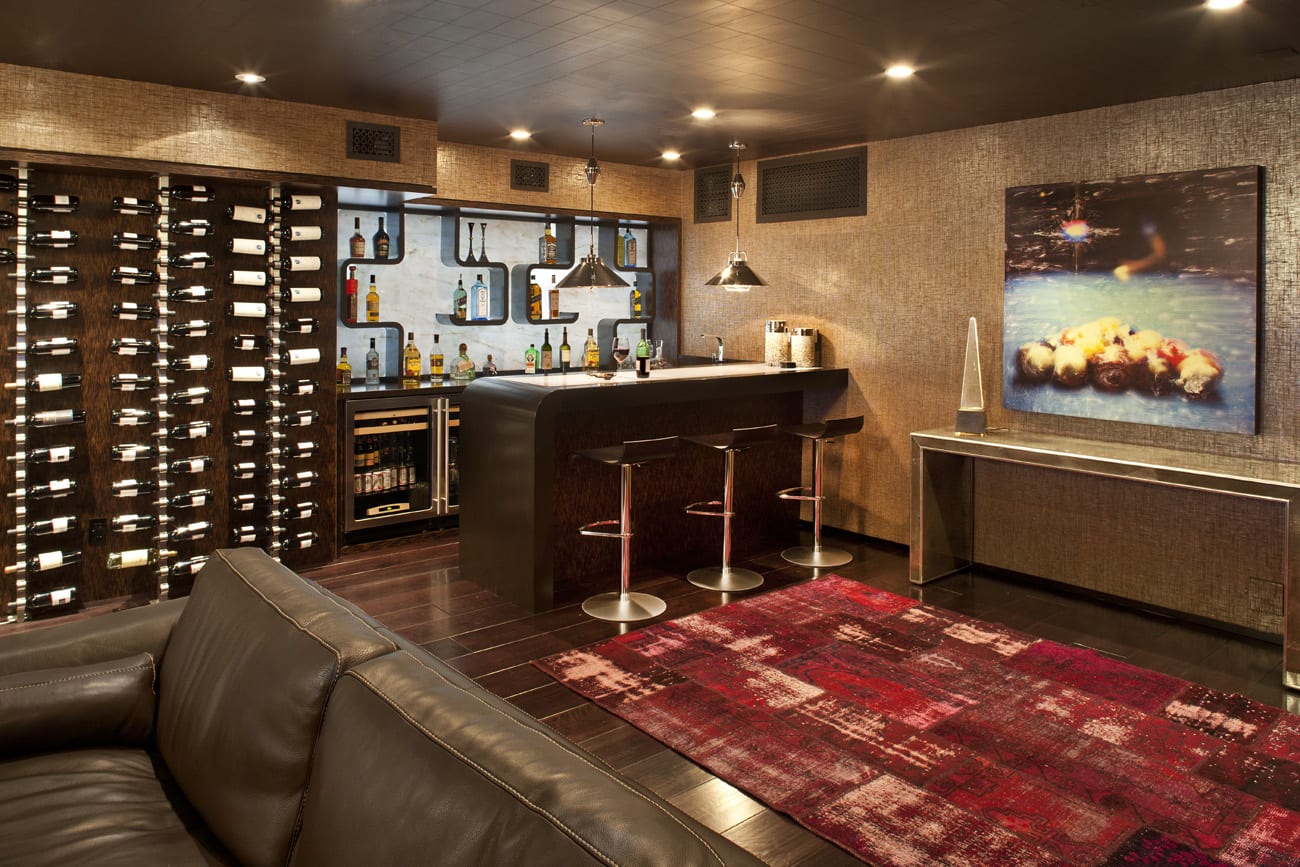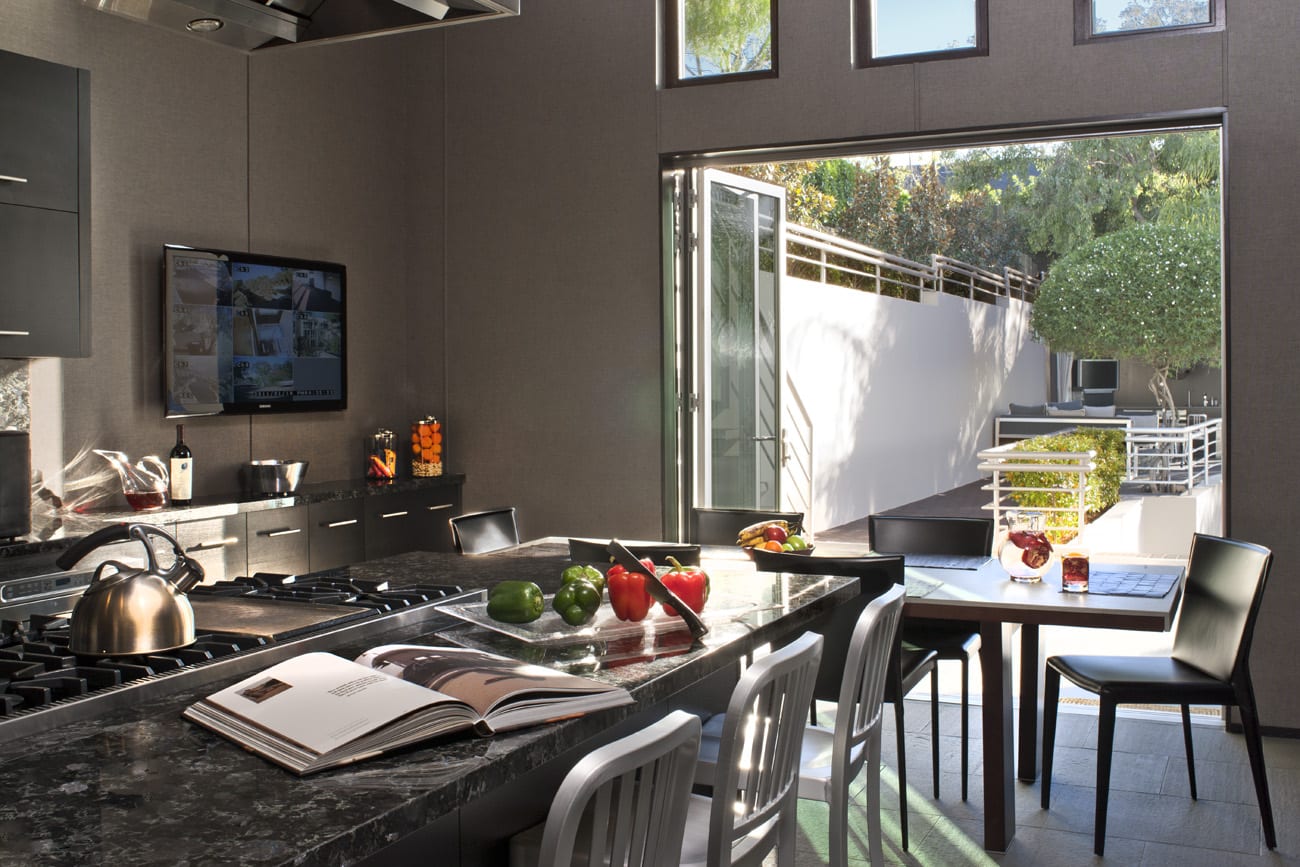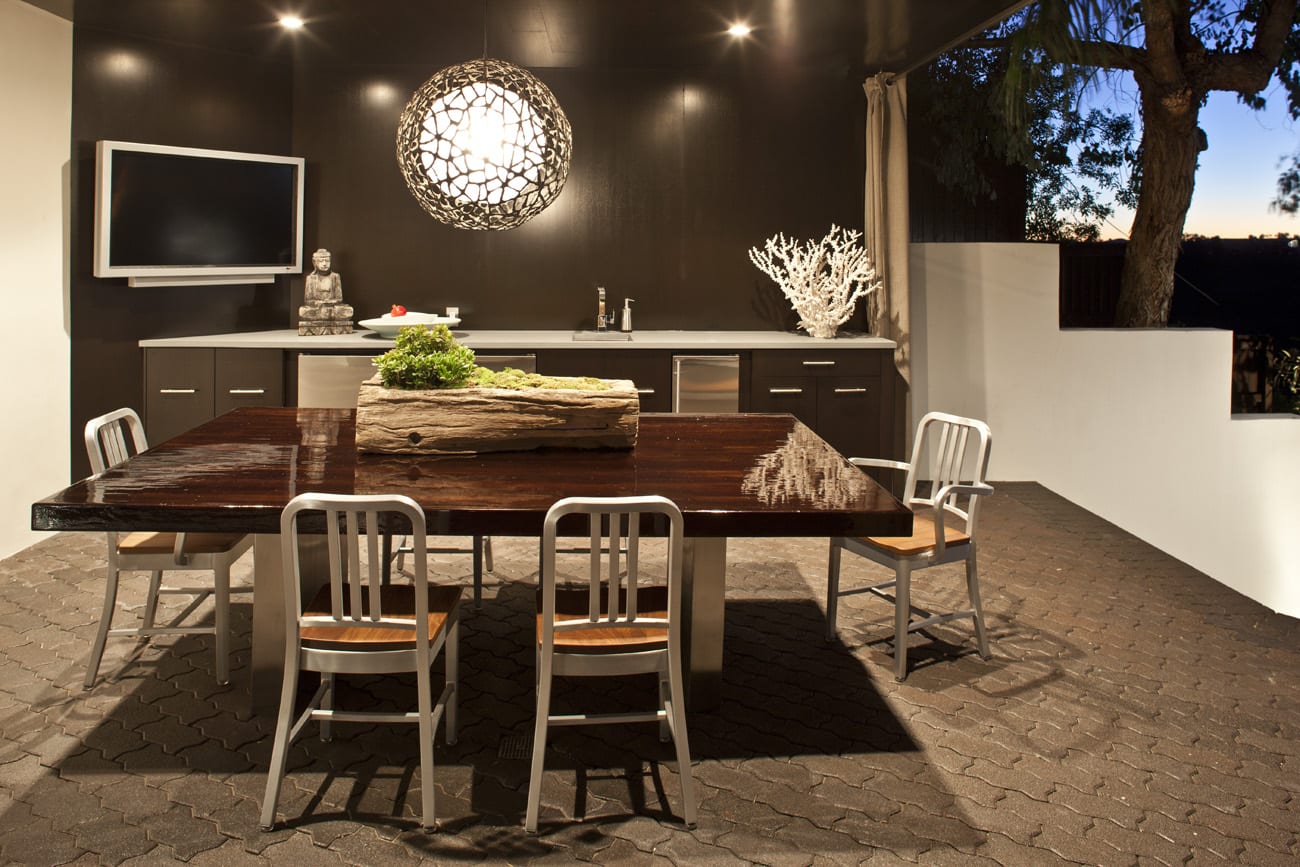 One request for the updated kitchen was a large chef's island. "The client has a chef and wanted to be able to sit at the island and talk to the chef" luxury interior designer Kari Whitman says. Executive Stone designed a customized island with seating on one side and a full food-prep area on the other. Kari also also incorporated modern Swiss Woodworking cabinetry, made from recycled and sustainable woods, and stainless-steel appliances from Wolf Appliance, Inc. and Bosch. The result is a space that is functional, sleek, and perfect for entertaining. The client enjoys his personal chef's meals in a formal dining room surrounded by "window walls" made of 3,000 small pieces of recycled wood. The space now feels private and intimate, but also receives ample ambient light and offers expansive views of the rest of the home.
In the mansion's master bedroom, artistic interior designer Kari Whitman lined the walls with paneling from Acoustical Fabric Systems, Inc. to soften the room's décor. Lighting Zone ceiling lamps add a bit of sparkle to the space. At the foot of the bed is a TV lift cabinet hiding a large television. Whitman designed both pieces and had them fabricated by Pacific Design Furniture.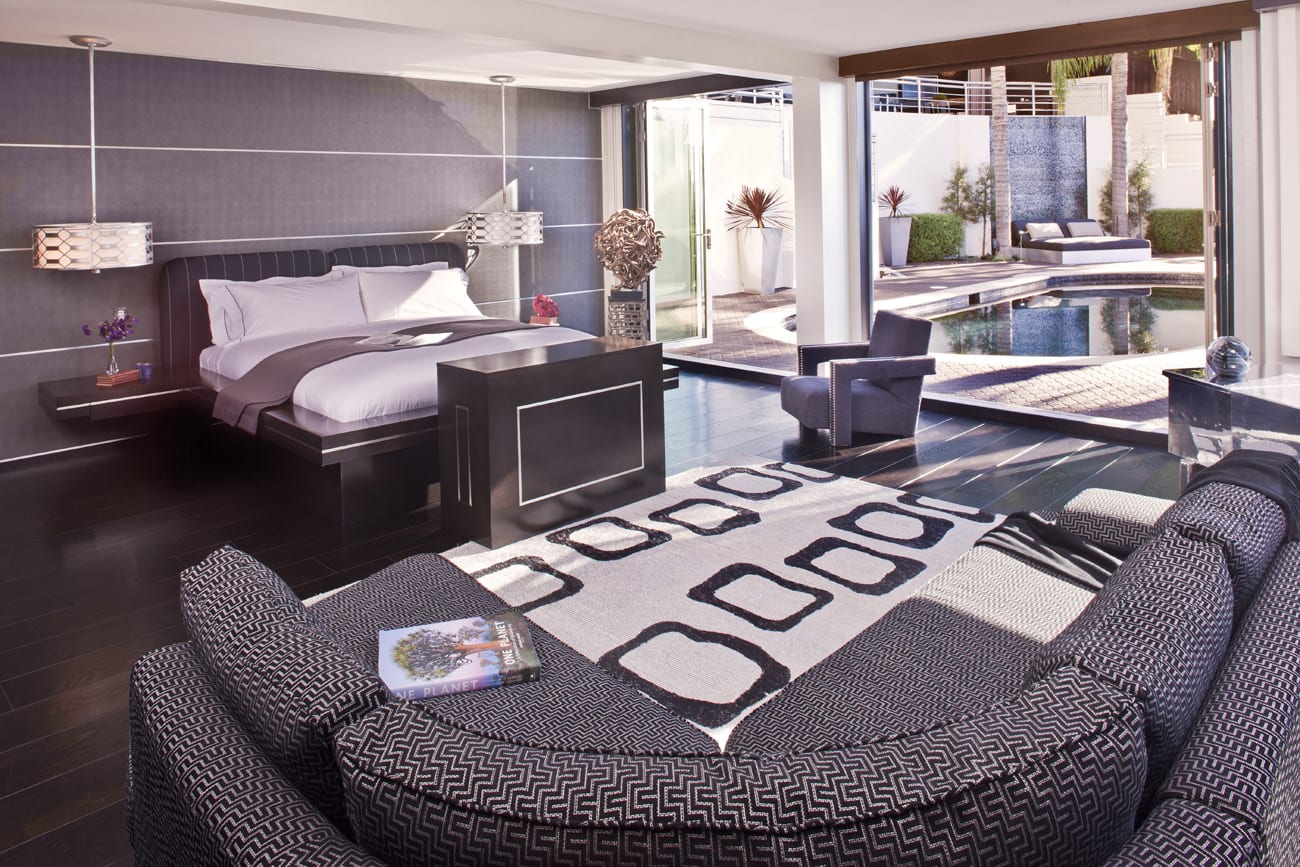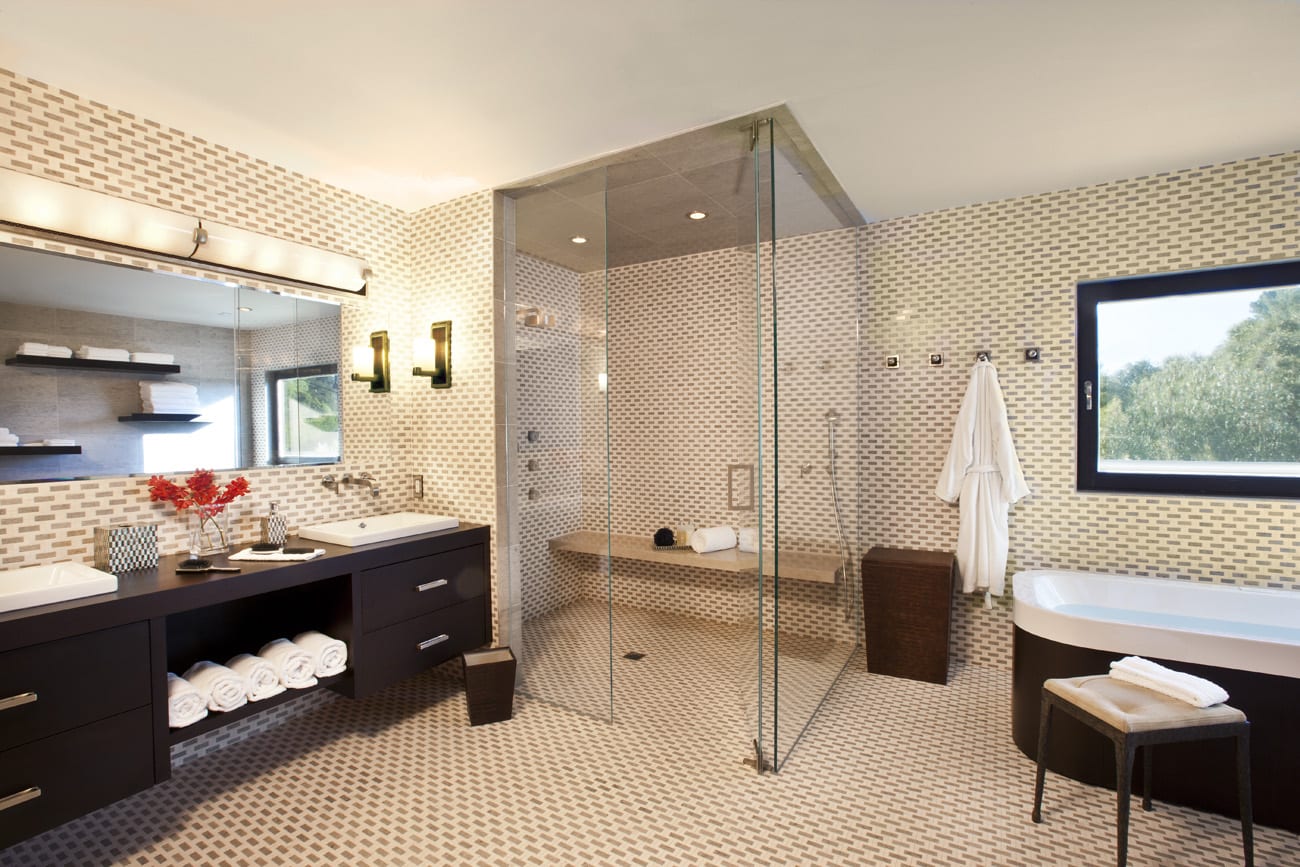 To take full advantage of Southern California's near perpetual sunshine, Whitman installed accordion glass doors, which open or closed admit bright daylight into the room and provide sweeping views of the lower back deck's water wall and pool. The master bath includes a sauna, and a custom Kari Whitman-designed shower with Starfire glass installed by Hollywood Glass. The shower's glass panels were recessed into the floor-to-ceiling tile, giving the illusion of floating doors. Luxury interior designer Whitman says "The floor-to-ceiling Italian tile was very expensive, but I really think it was worth it."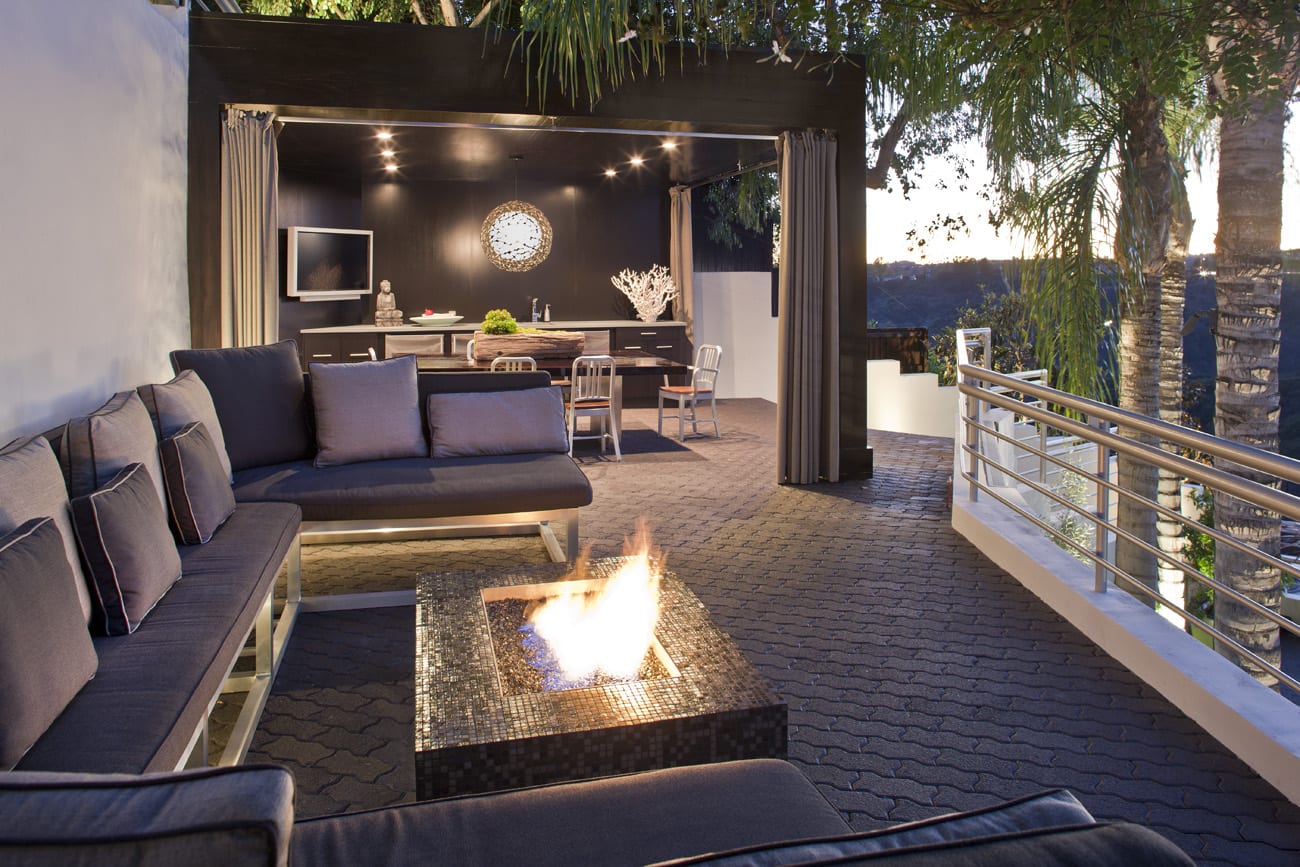 On the Mulholland mansion's upper deck, earth-friendly interior designer worked hard to bring an intimate indoor setting outdoors. The space features dining and sitting areas that look directly out over the city, and Whitman custom-designed all the seating fabricated by Casabella for You and swathed in Joseph Noble fabric. "To me there's nothing better than eating al fresco" environmentally-friendly interior designer Kari Whitman says. "I love outdoor spaces." Because of the location, Whitman was careful to choose the right materials. "The deck is really a sexy area, but with outdoor spaces the most important thing to keep in mind is that the space has to be functional. Everything you do has to be weather conducive." The result is an outdoor space that is windproof and rainproof but still looks really glamorous.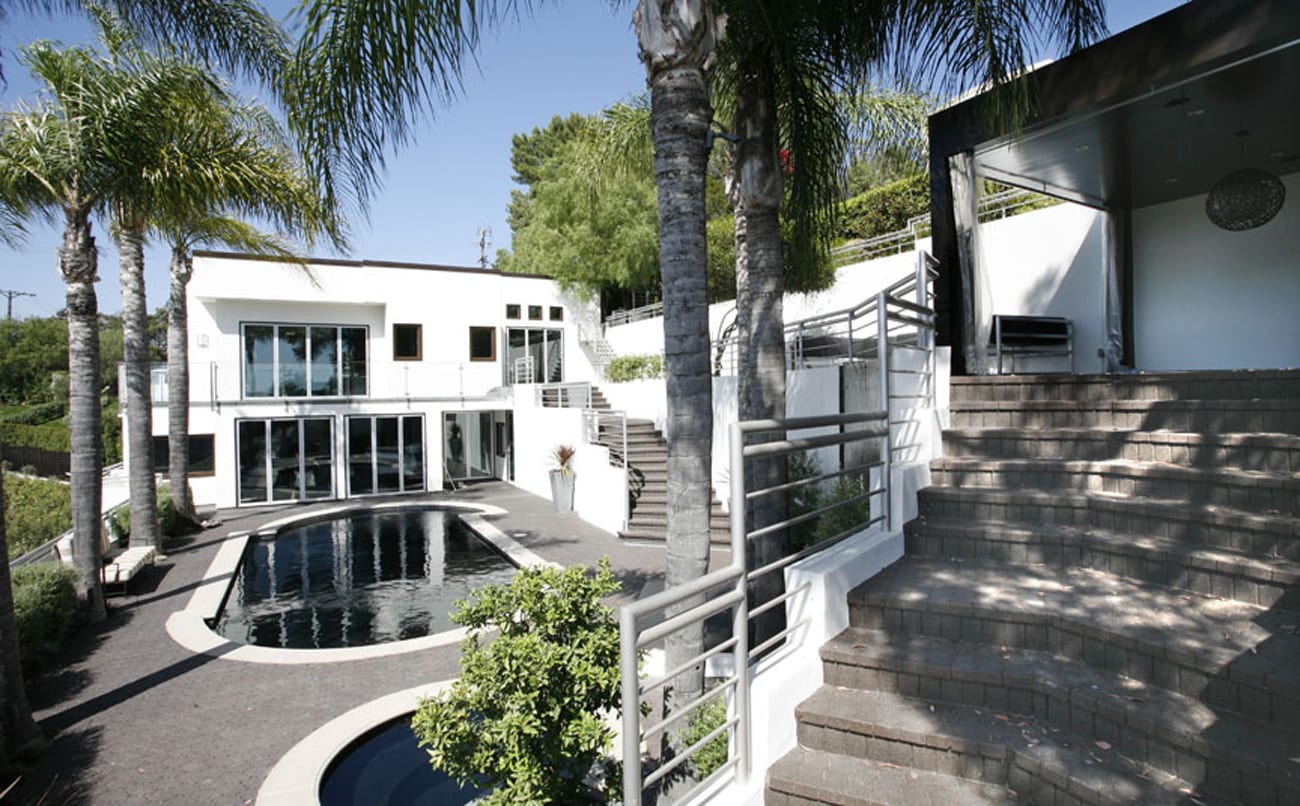 CLICK AN IMAGE BELOW TO VIEW THE FULL GALLERY
About Kari Whitman Interiors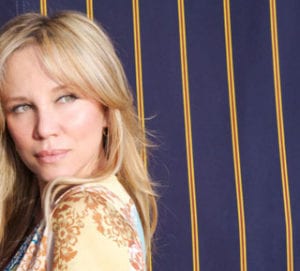 Celebrity interior designer Kari Whitman founded Kari Whitman Interiors in Los Angeles in 1994 as a design build firm specializing in high-end residential interior design. Now based in Los Angeles and Boulder, Colorado, Kari is one of Hollywood's most sought-after interior designer talents. Residential clients including Jessica Alba, Kristen Bell, Melanie Griffith and Antonio Banderas, Nikki Sixx, Justus Parmar, and Don Johnson have embraced her eclectic design style and knowledge of eco-friendly interior design. Kari's expertise also extends into commercial interior design, and projects range from condos to estate homes, boutique hotels to large-scale residential developments. As an Allied Member of the prestigious American Society for Interior Design (ASID), and a member of the Interior Design Society and the International Interior Design Association, Kari has showcased prominent design projects throughout California, New York, Denver, Colorado, Aspen, Jackson Hole, Miami, and Dallas. To spend more time in nature, Kari now operates out of her residential interior design office in Boulder, Colorado.