Celebrity interior designer Kari Whitman took on this project in Long Beach, California for a beloved client, a prominent California Judge. For this penthouse condominium, Kari and the client loved modern, colorful finishes that capture the energy of Southern California.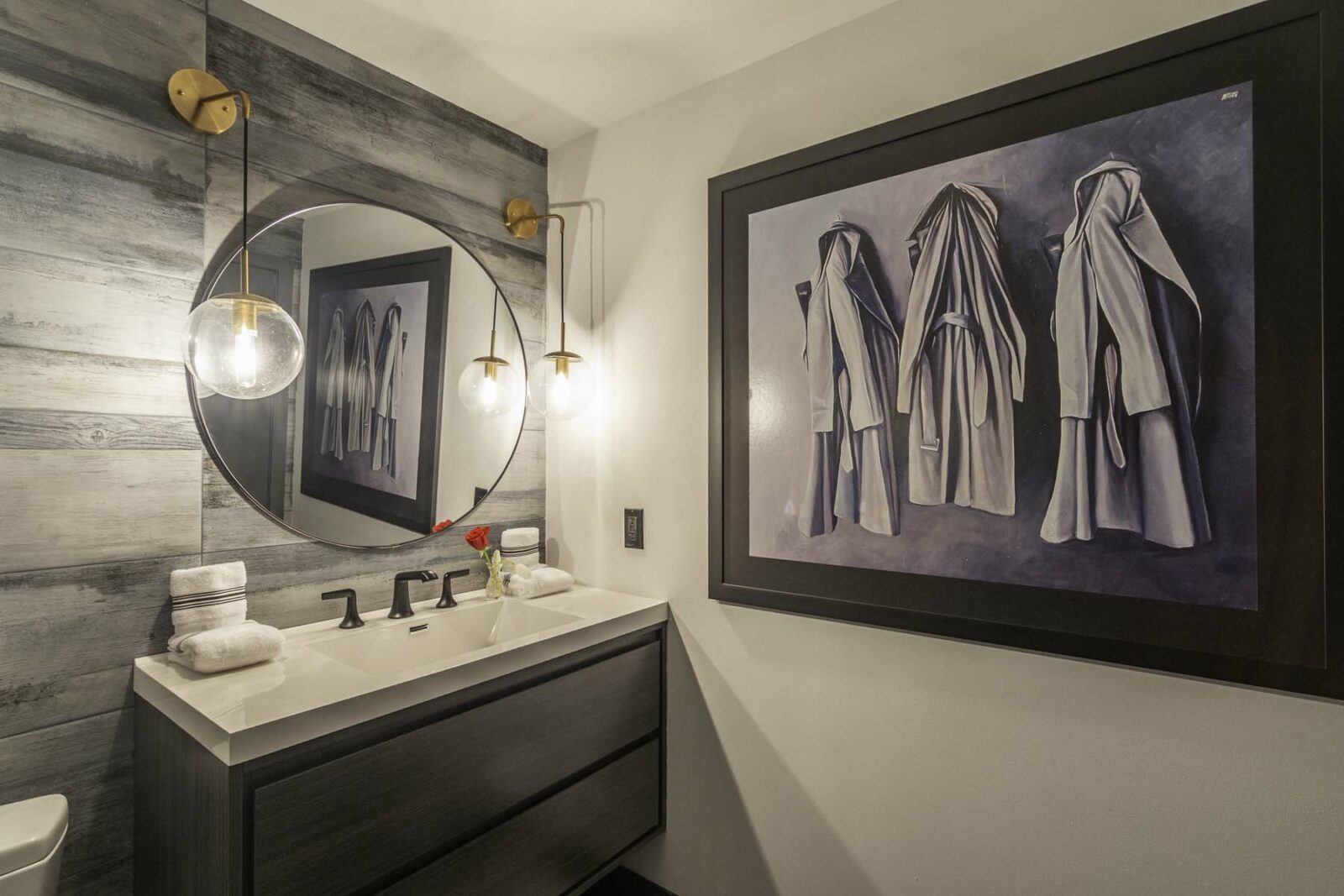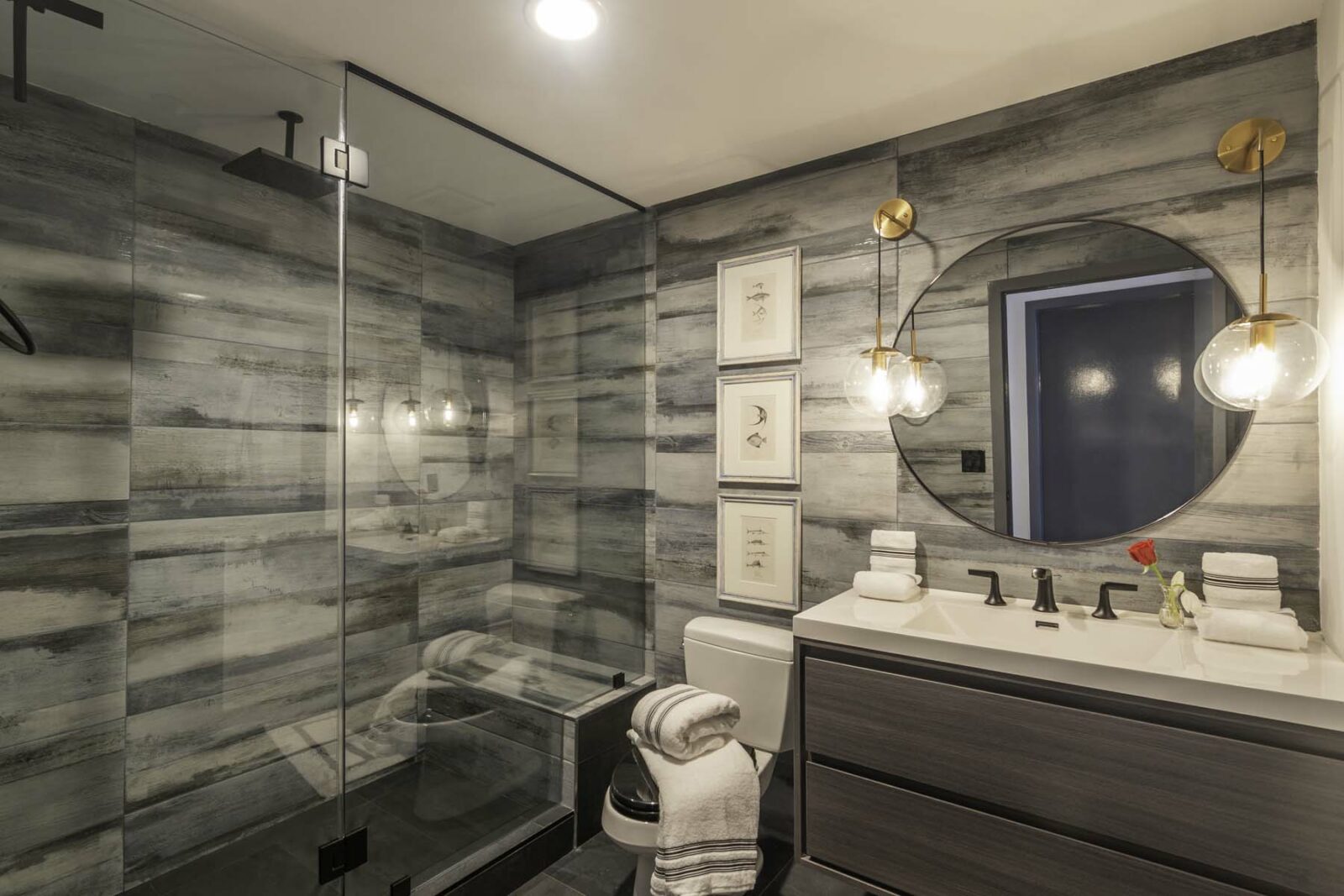 For the guest bathroom, Kari went with tile from The Tile Shop and all black fixtures, keeping it clean and modern while bringing a sophisticated vibe to the room. Wall sconces and art for the walls bring a bright, fun energy, tying the room together with the rest of the home.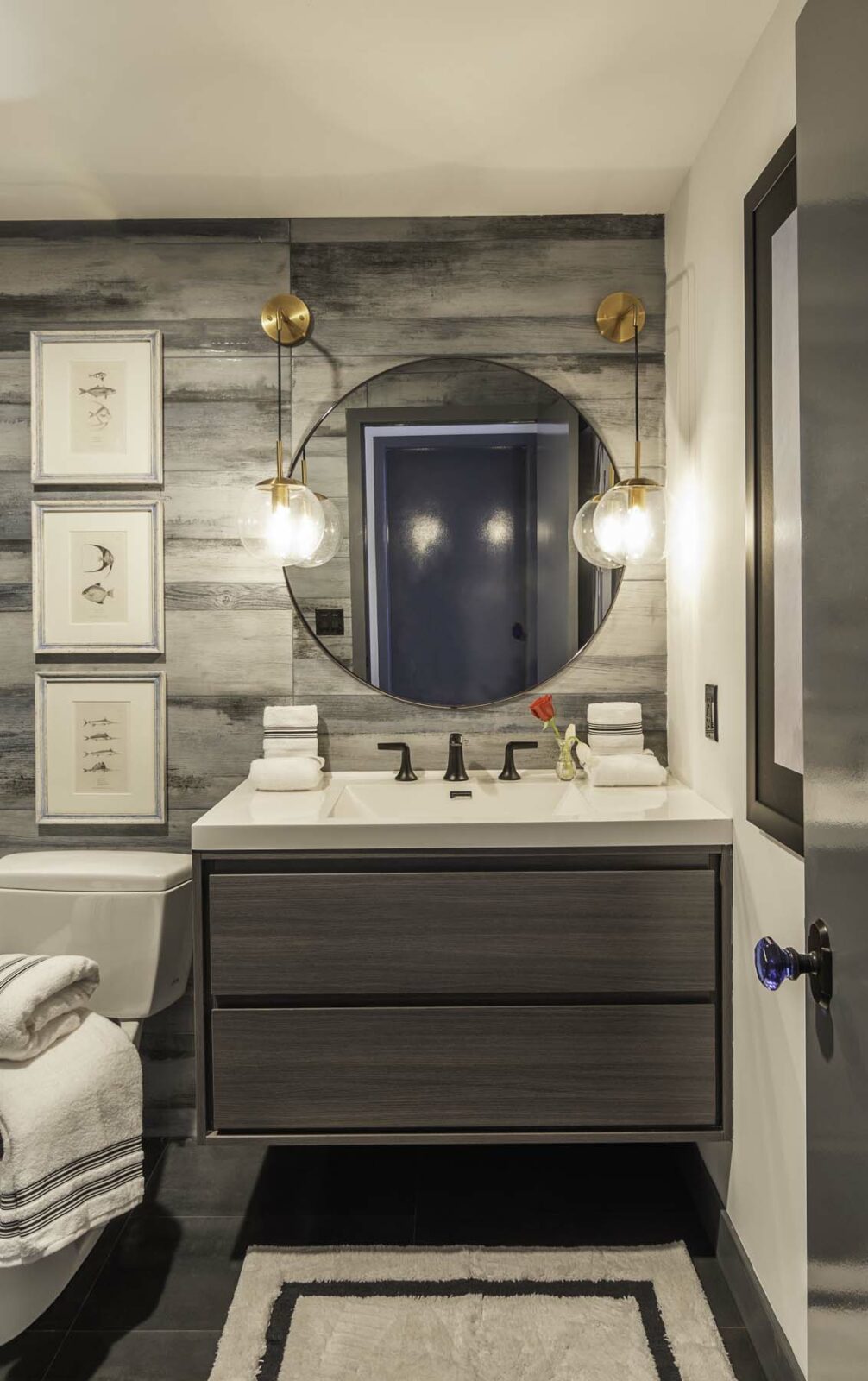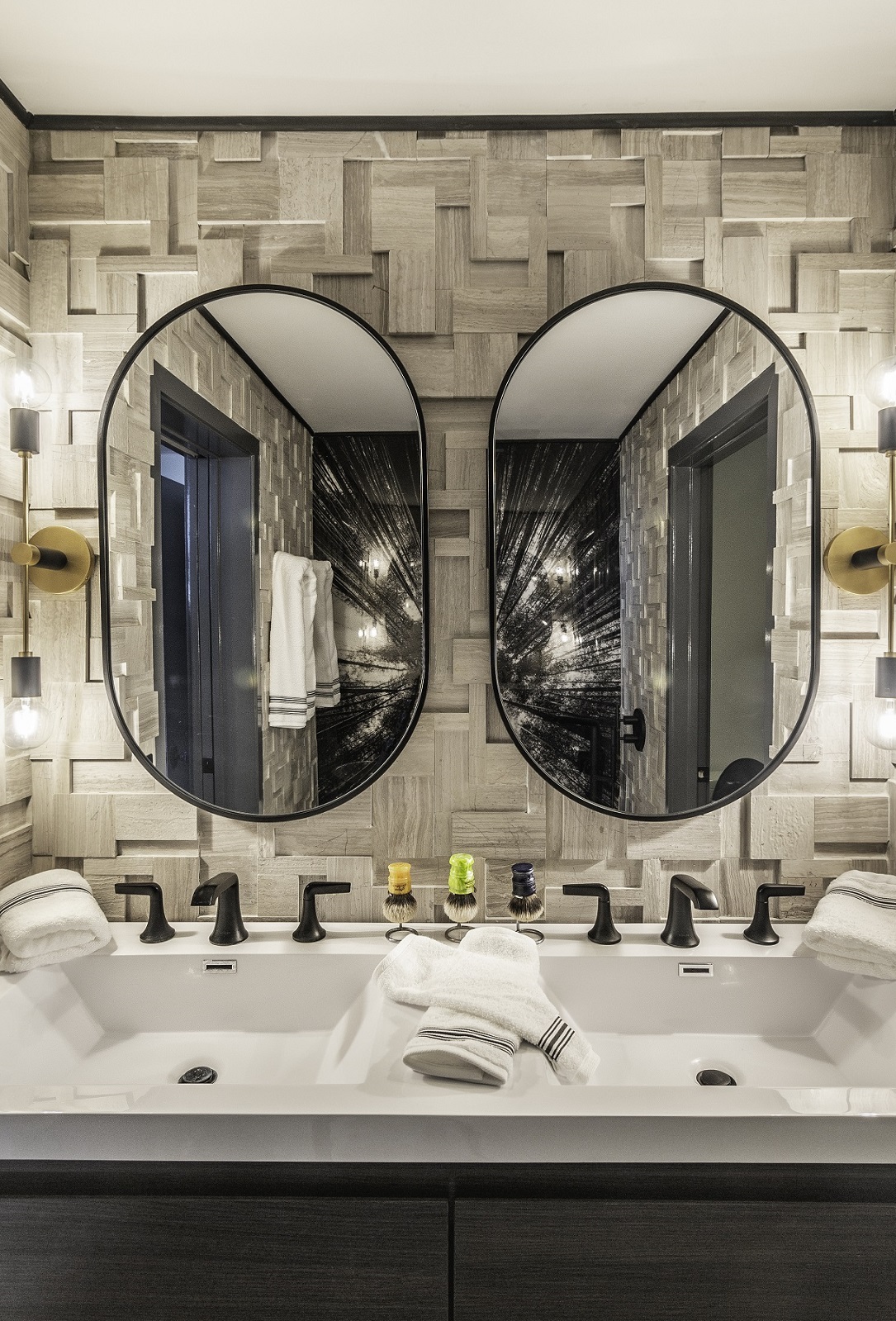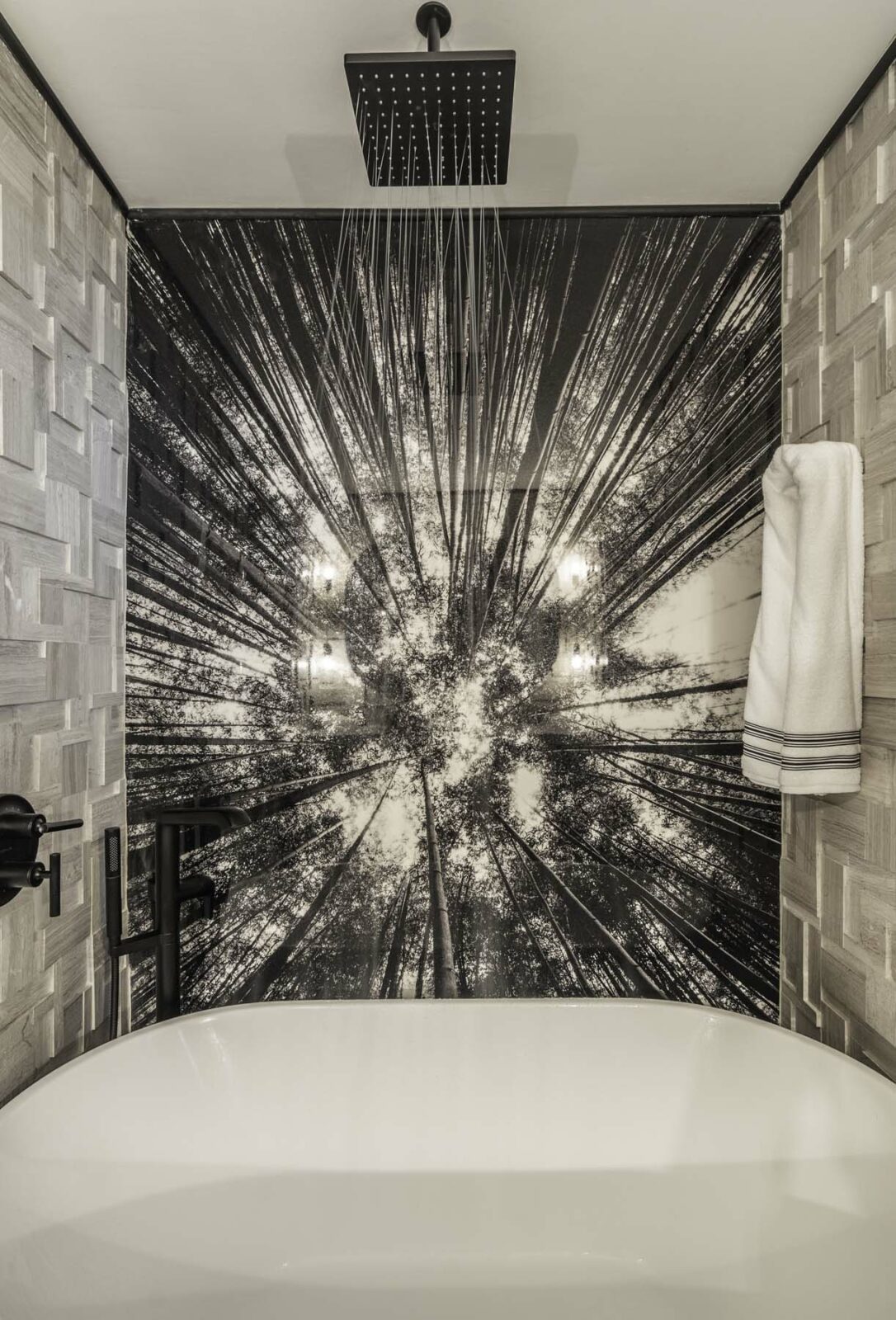 In the master bathroom, a soaker tub is framed by a custom resin art panel by Riznik. Black flooring and striking white wall tile create contrast and interest, while his and hers sinks make a functional and comfortable bathroom space.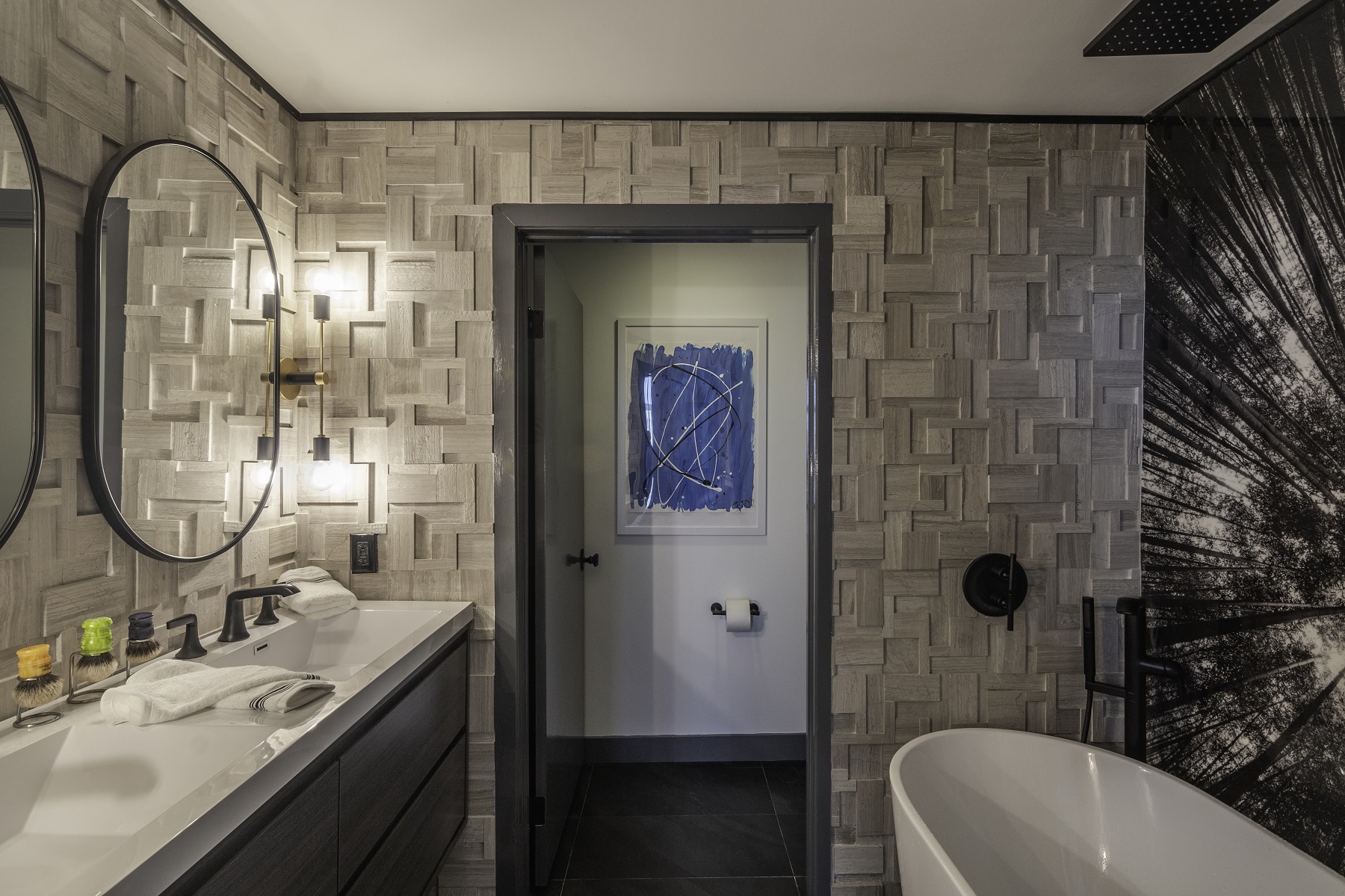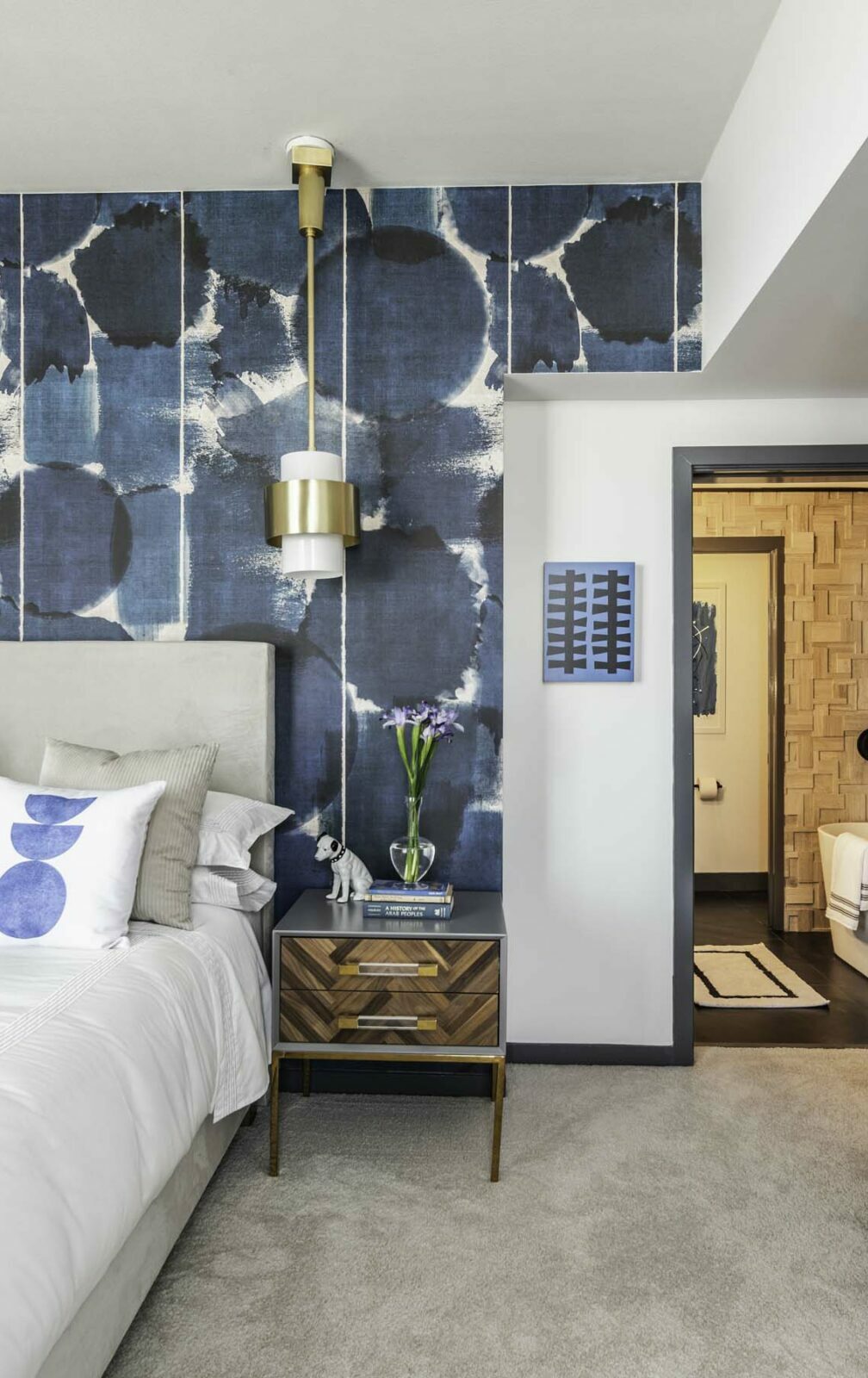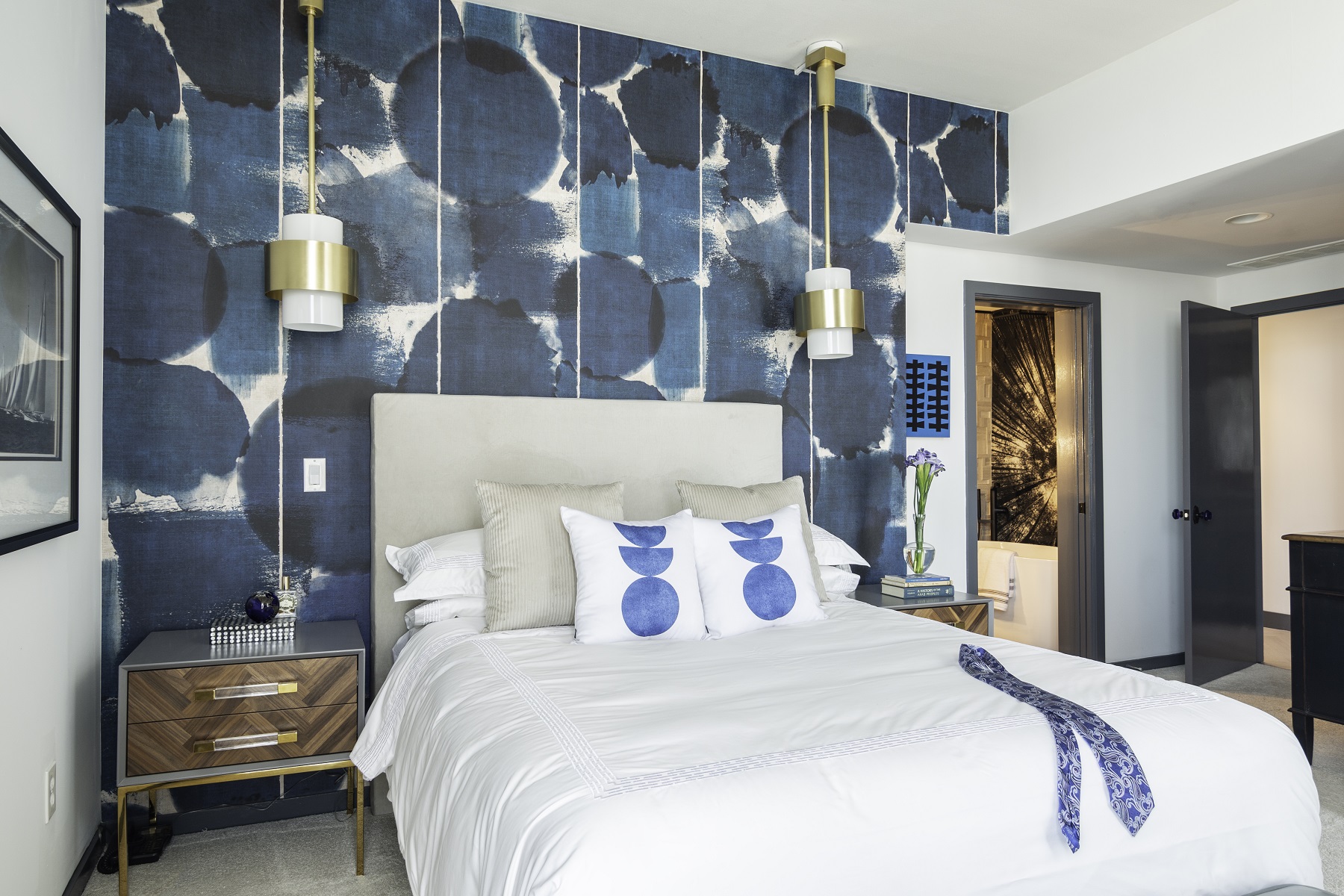 Statement wallpaper in indigo and pops of blue in the art and finishes add some bright color to the master bedroom. The natural wood finish on the nightstands, the custom headboard, and carpeting in a neutral color create balance and a sense of relaxation.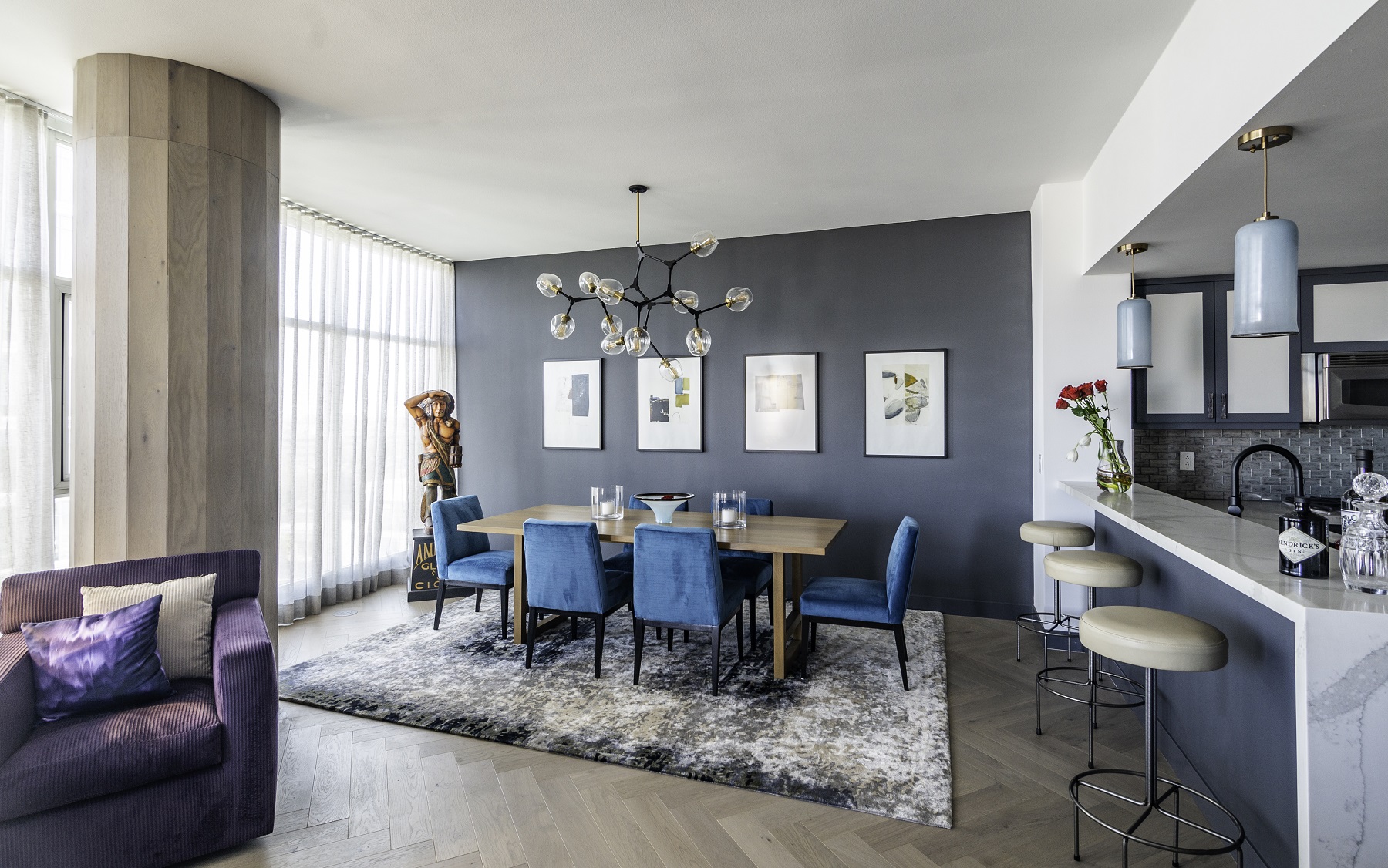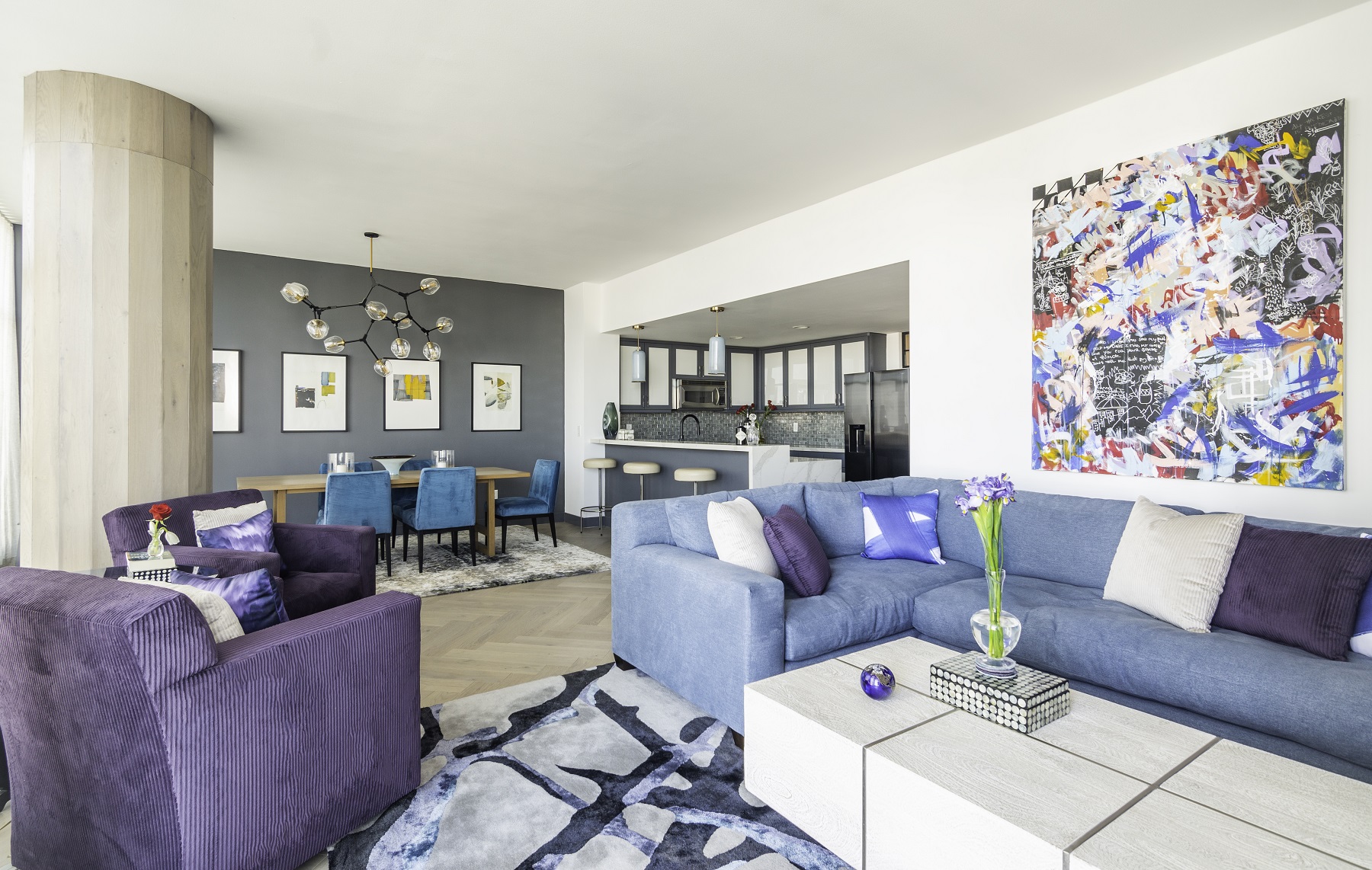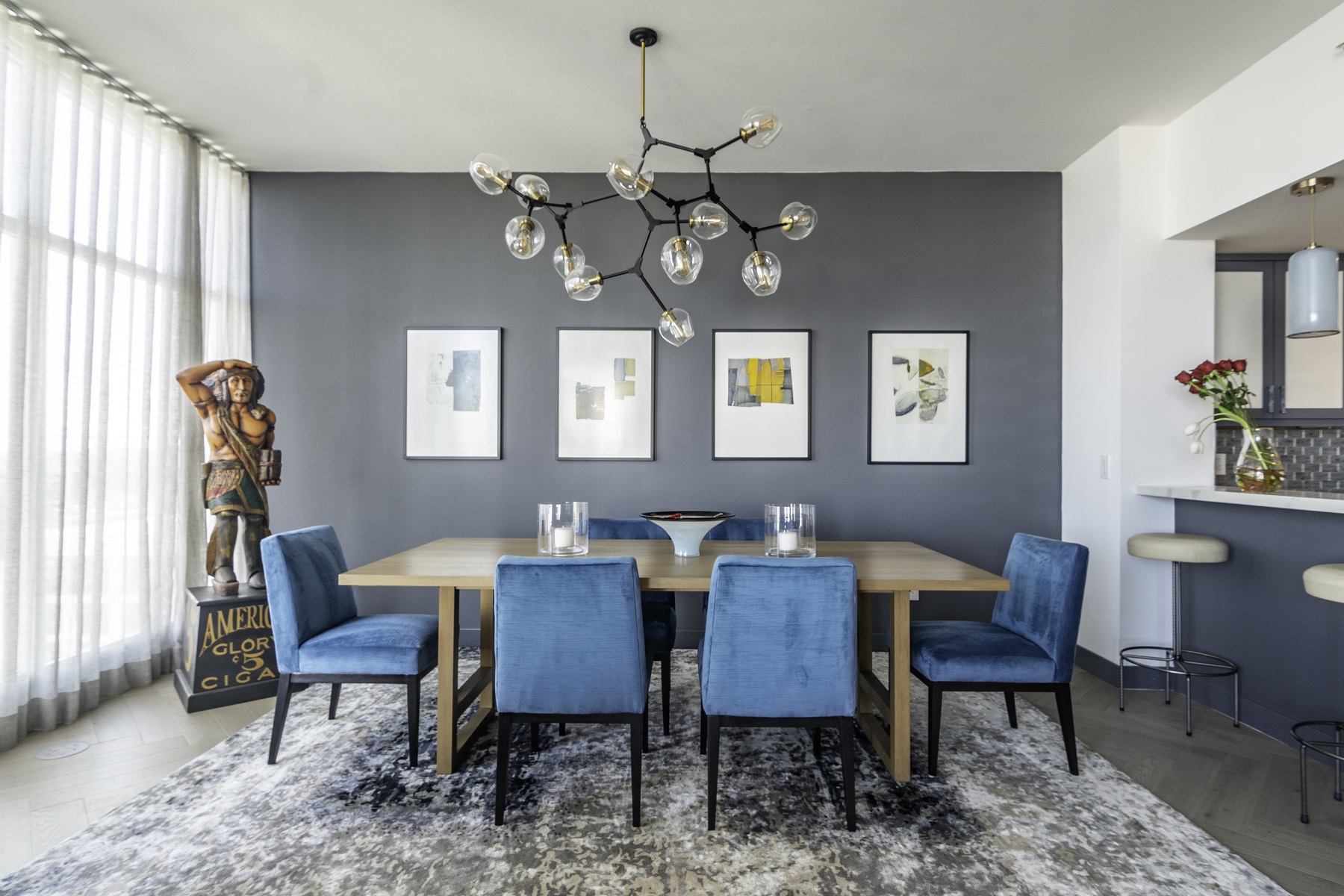 In the dining room, custom reupholstered chairs hearken to the ocean with a bright blue velvet, while a life sized sculpture and pops of yellow in the artwork make for an eclectic, energetic space. A column decked with wood paneling creates a geometric point of interest near the floor to ceiling windows, leading into a modern living room bursting with color. Custom seating and rugs make this space tailored to our client's desires.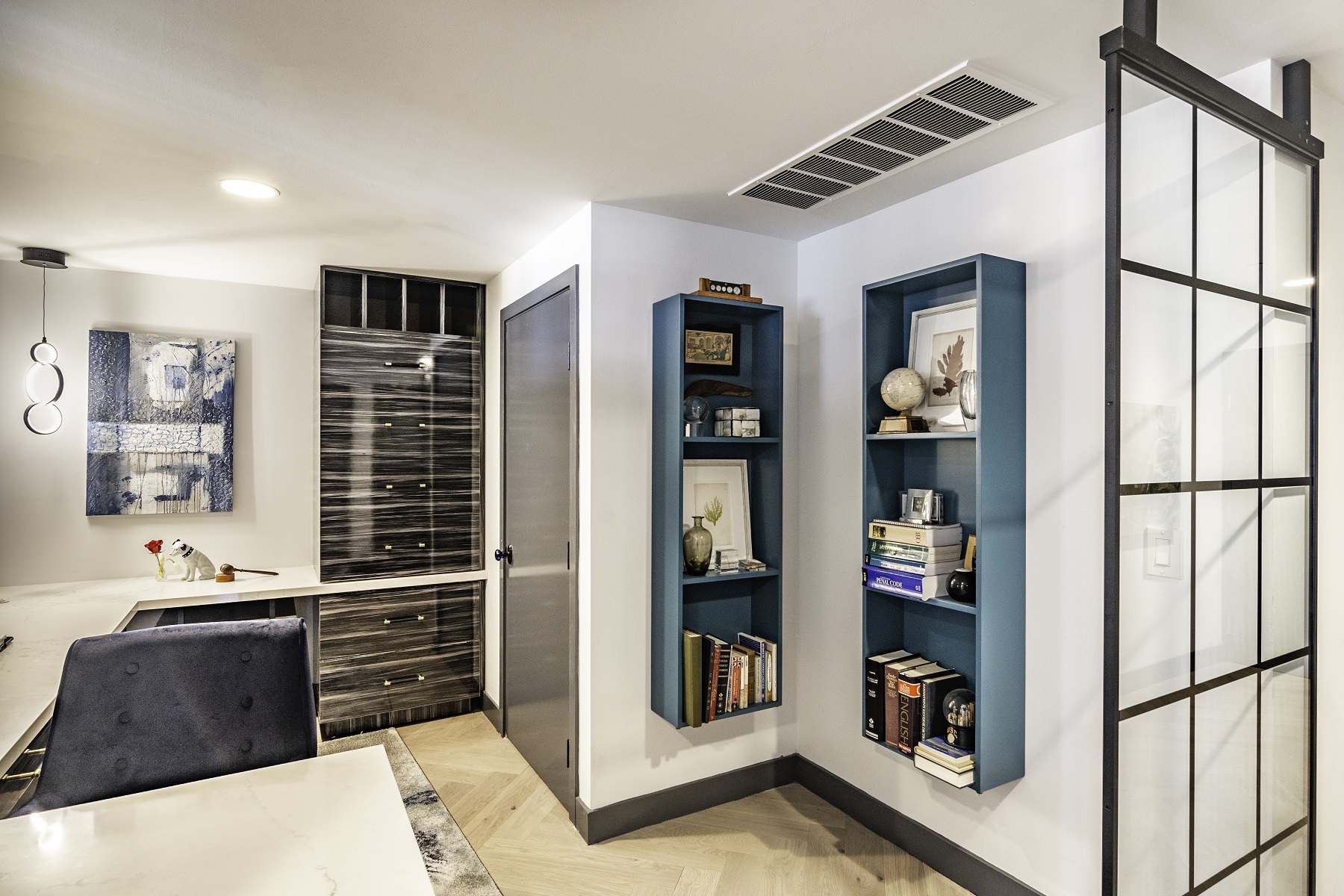 The office space for this client needed to be a place of focus and function, while still being comfortable and modern. To accomplish this, designer Kari Whitman went with custom shelving and a large wrap around desk by The Wood Soul to provide plenty of useful space. To infuse this room with the clients eclectic tastes, she chose moodier blue tones for the finishes and added a clerestory window and screen partition to add light and a feeling of spaciousness.
CLICK AN IMAGE BELOW TO VIEW THE FULL GALLERY
About Kari Whitman Interiors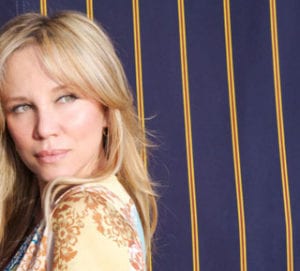 Celebrity interior designer Kari Whitman founded Kari Whitman Interiors in Los Angeles in 1994 as a design build firm specializing in high-end residential interior design. Now based in Los Angeles and Boulder, Colorado, Kari is one of Hollywood's most sought-after interior designer talents. Residential clients including Jessica Alba, Kristen Bell, Melanie Griffith and Antonio Banderas, Nikki Sixx, Justus Parmar, and Don Johnson have embraced her eclectic design style and knowledge of eco-friendly interior design. Kari's expertise also extends into commercial interior design, and projects range from condos to estate homes, boutique hotels to large-scale residential developments. As an Allied Member of the prestigious American Society for Interior Design (ASID), and a member of the Interior Design Society and the International Interior Design Association, Kari has showcased prominent design projects throughout California, New York, Denver, Colorado, Aspen, Jackson Hole, Miami, and Dallas. To spend more time in nature, Kari now operates out of her residential interior design office in Boulder, Colorado.