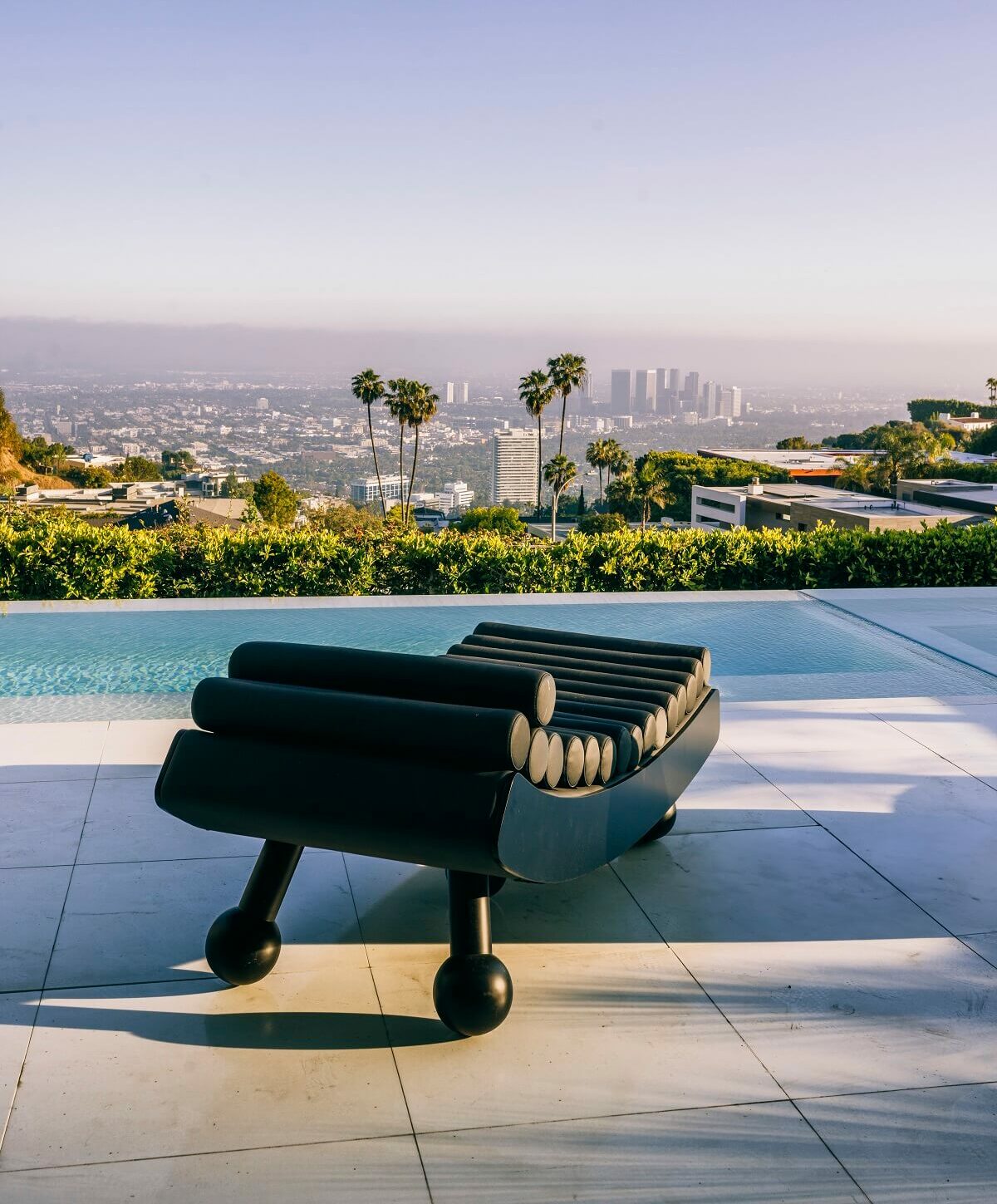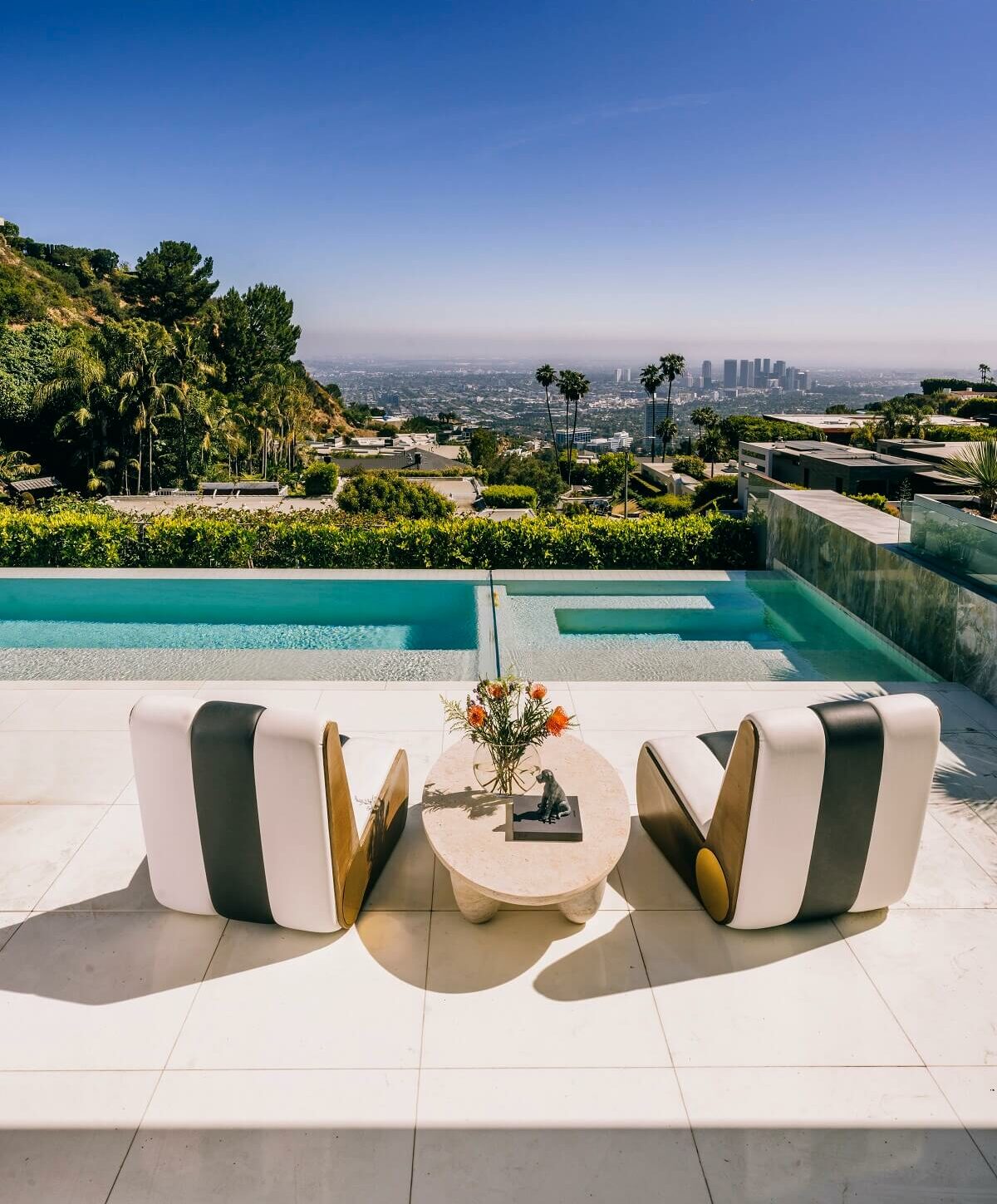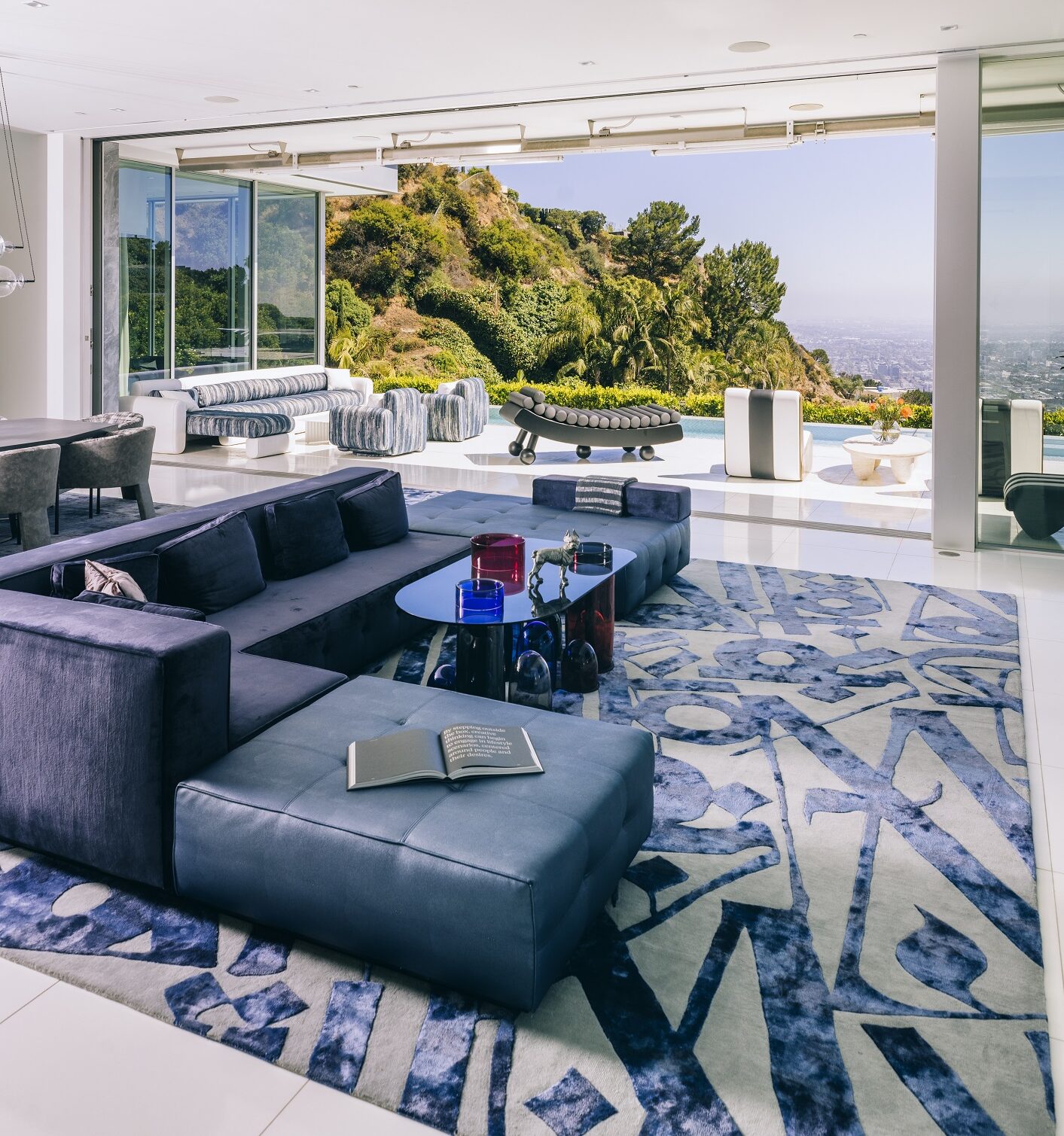 Indulge in the wrap-around infinity pool by Celebrity Designer, Kari Whitman. She knew exactly what to do with this setting. Kari brought in gorgeous lounging from Hommes and created her own custom couches and chairs to seamlessly coincide with the poolside and the exquisite Los Angeles Skyline.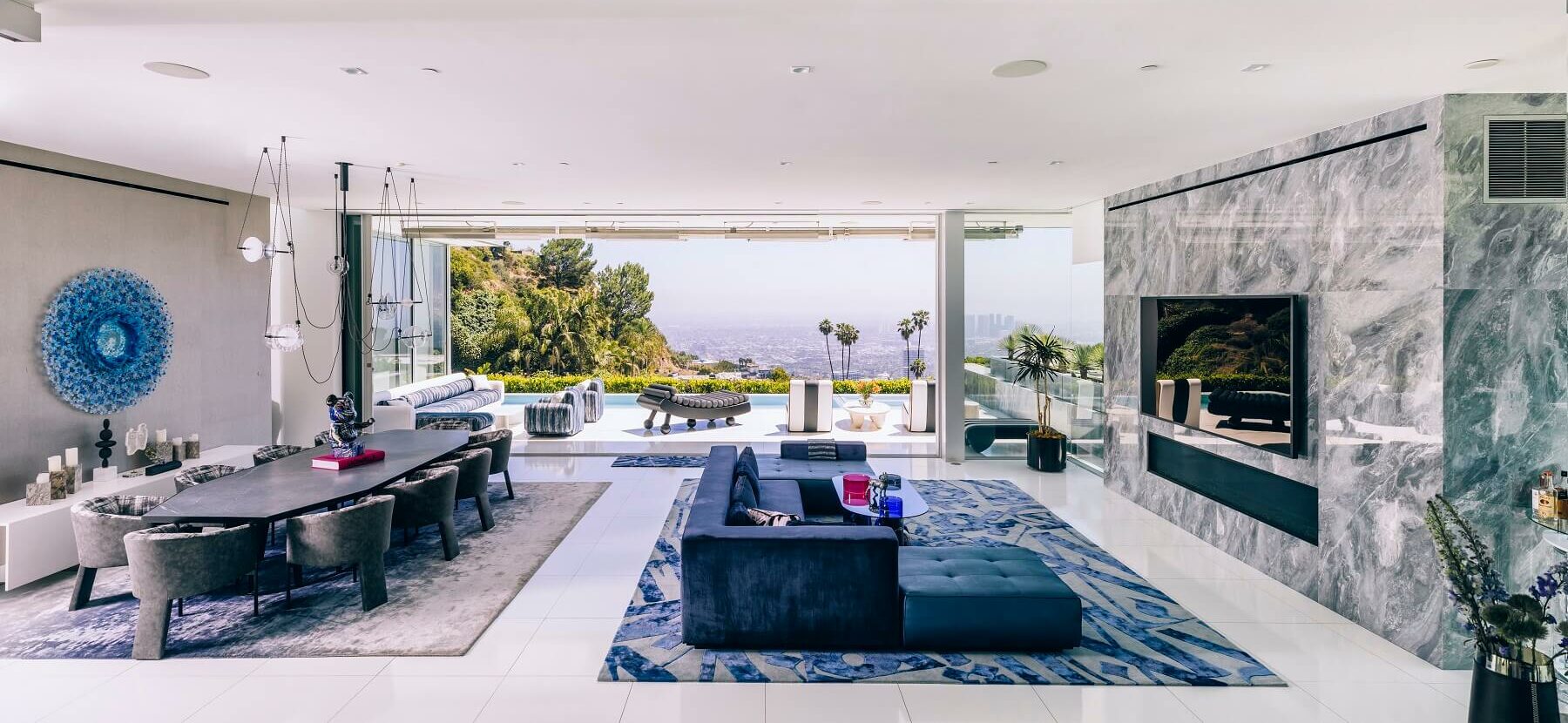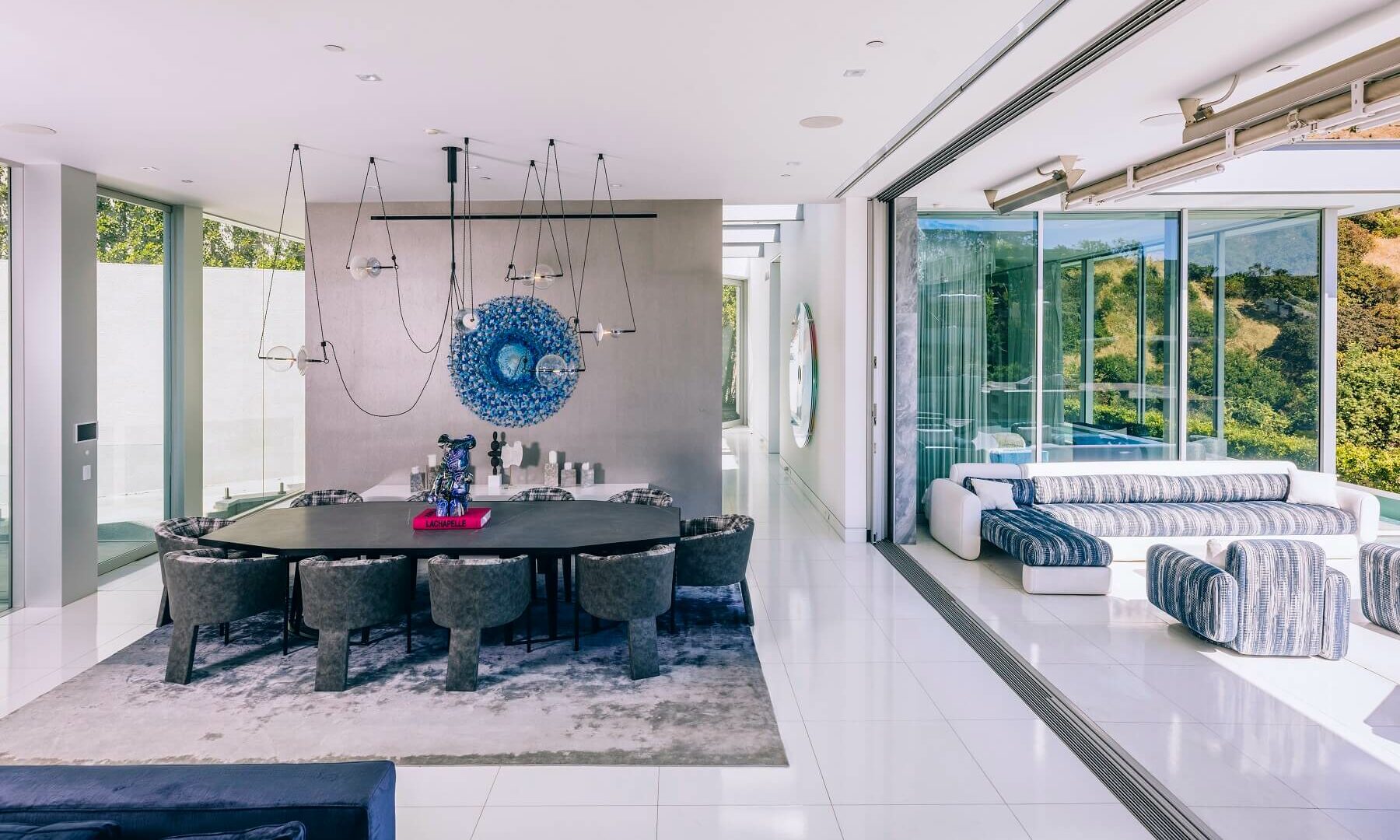 Kari Whitman took this room and made it into a sophisticated, comfortable living area with custom dining chairs, custom dining table and a custom couch. Classic to Kari's style, she artfully integrated the 1st Dibs chandelier to unify the room's aesthetics. Kari scoured all throughout Europe for art pieces to embellish this project, and during her travels, she encountered the captivating 'Dream Catcher Blue Class' artwork from the Italian Art Collection Di Mucciolo. With a clear vision, Kari knew exactly where to place it – above her custom table in this very residence. She incorporated a custom hand blown glass table, made by a local LA Artist.
This elegant kitchen bathes in plentiful natural light, beautifully enhanced by the inclusion of Houzz's chic blue bar stools, curated by luxury designer Kari Whitman to elevate the space with sophistication, for a clean look, Velux skylights allow a fresh breeze.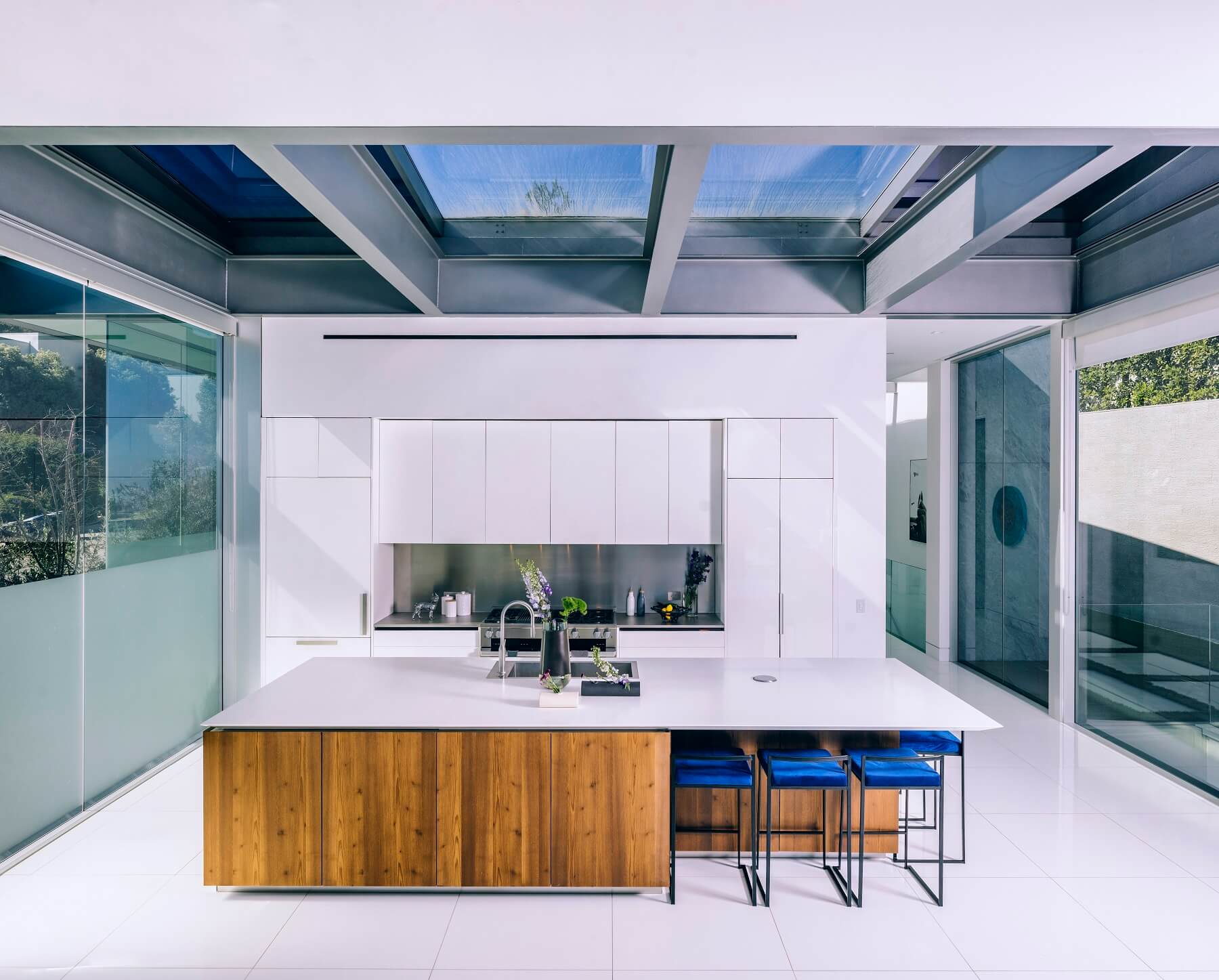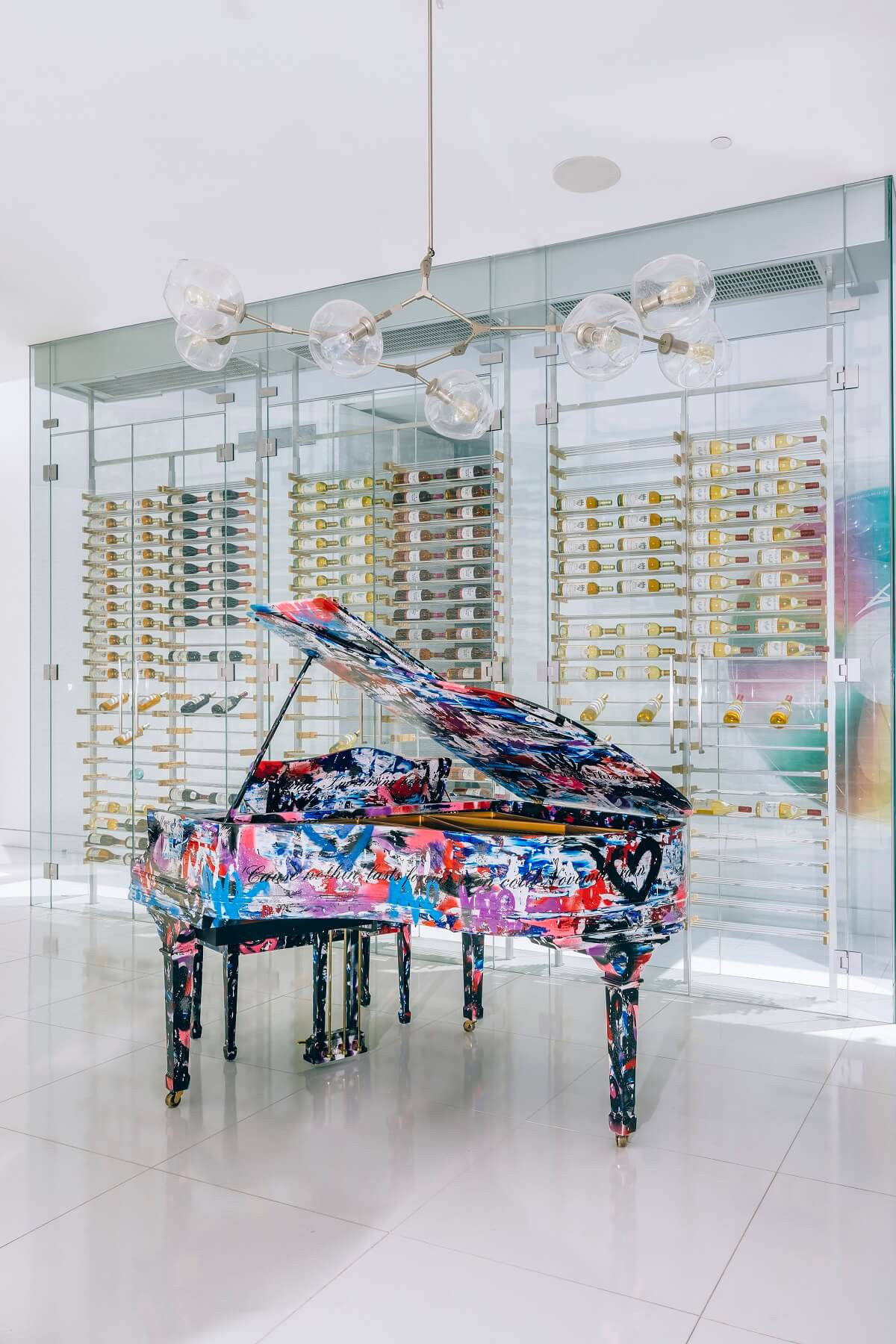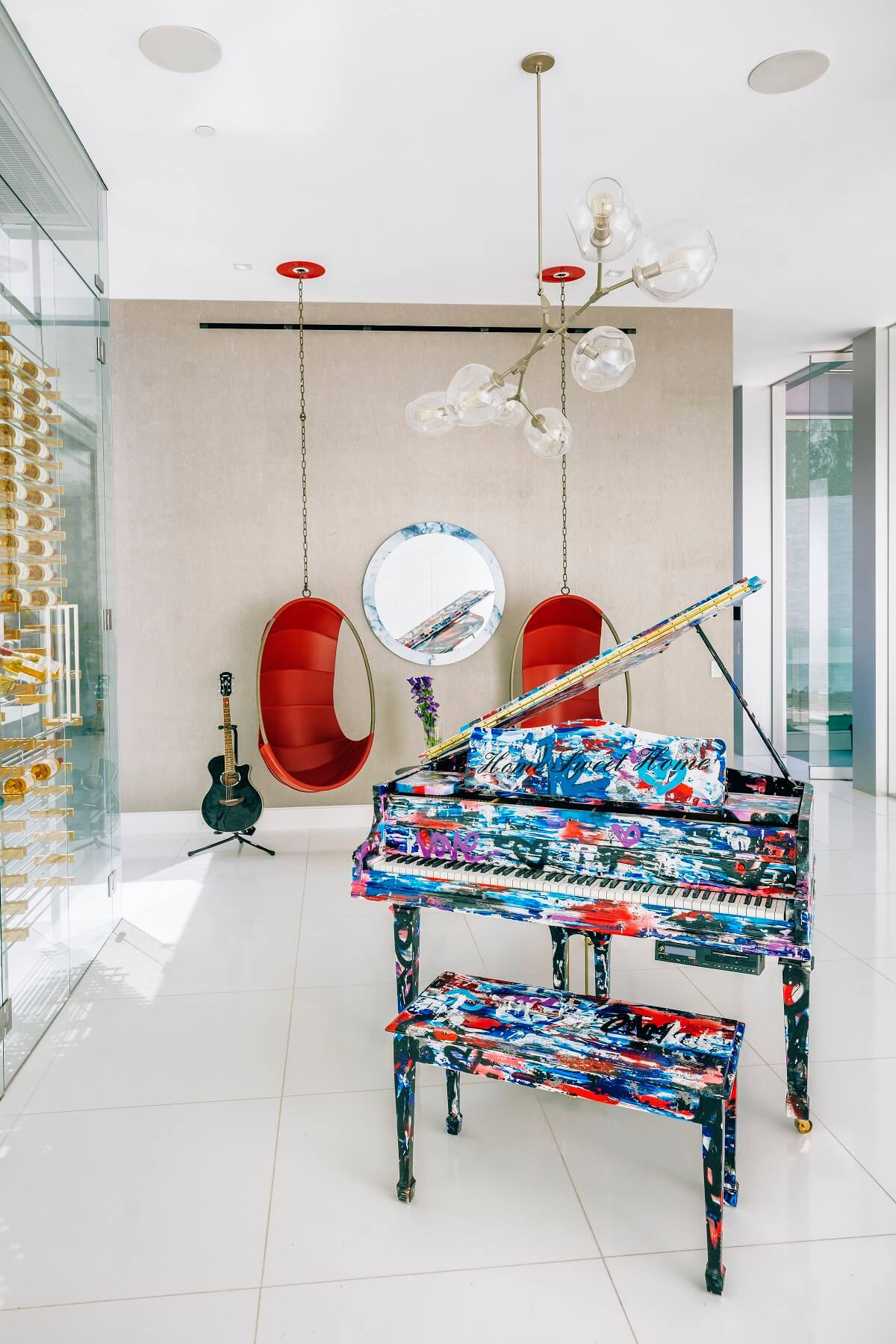 Kari ingeniously repurposed a piano once owned by her client, Nikki Sixx, and as expected, she infused it with her renowned style, resulting in a remarkable transformation! Amber Goldhammer, a local artist, was delivered the piano and she was able to capture Kari's colorful vision. The floor to ceiling wine cellar makes the space intimate with a sneak peak of the interactive CD art from Beyond the Streets. With red leather swings, found in Milan from Ivano Redaelli, Kari created the space to enjoy music and entertain, like a rock star.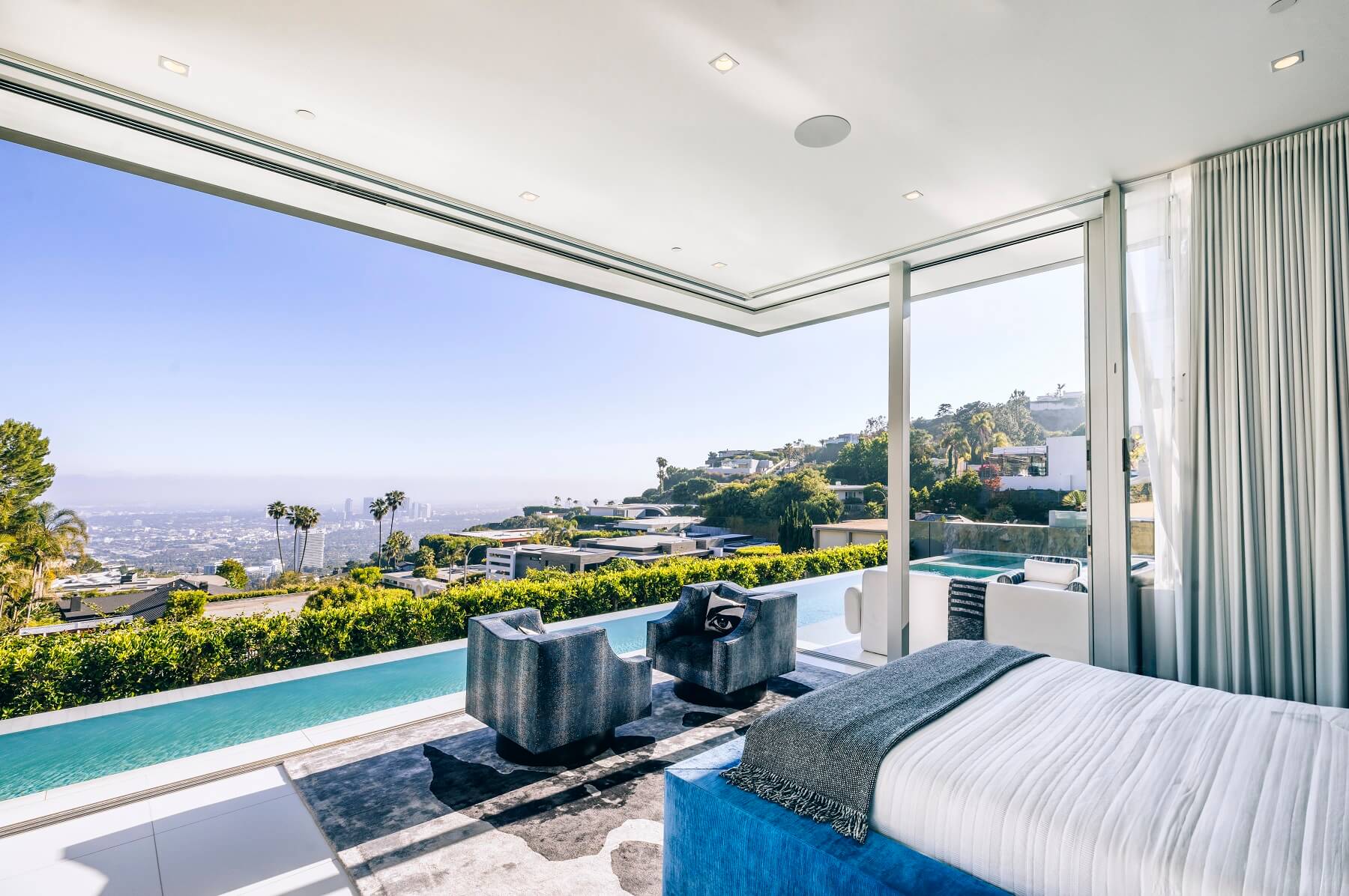 Captivate the California view in this Master bedroom. Kari Whitman designed this masterbed in a grand style. When Kari envisions the ideal bedroom, she never falls short in executing every intricate detail, from the bespoke bed frame and headboard to the meticulously crafted chairs. Each custom built in nightstand is framed with beautiful Artemest Pendants.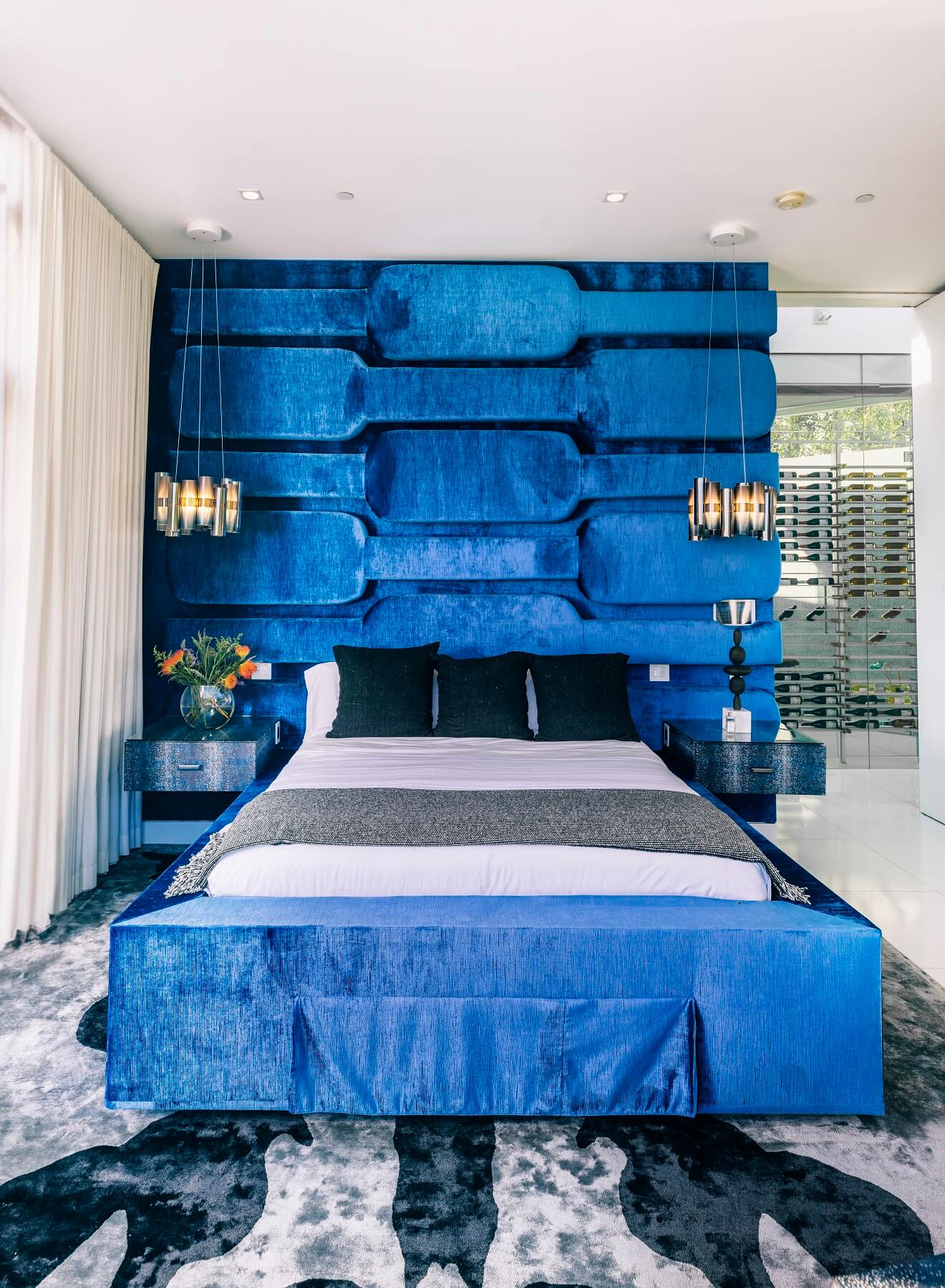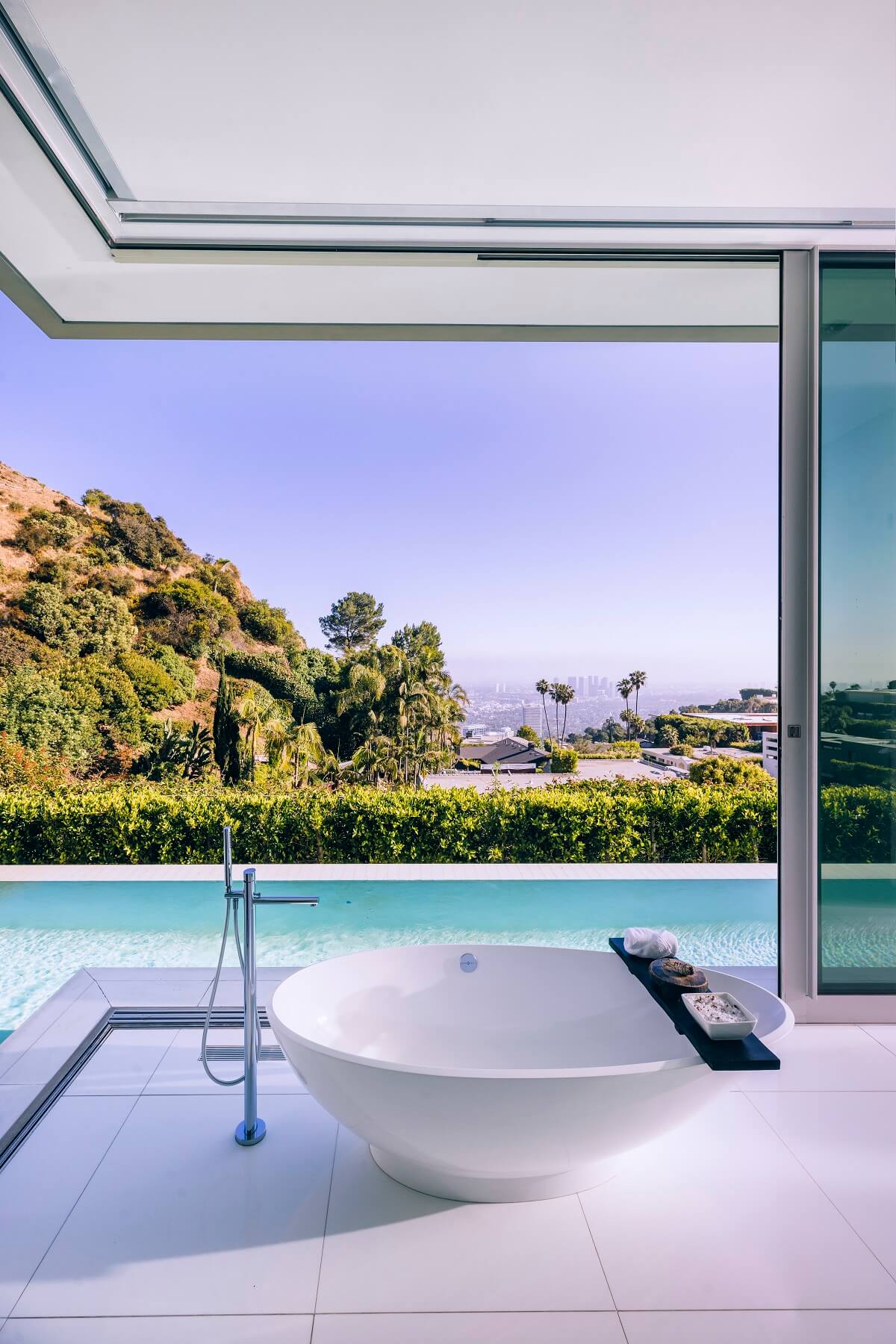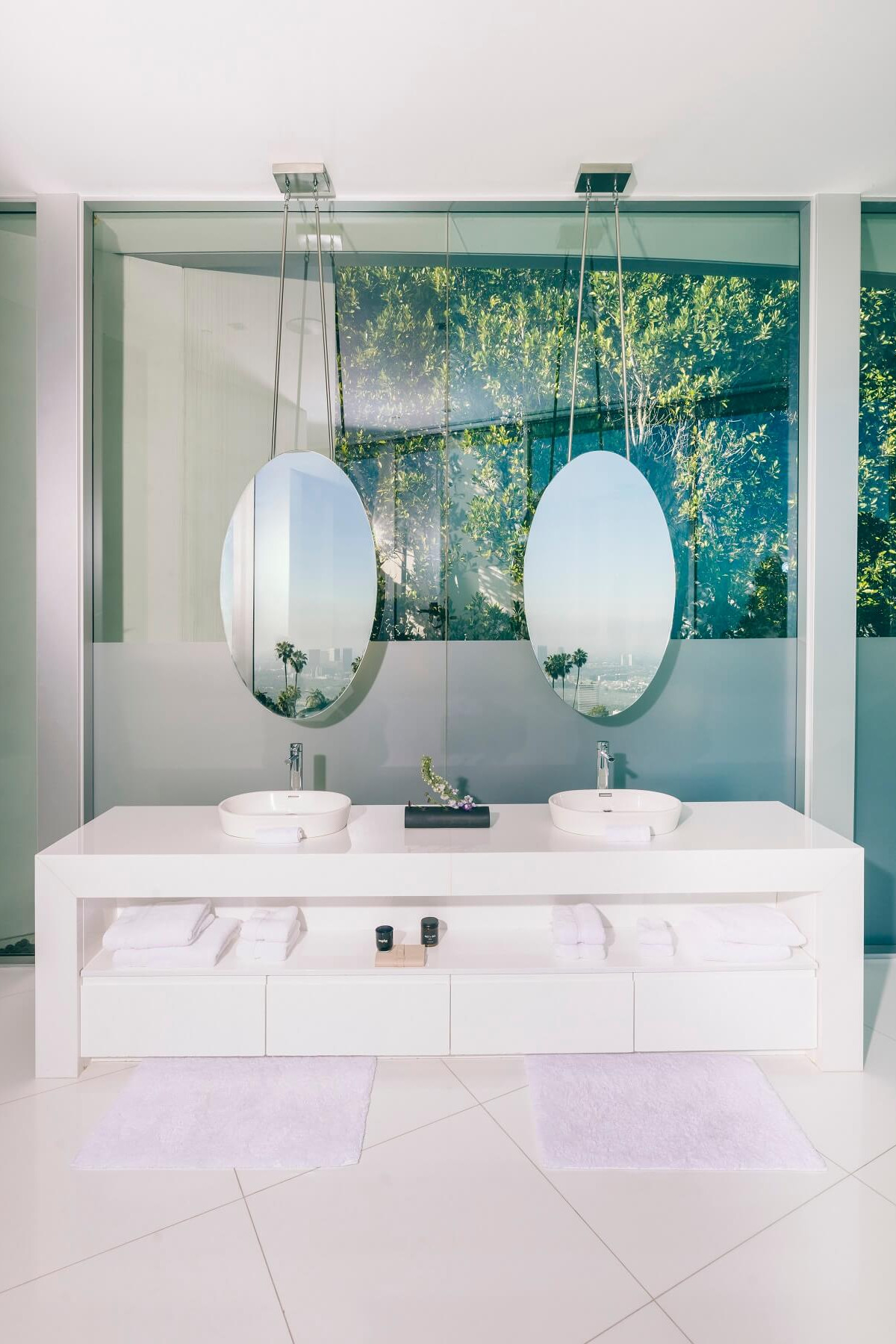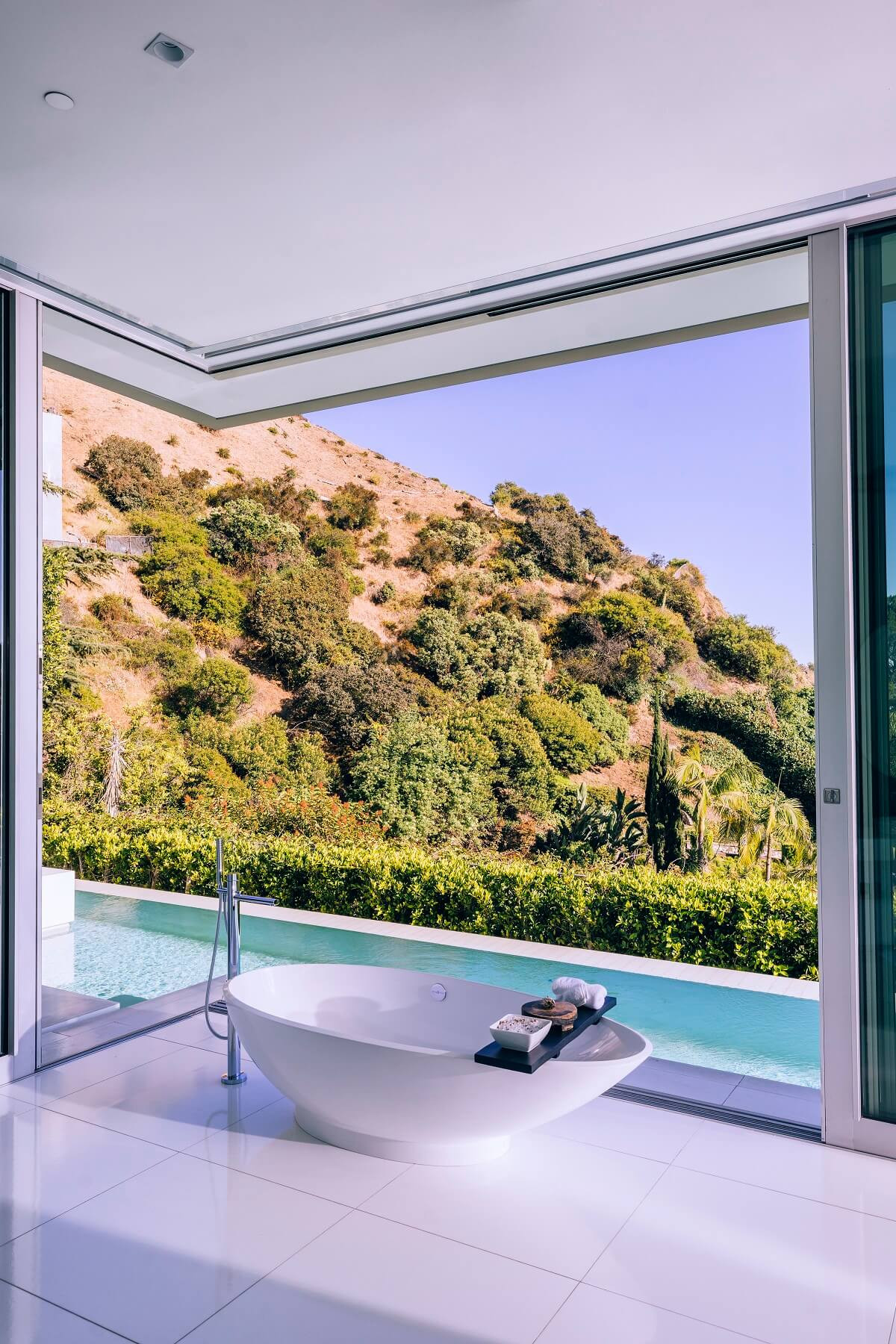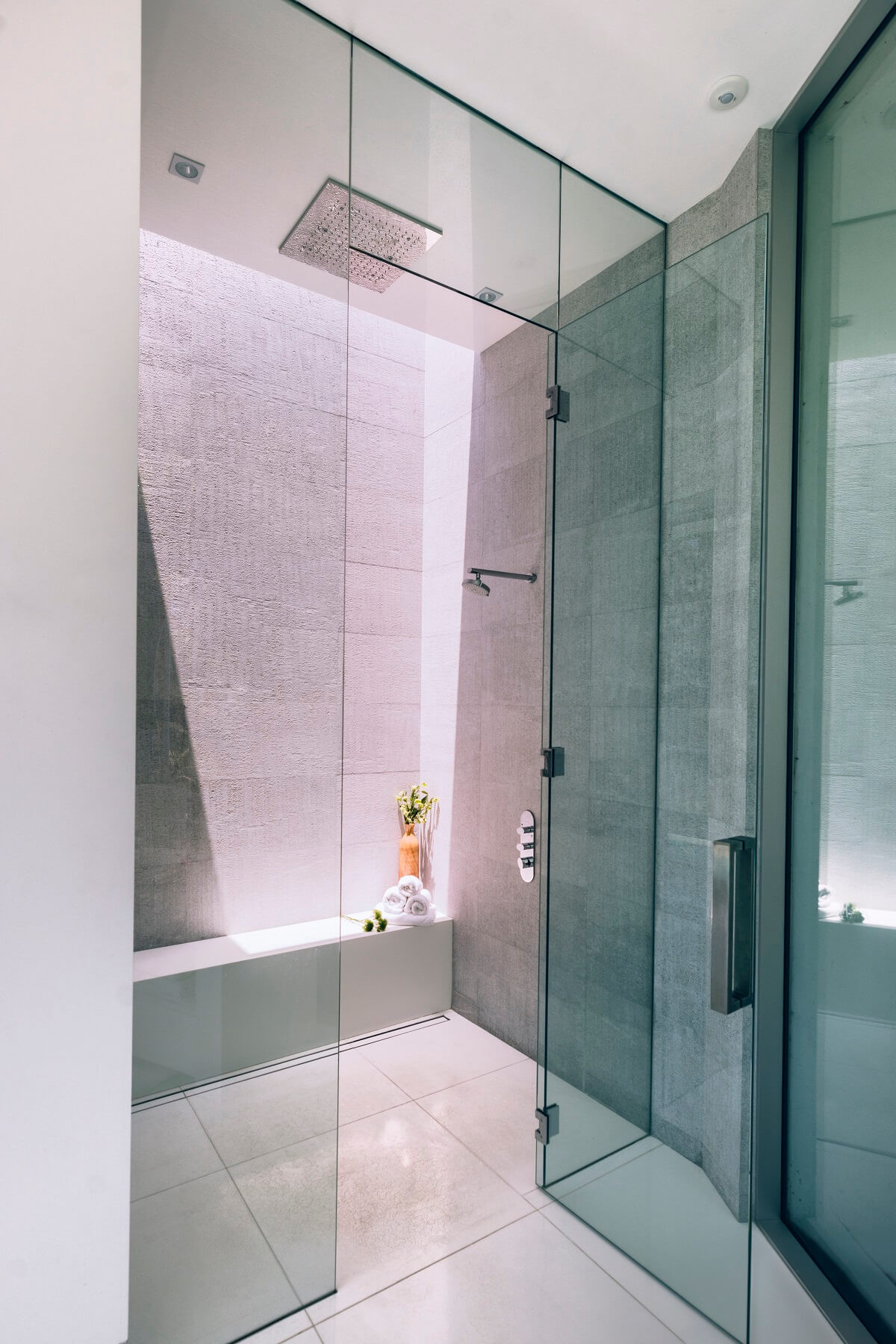 Alongside the bathtub, take in the gorgeous California Hills, with rolling fleetwood doors that open up the view. The allure of the shower exudes beauty and relaxation with aaa Velux Skylight. Kari envisioned this bathroom as a sanctuary of relaxation, and she brought that vision to life.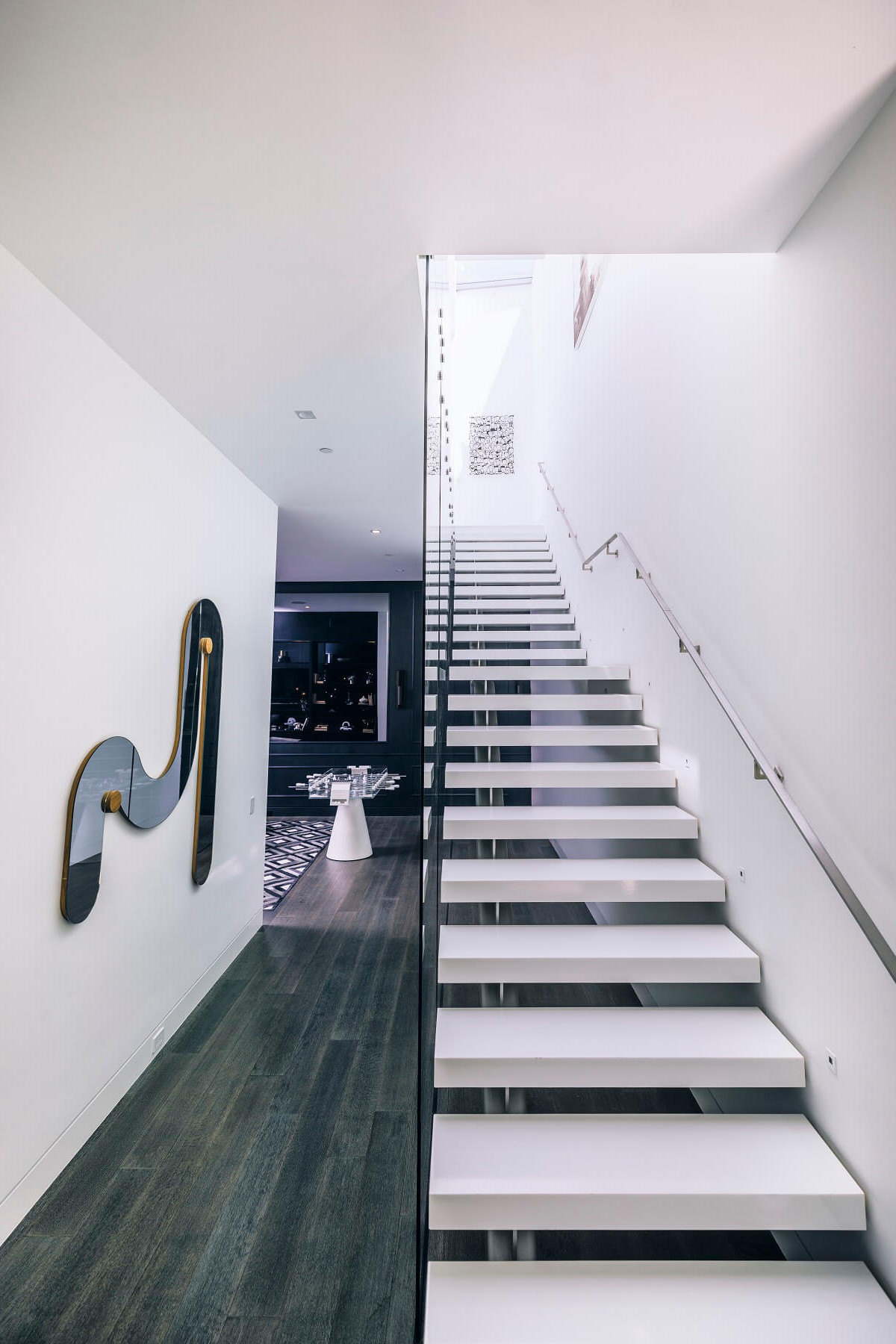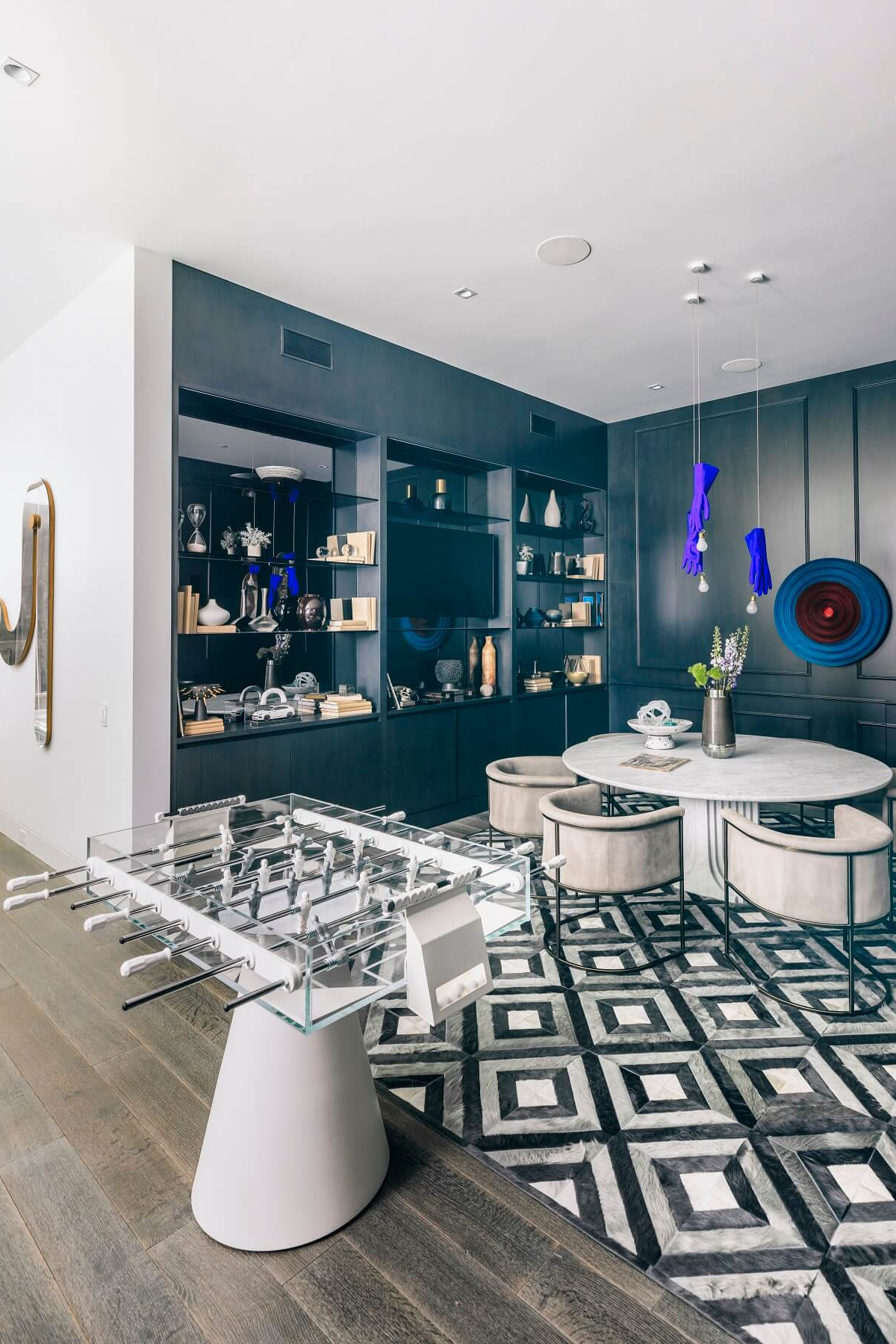 Kari took this game room to a new level with custom chairs and vibrant colors. She had an idea of a custom inkblot rug, which she designed. When Kari spotted the pendant lighting by Lacrime Del Pescatore from Hundred Miles, she had to bring these to the new home.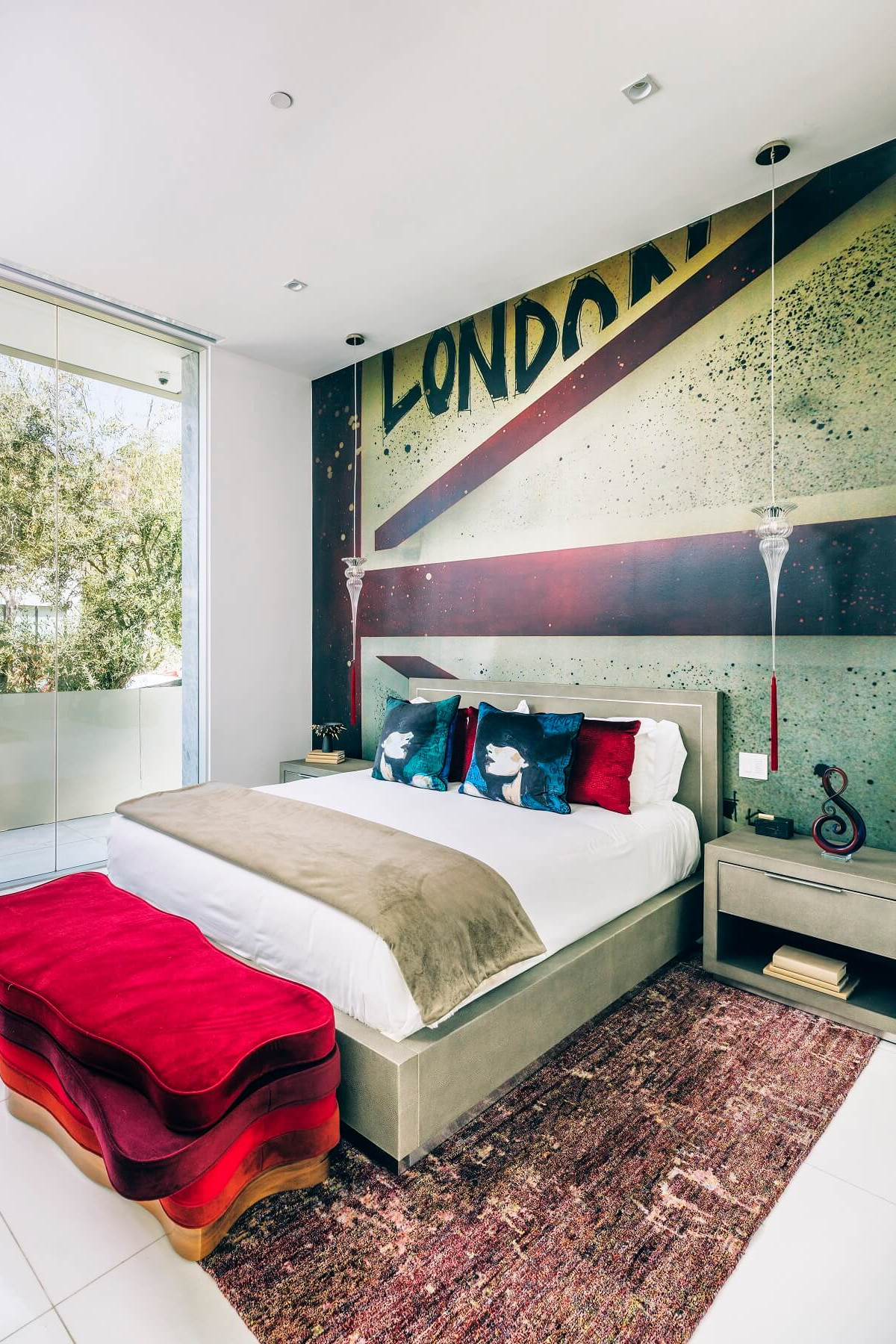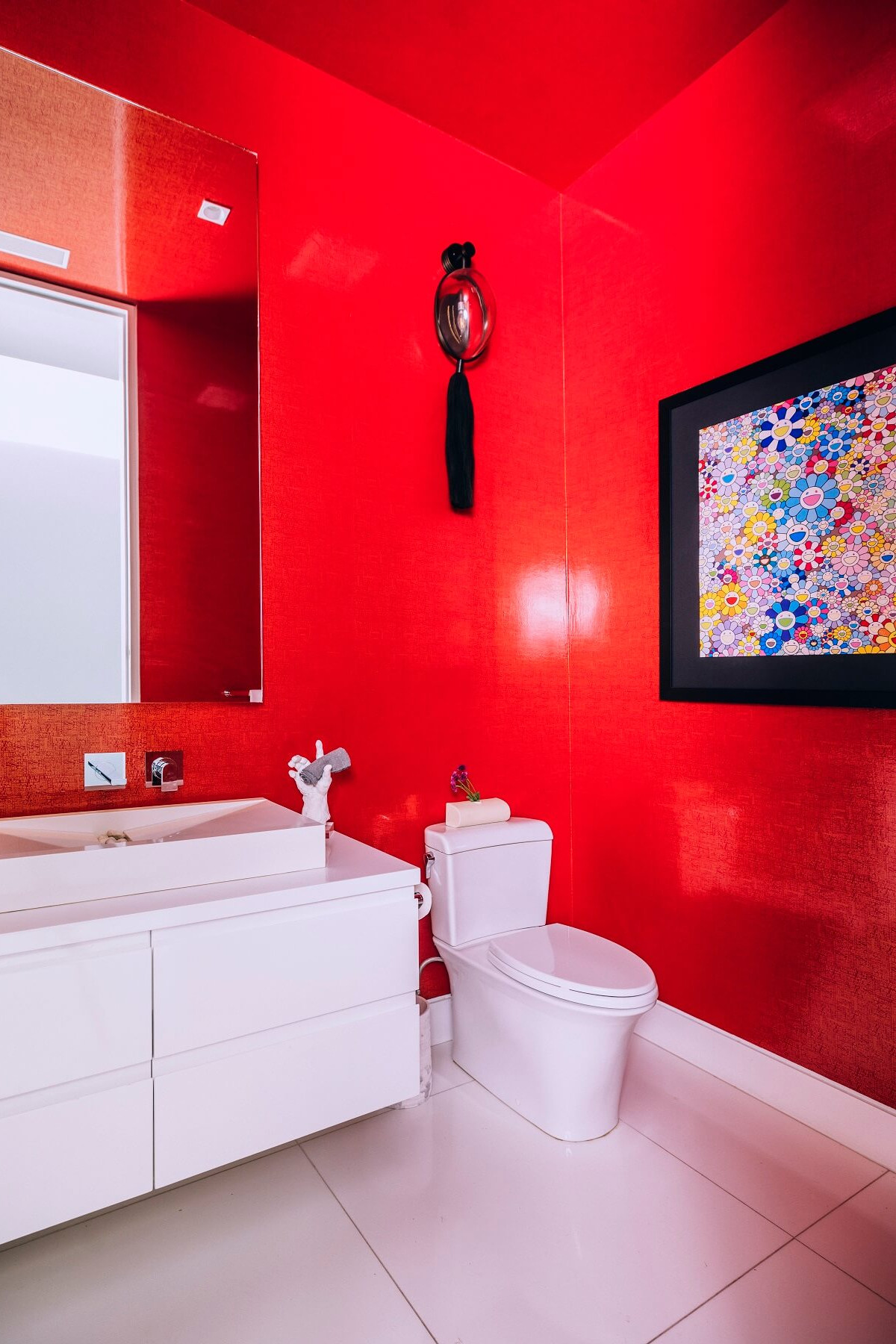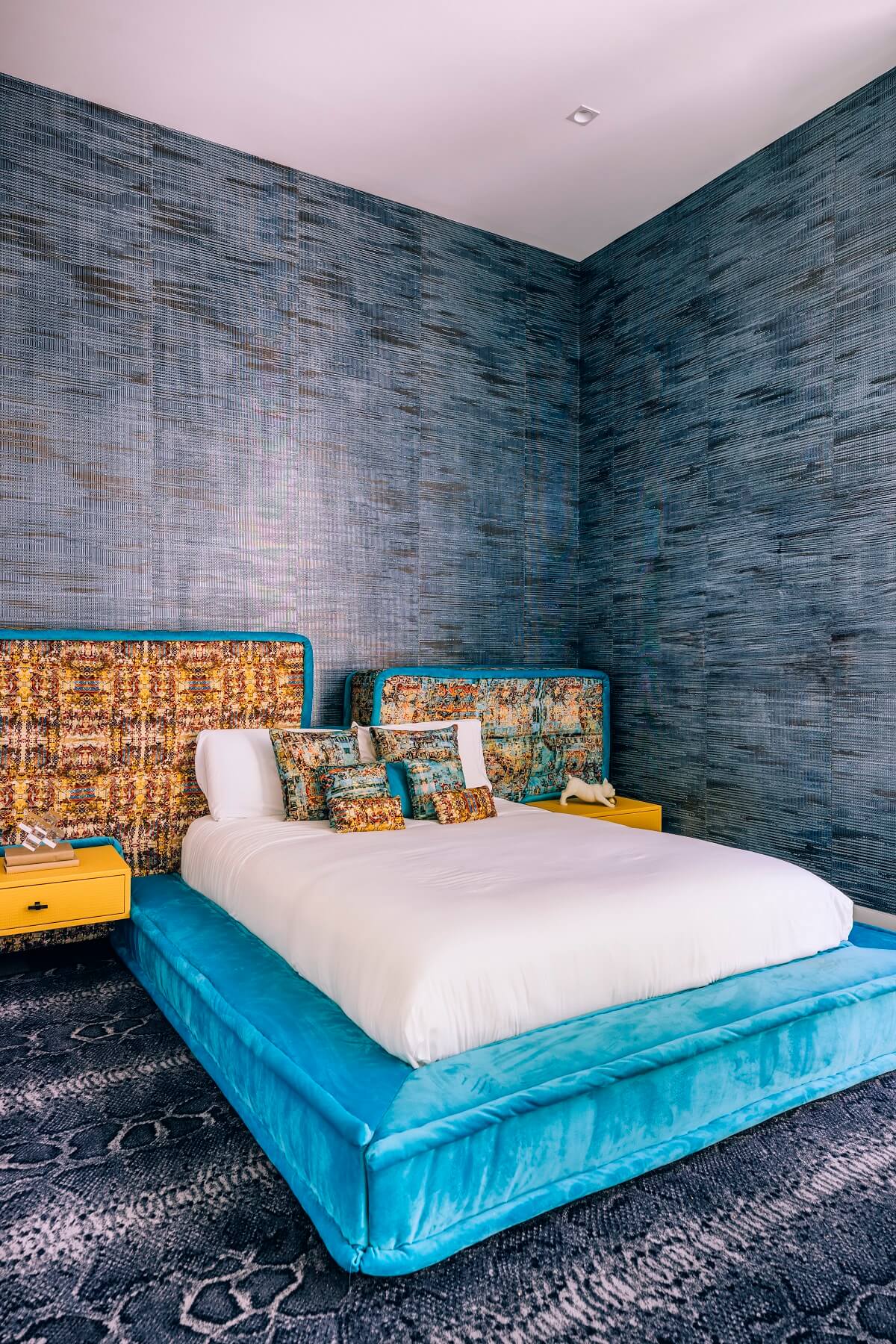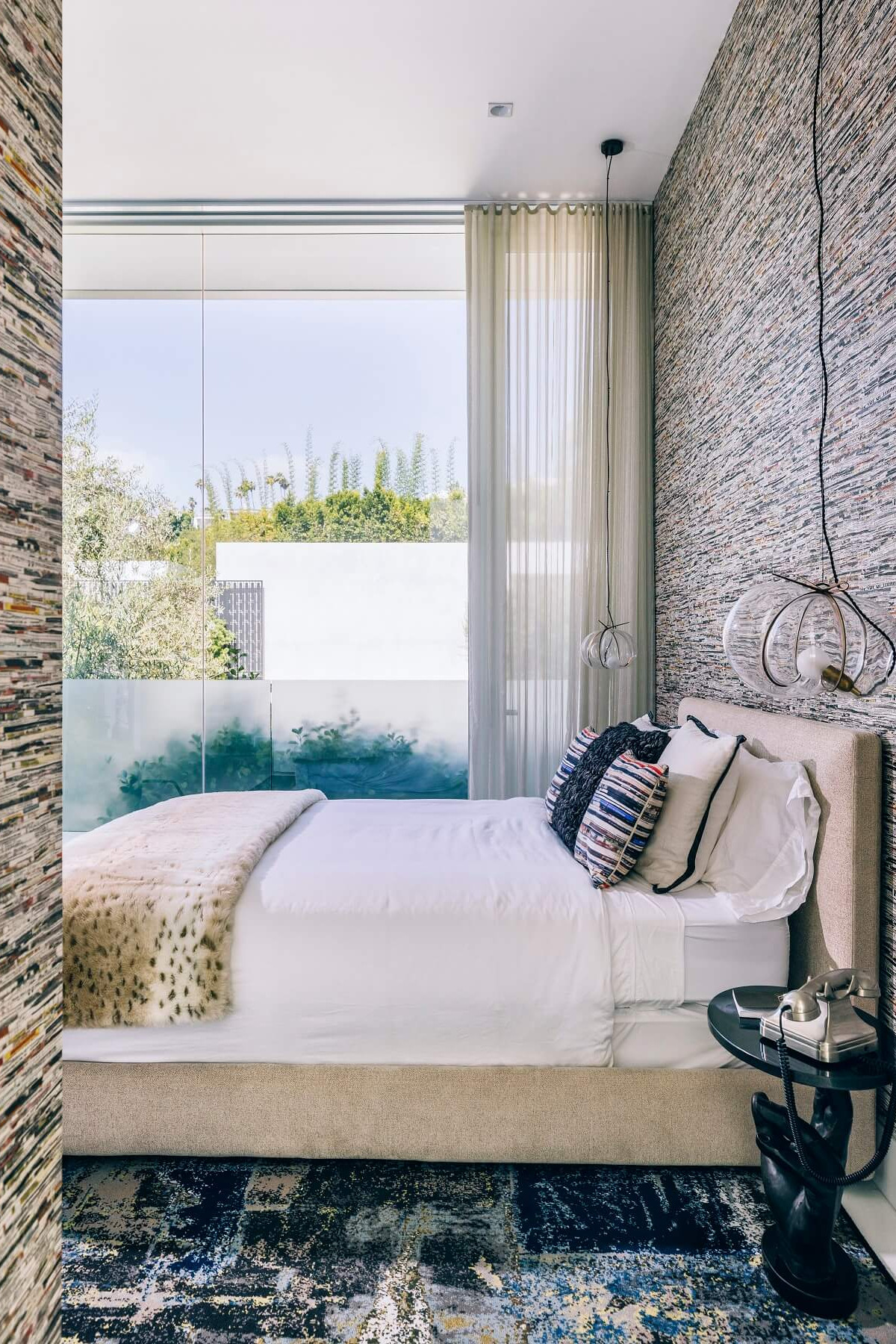 Each bedroom was given a unique personality by Kari Whitman. All featuring perfectly sourced wallpapers from Holley Hunt, Jimmie Martin, and Philip Jefries. Kari's detail orientation makes every room special with custom bed frames and pendant lighting to brighten each room. Each room has its own one of a kind bathrooms to match. No wondering how she came up with her brand of Wall Makeup, she knows how to dress up any wall. In each powder room you will find granite Philip Jefferies and Red Brentano wallpaper.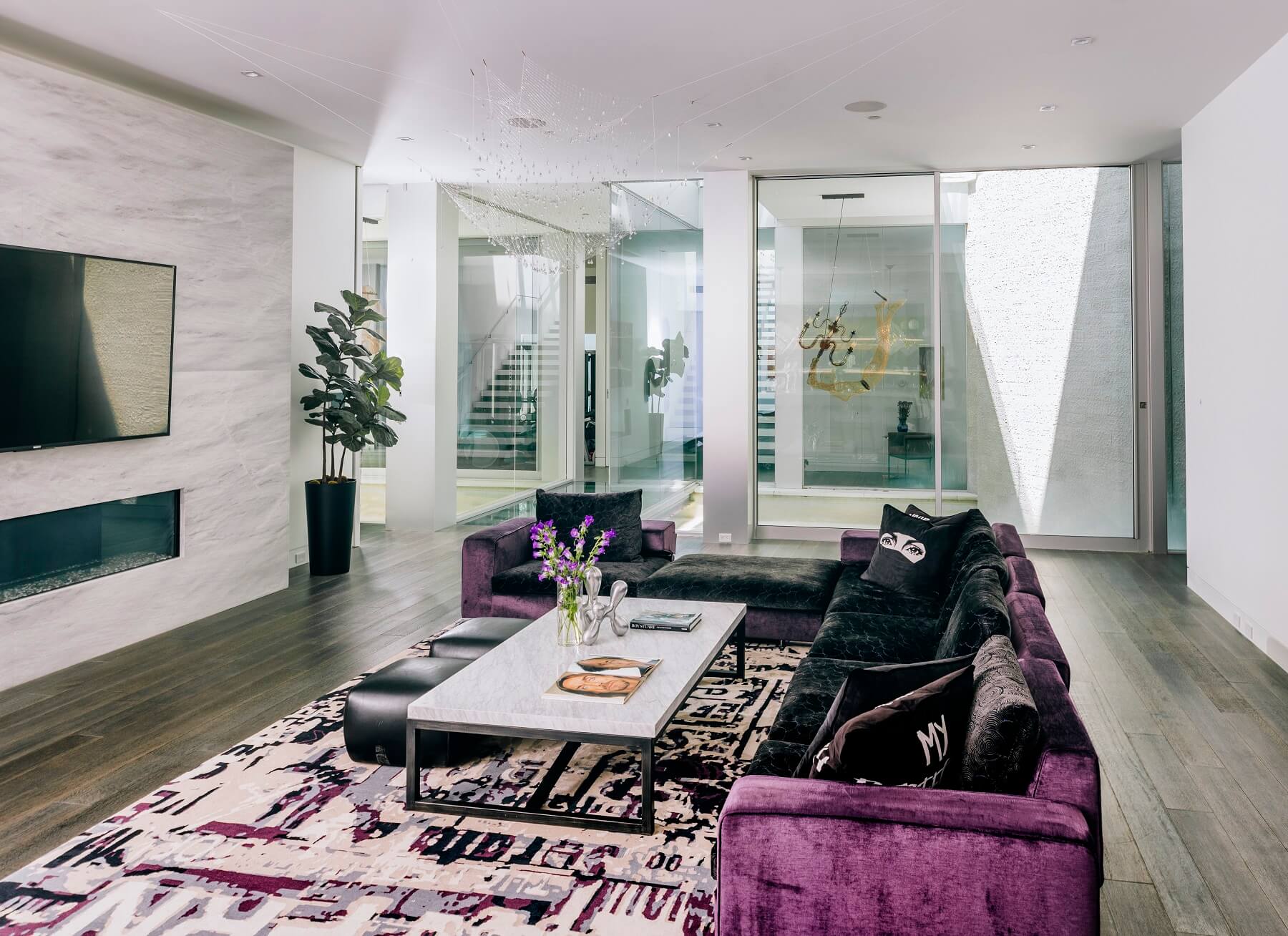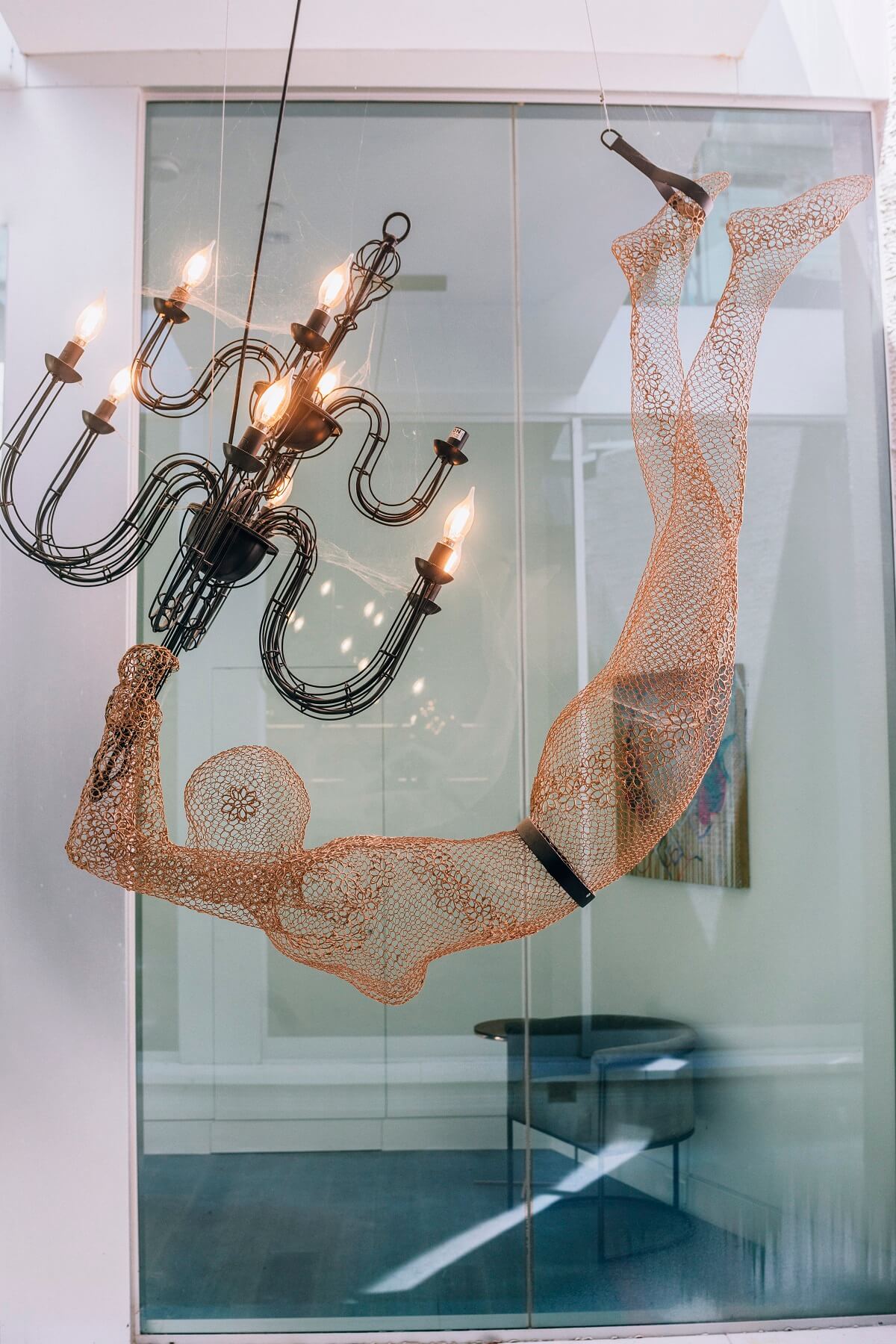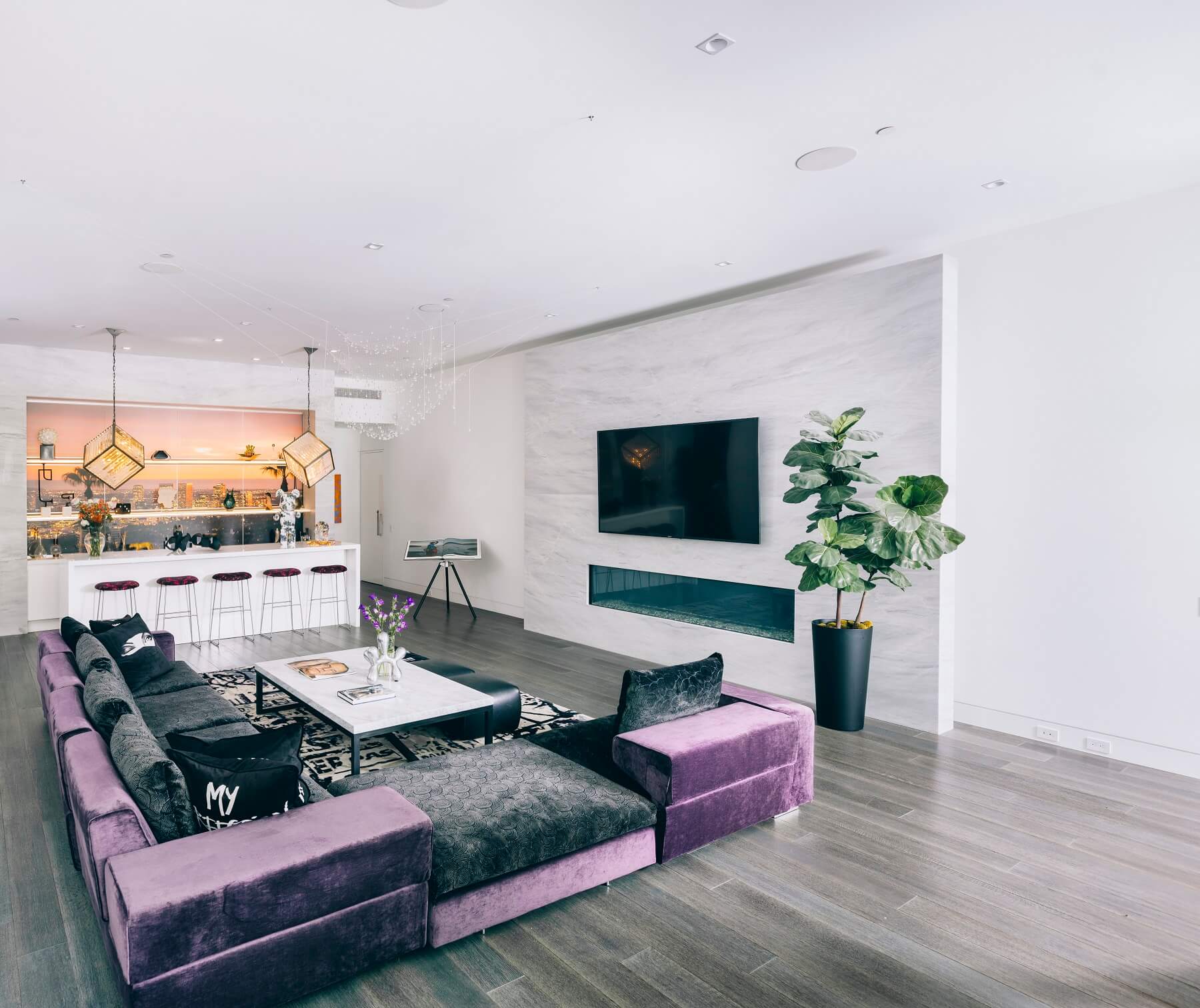 This room couldn't have been done better. Thanks to Kari's eyes and work ethic, it is a masterpiece. From the Buchans rug from Stark Carpet to the Hundred Mile Lamp, Kari created the enchanting Media room complete with a bar. The custom purple couch and stools are replicates of Kari's mastered perspective of design. The limbo chandelier was sourced from Kenneth Cobonpue from Switch Modern.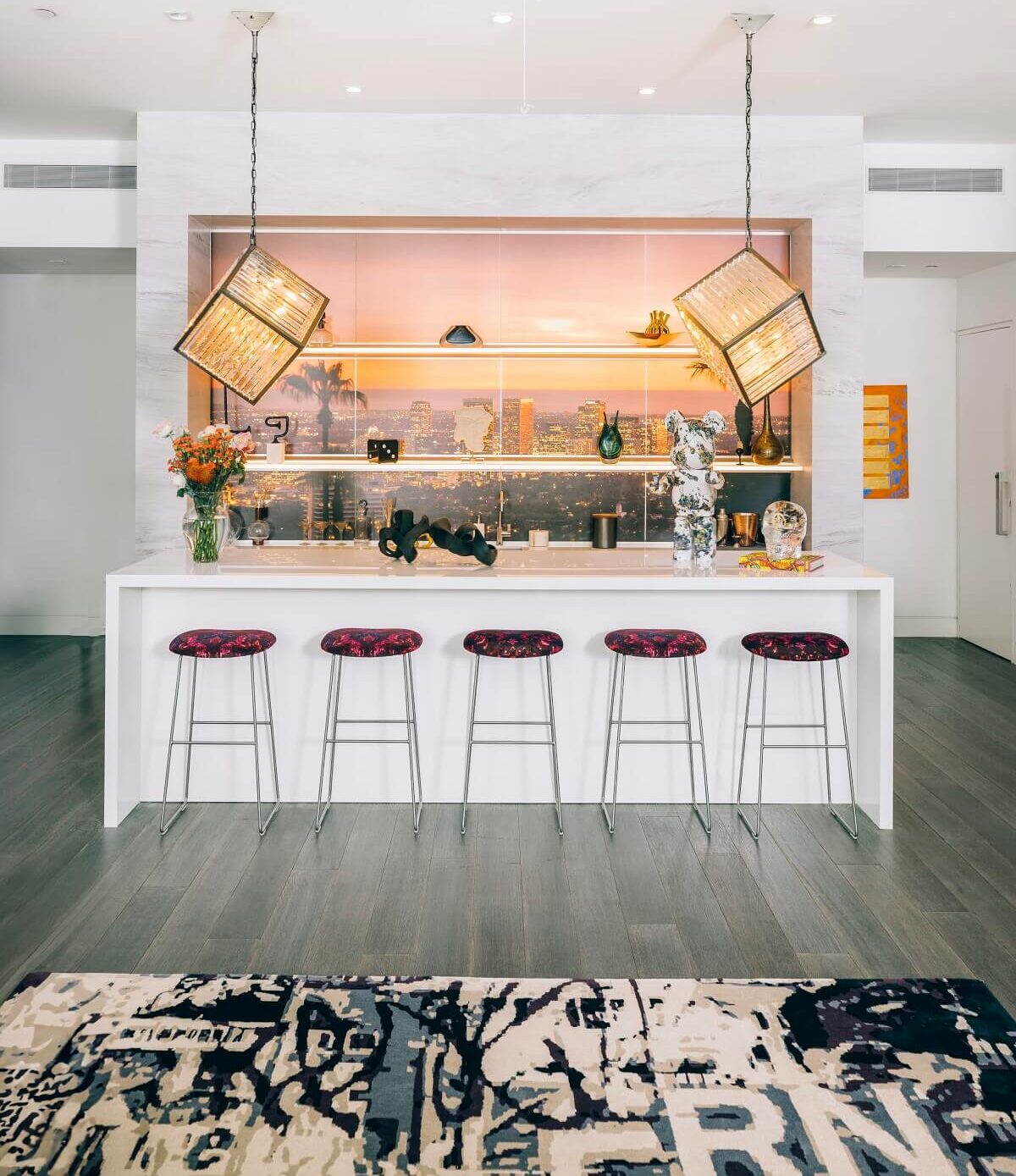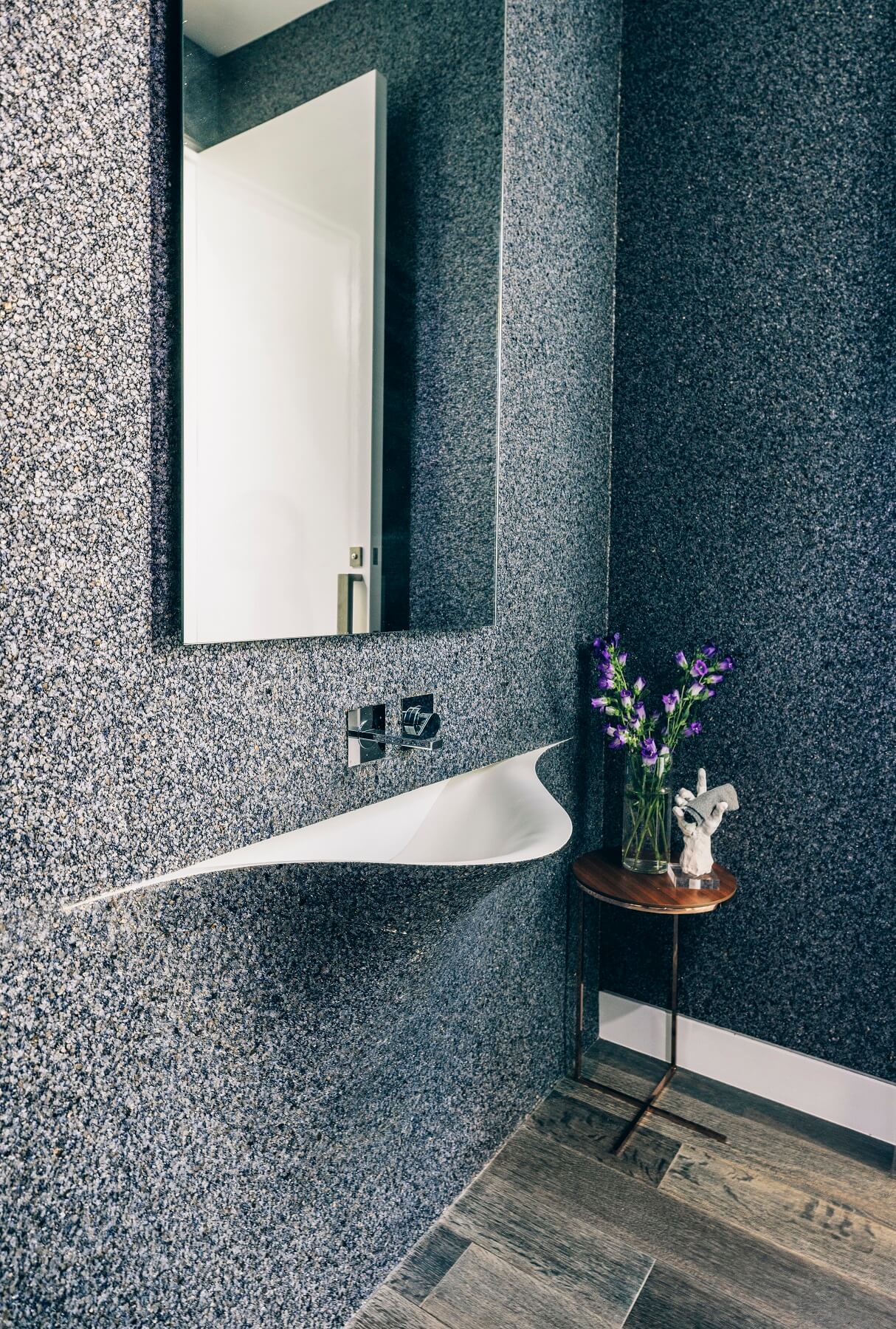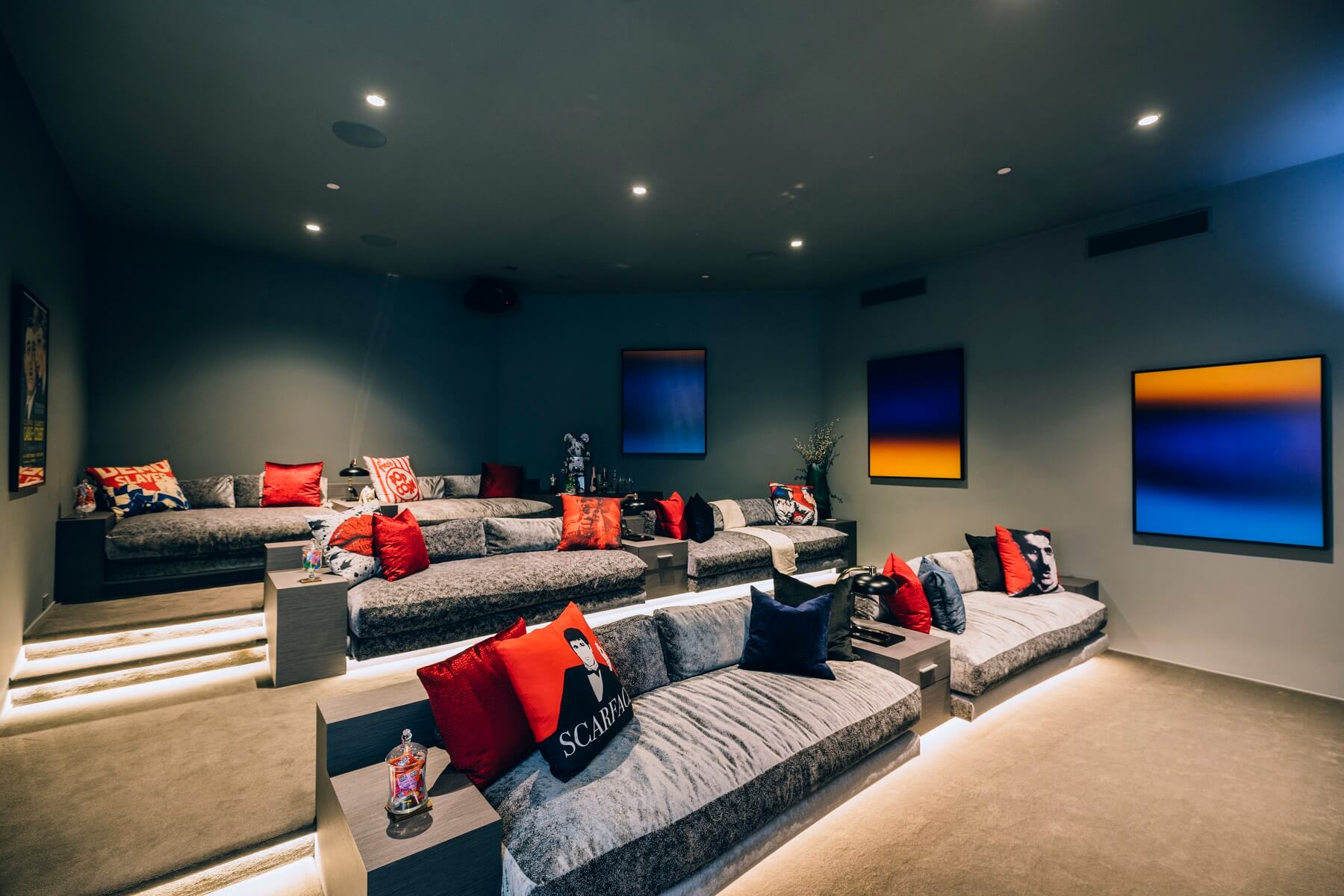 Kari Whitman, a designer to the stars of California, saw the theater room and knew exactly how to spruce it up. She had custom upholstery done to each couch cushion and pillow. Kari's vision for the theater is more brilliant than any movie to be watched here.
CLICK AN IMAGE BELOW TO VIEW THE FULL GALLERY
About Kari Whitman Interiors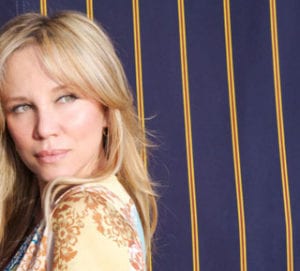 Celebrity interior designer Kari Whitman founded Kari Whitman Interiors in Los Angeles in 1994 as a design build firm specializing in high-end residential interior design. Now based in Los Angeles and Boulder, Colorado, Kari is one of Hollywood's most sought-after interior designer talents. Residential clients including Jessica Alba, Kristen Bell, Melanie Griffith and Antonio Banderas, Nikki Sixx, Justus Parmar, and Don Johnson have embraced her eclectic design style and knowledge of eco-friendly interior design. Kari's expertise also extends into commercial interior design, and projects range from condos to estate homes, boutique hotels to large-scale residential developments. As an Allied Member of the prestigious American Society for Interior Design (ASID), and a member of the Interior Design Society and the International Interior Design Association, Kari has showcased prominent design projects throughout California, New York, Denver, Colorado, Aspen, Jackson Hole, Miami, and Dallas. To spend more time in nature, Kari now operates out of her residential interior design office in Boulder, Colorado.