When a Saudi royal family decided it was time to update their massive 45-room Preston Hollow Dallas, Texas estate, they turned to renowned international interior designer Kari Whitman for eclectic, worldly design. Before she got to work, eco-friendly designer Whitman took an inventory of the estate's existing art and furniture collection, repurposing everything she could first before spending a year traveling the world to shop for one-of-a-kind pieces to fill the home.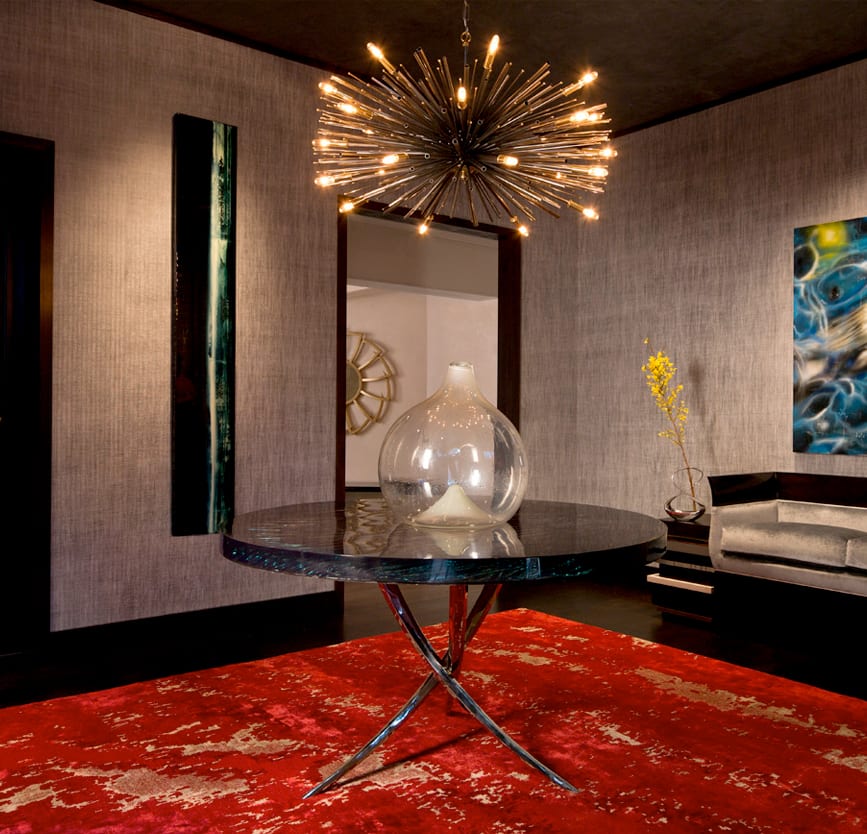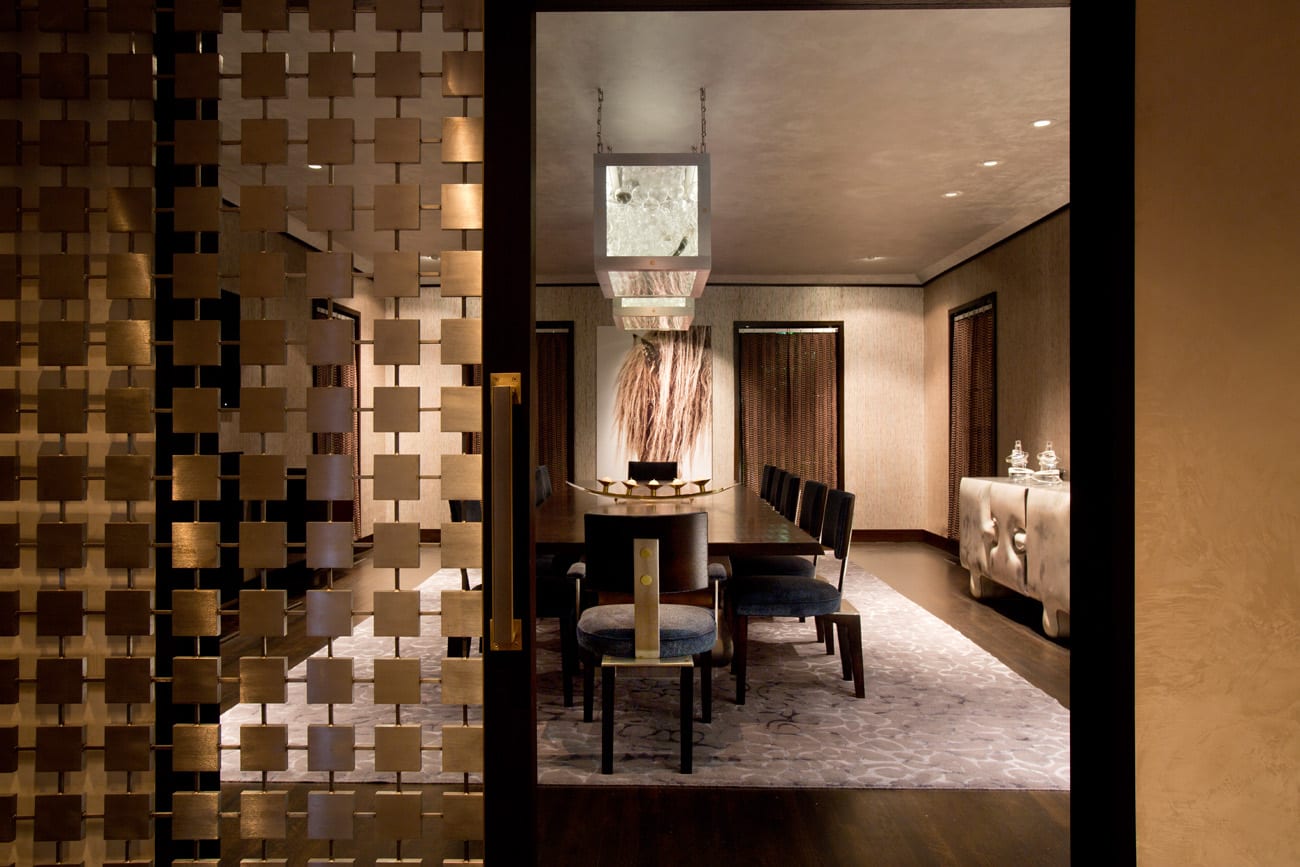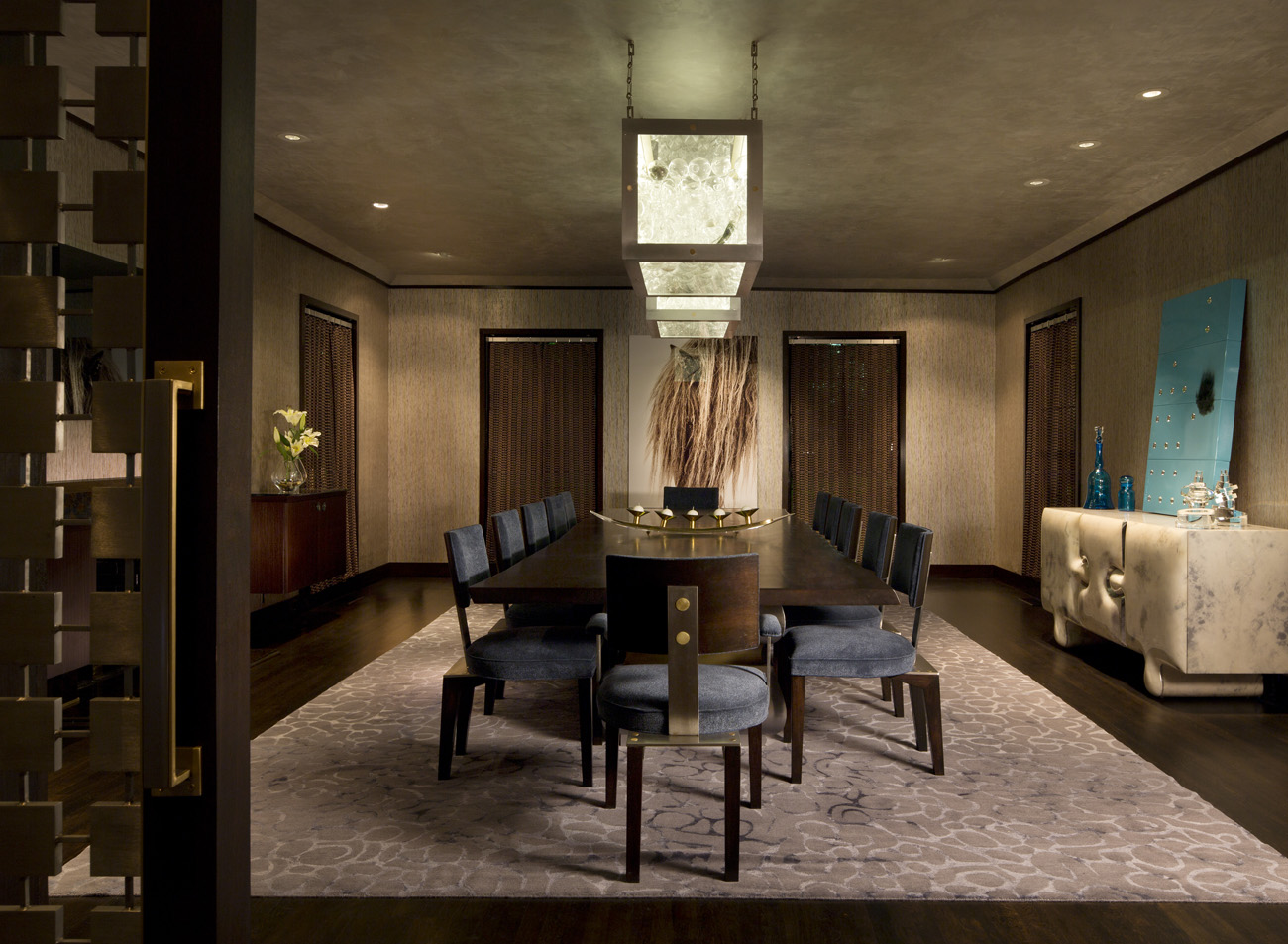 For a stunning formal dining room, Whitman custom-designed a stainless steel and Macassar Ebony door—then had the floor reinforced to support the 1,000-pound weight. The steel is set off with brass accents. An elegant dining table and chair set that Whitman created complements the room's timeless design. Textured wallpaper, dramatic chandeliers, and bold pops of color add a luxurious rock 'n' roll feel to the formal dining area designed by luxury interior designer Kari Whitman.
The Dallas Estate's breakfast room displays a love for fashion as Chanel, Dior, Louis Vuitton, and Yves Saint Laurent feature in the prominently placed oversized artwork juxtaposed with with a natural infusion. Contrasting felt carpet covers the ceiling above the dining table with old and new chairs from Milo Baughman added by luxury interior designer Kari Whitman.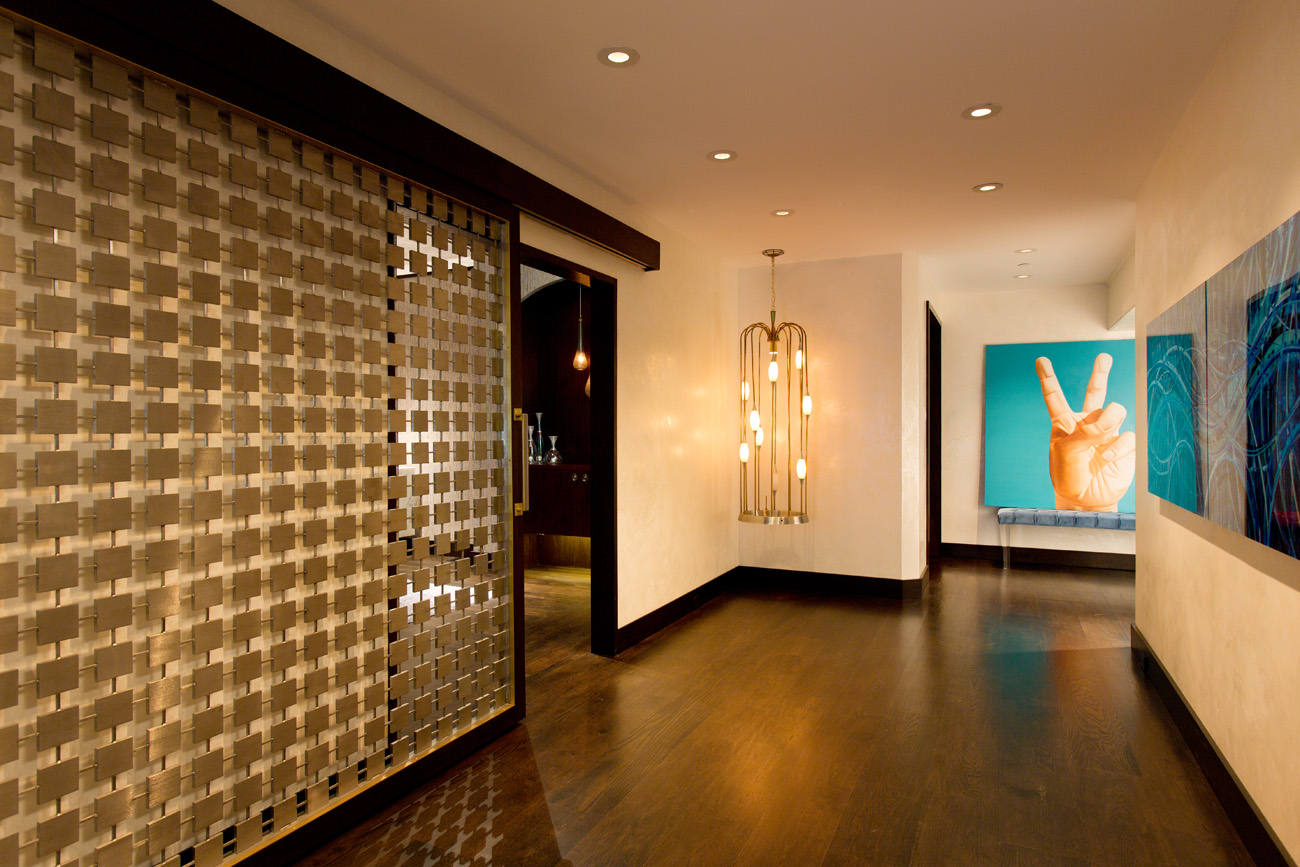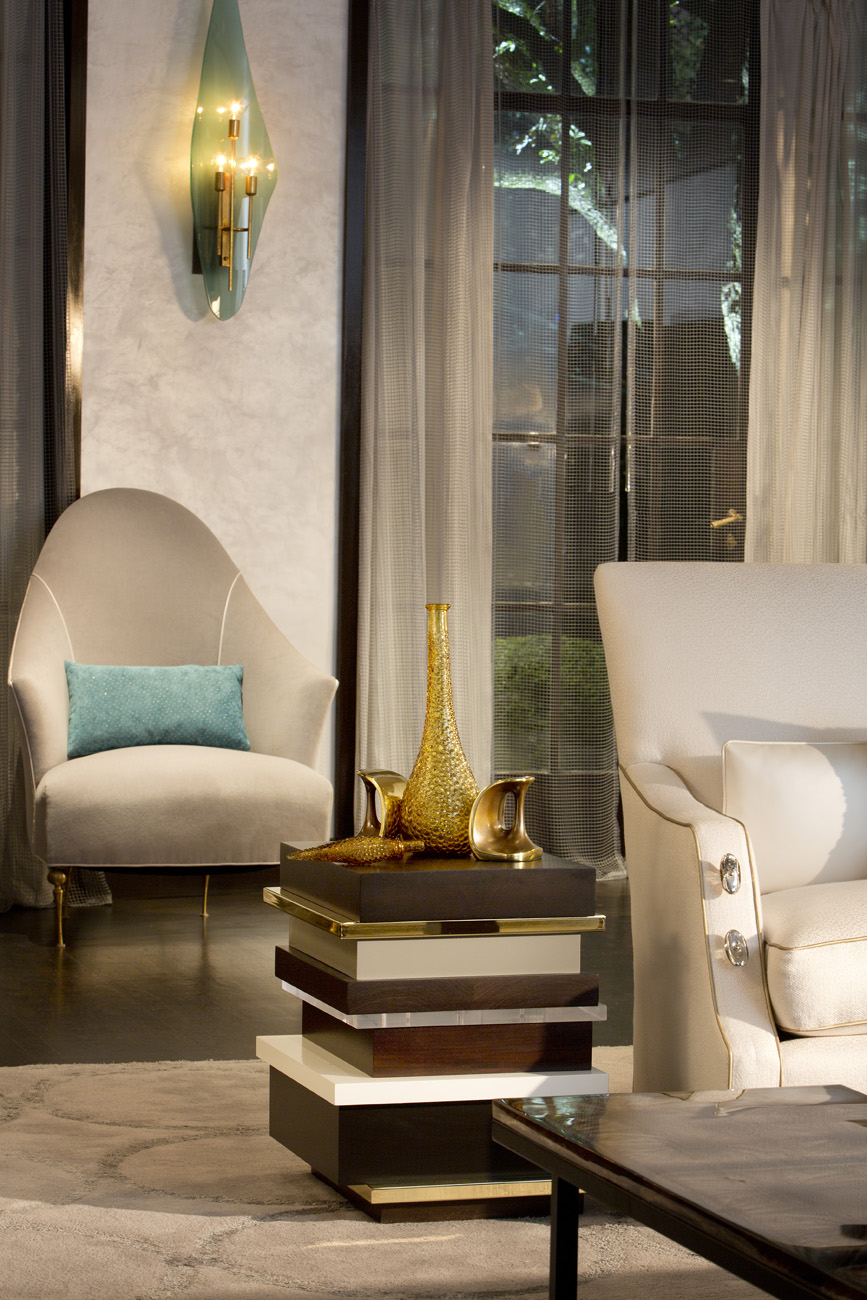 Artistic interior designer Kari Whitman mixed dozens of shades to fit each room and capture the look of the inside of an oyster shell. "It shimmers and changes with every step. It's super subtle, the walls aren't overt or distracting, but they create a perfect backdrop to showcase all my clients' treasures", Whitman says. Her design features artistic twists and elegant touches that come together to create a unique and eco-friendly residence. Mid-century modern furniture dominates, accented with metal influences, soft lighting and stunning fabrics.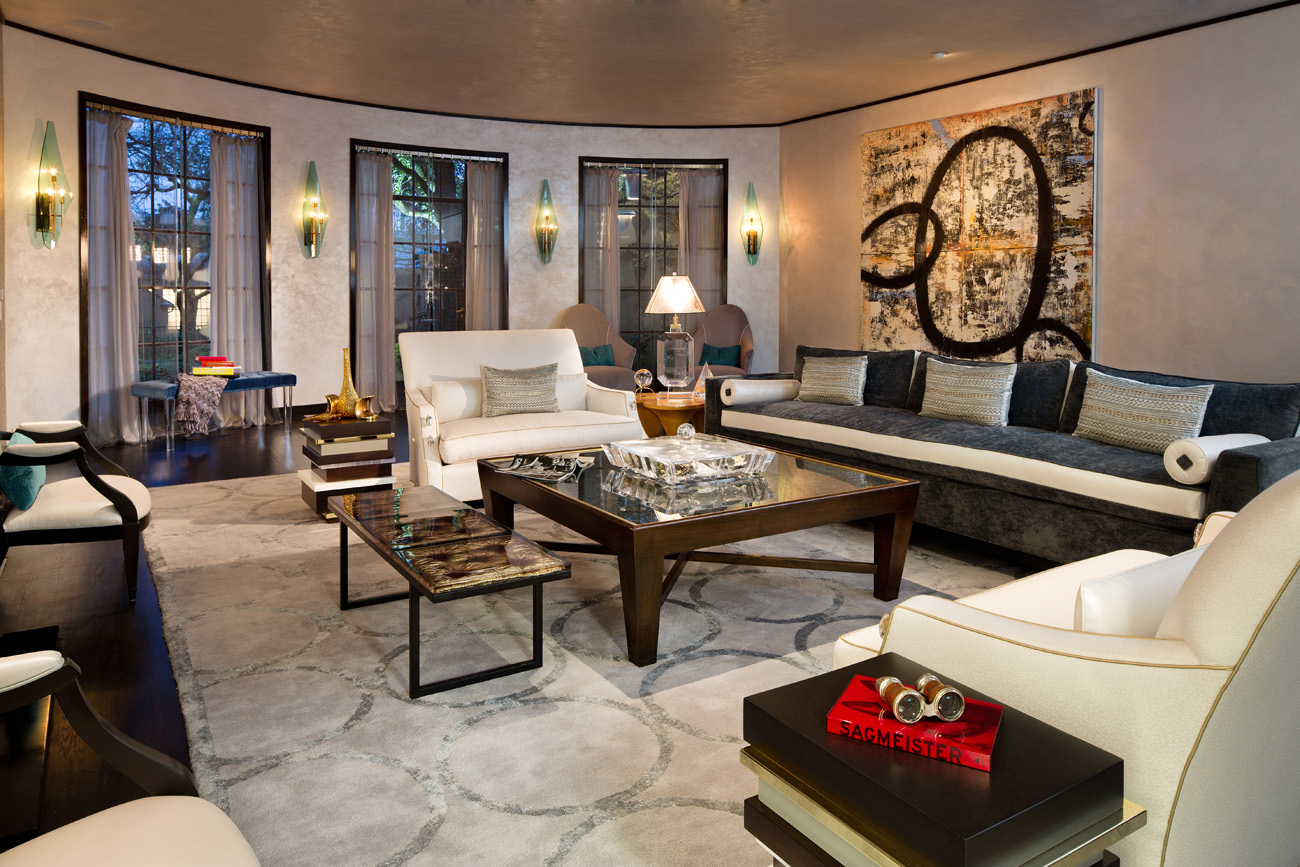 The estate is dominated by neutral gray hues with pops of color, lots of texture, and metallic accents to add variation. At the request of the client who wanted lots of spaces for entertaining, Kari Whitman filled the estate with large, comfortable seating options that dominate rooms, accented with glass and metal influences. She also added striking wallpapers to the home from Joseph Noble, Inc. and Elitis. The wallpapering adds texture and depth and complements the mostly gray and brown.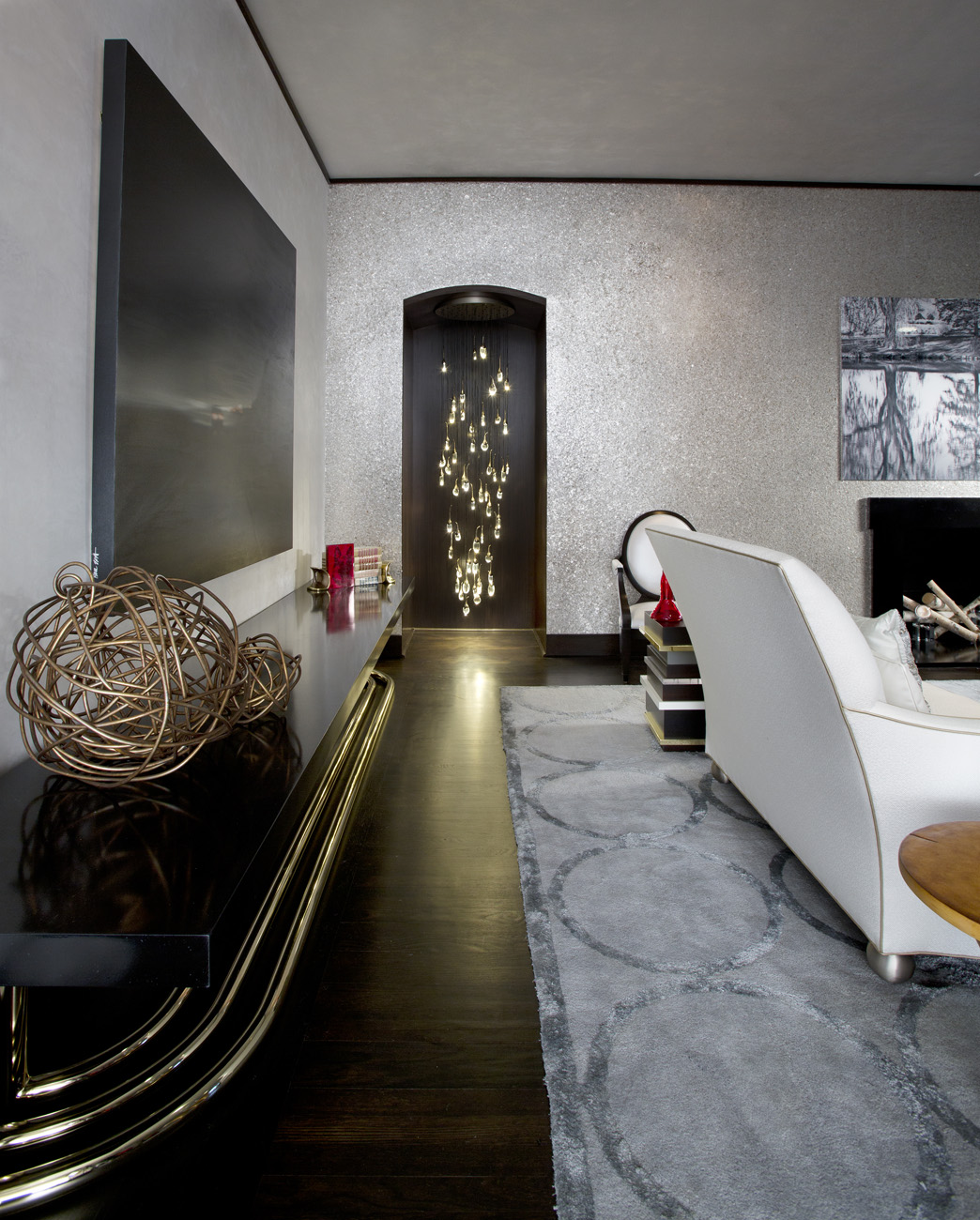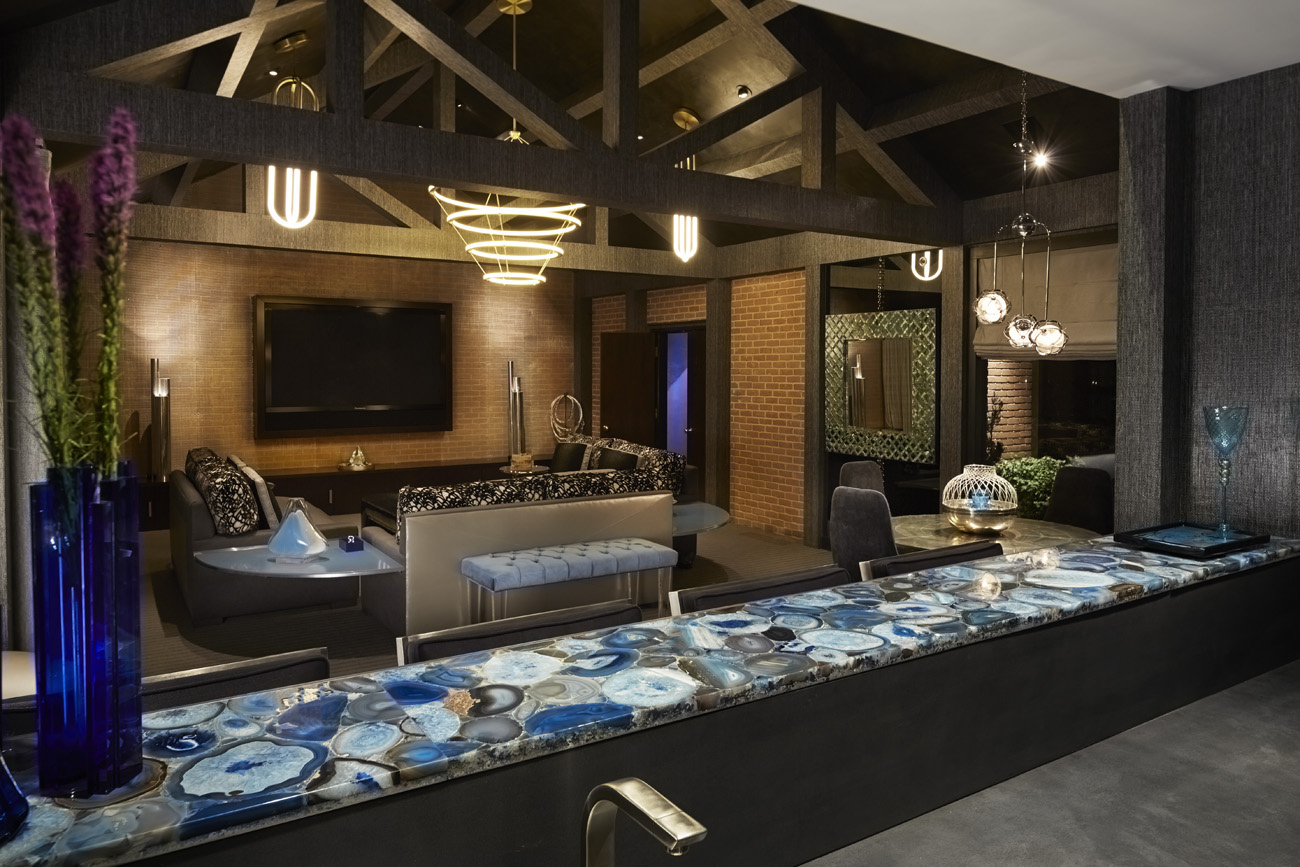 In the family room, luxury interior designer Kari Whitman added mid-century modern furniture to offer plenty of space for entertaining. The masculine color scheme is softened with light blue accents and soft fabrics. Unusual lighting features add interest to the space. Exposed brick walls maintain the colonial-style of the exterior of the home. The bar countertop is made of recycled glass, reflecting eco-friendly interior designer Kari Whitman's attempt to "go-green" with her design choices.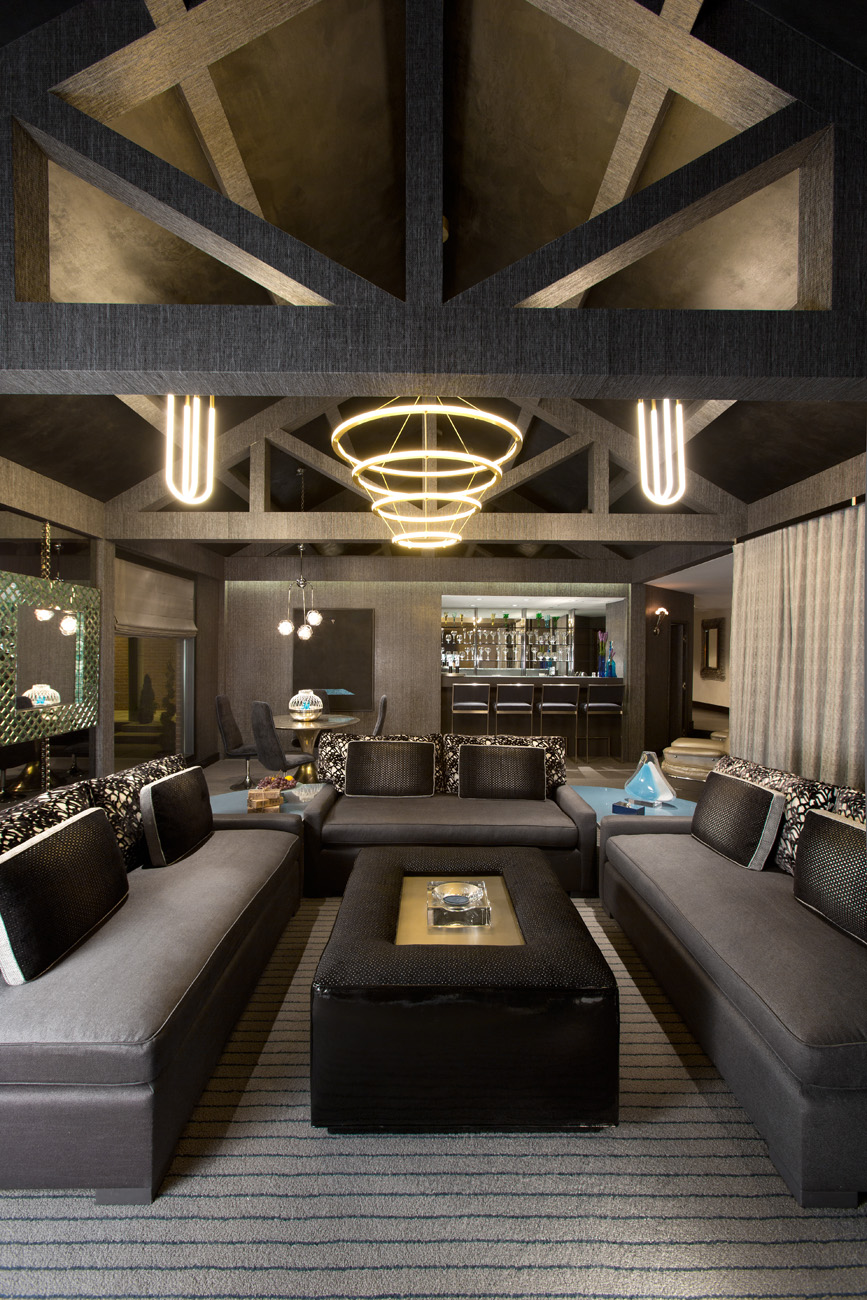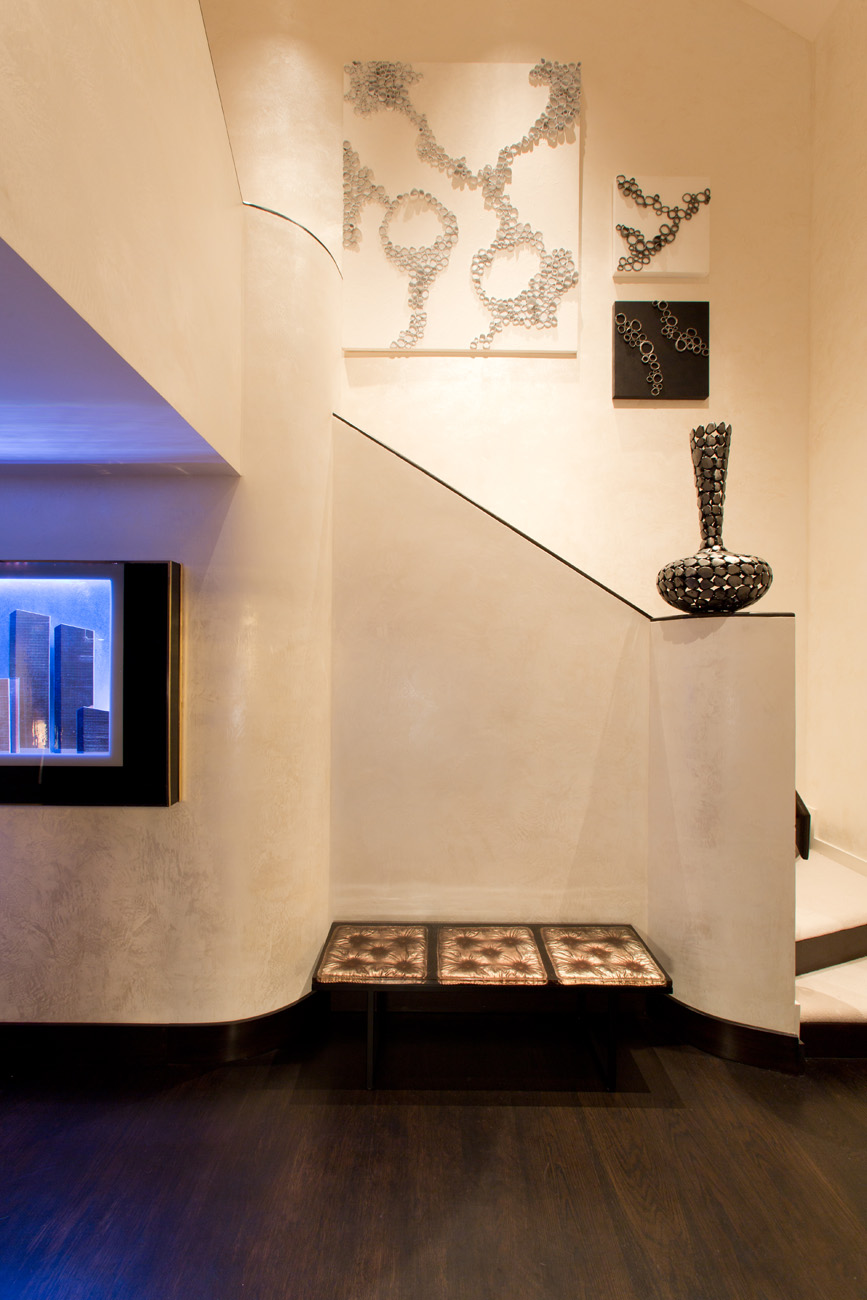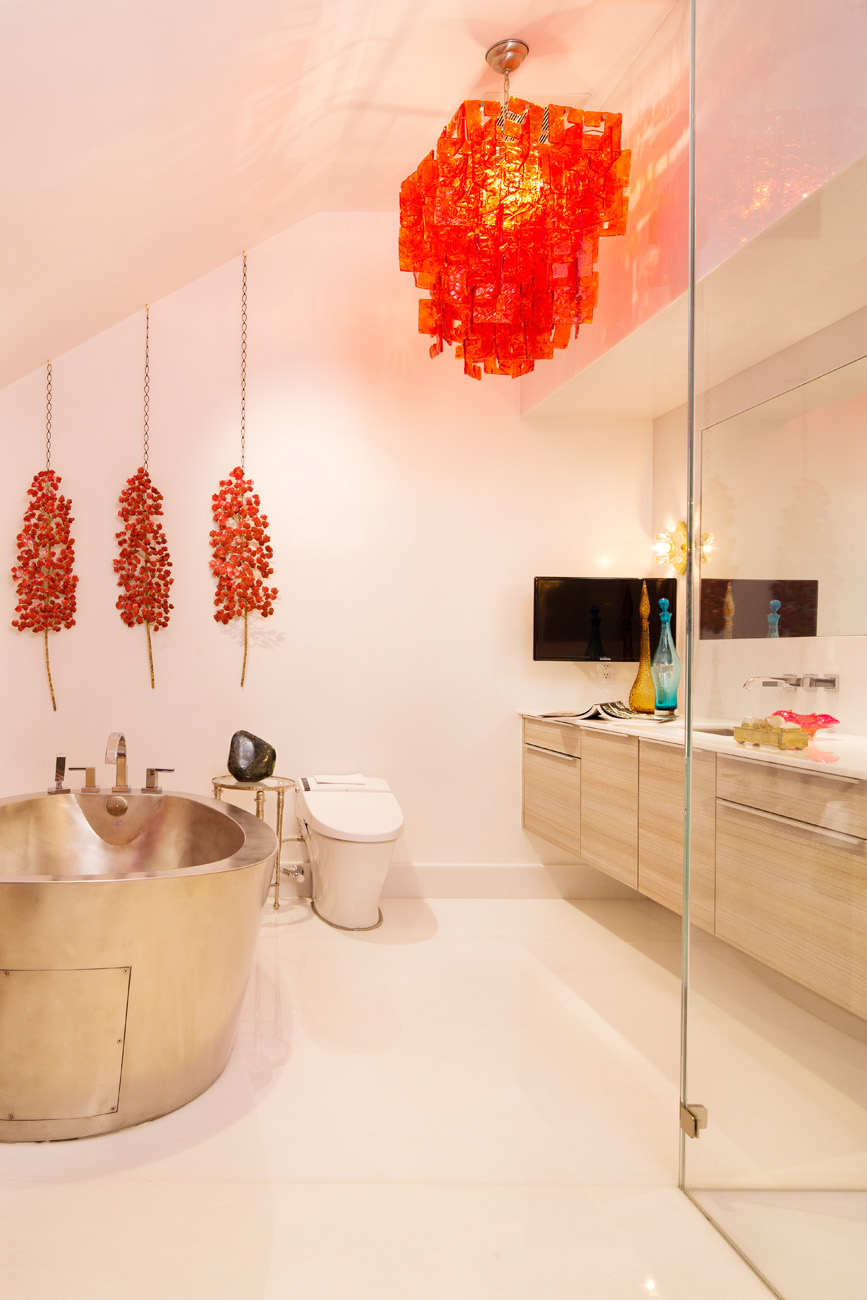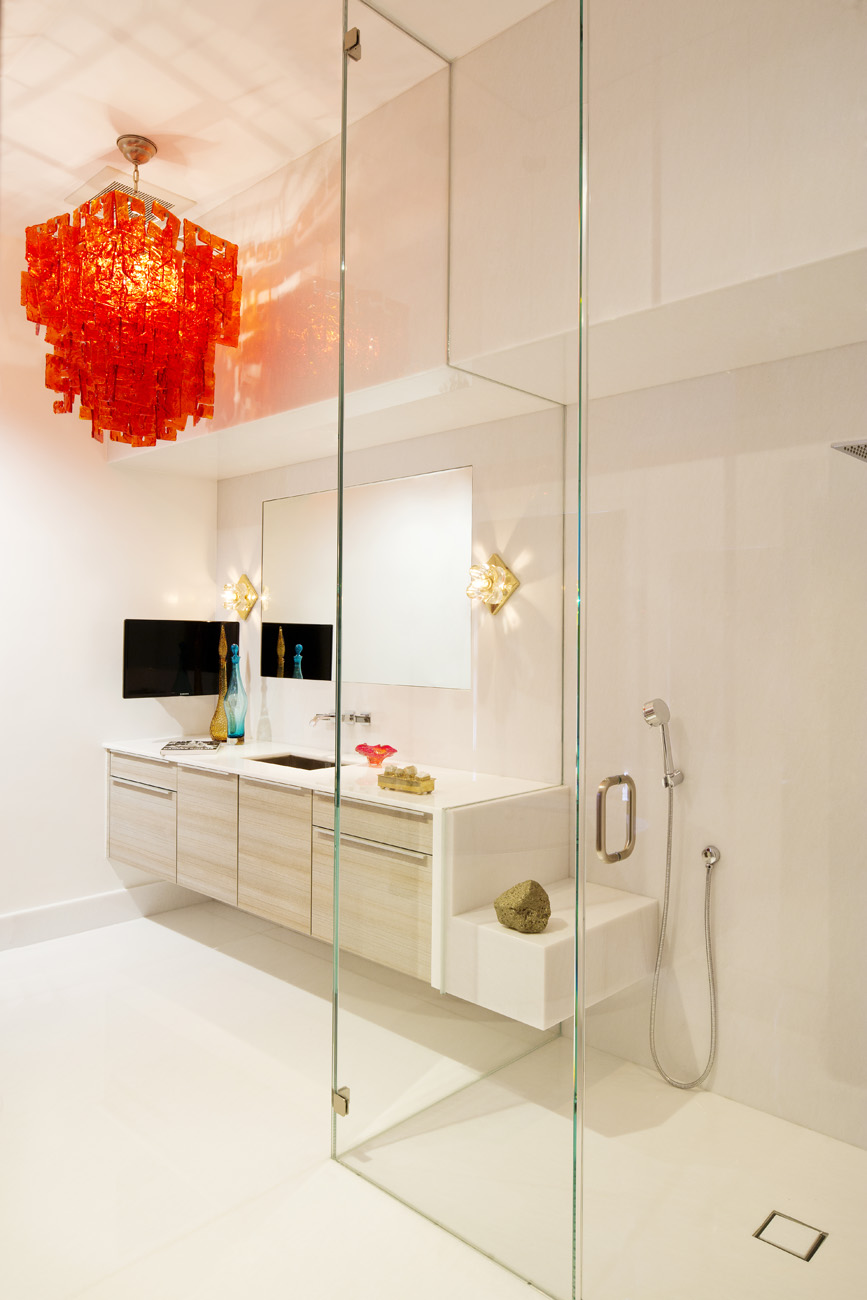 Metallic accents continue in the lady of the house's master bathroom, which artistic interior designer Kari Whitman describes as elegant and timeless. Whitman accented the cream shade in the space with red from bronzed aspen leaves and a dramatic chandelier. A large metal tub featuring jets and a steam shower gleams inside. "The home is very yin and yang, a great balance of masculine and feminine. It's grand but warm", international interior designer Kari Whitman explains.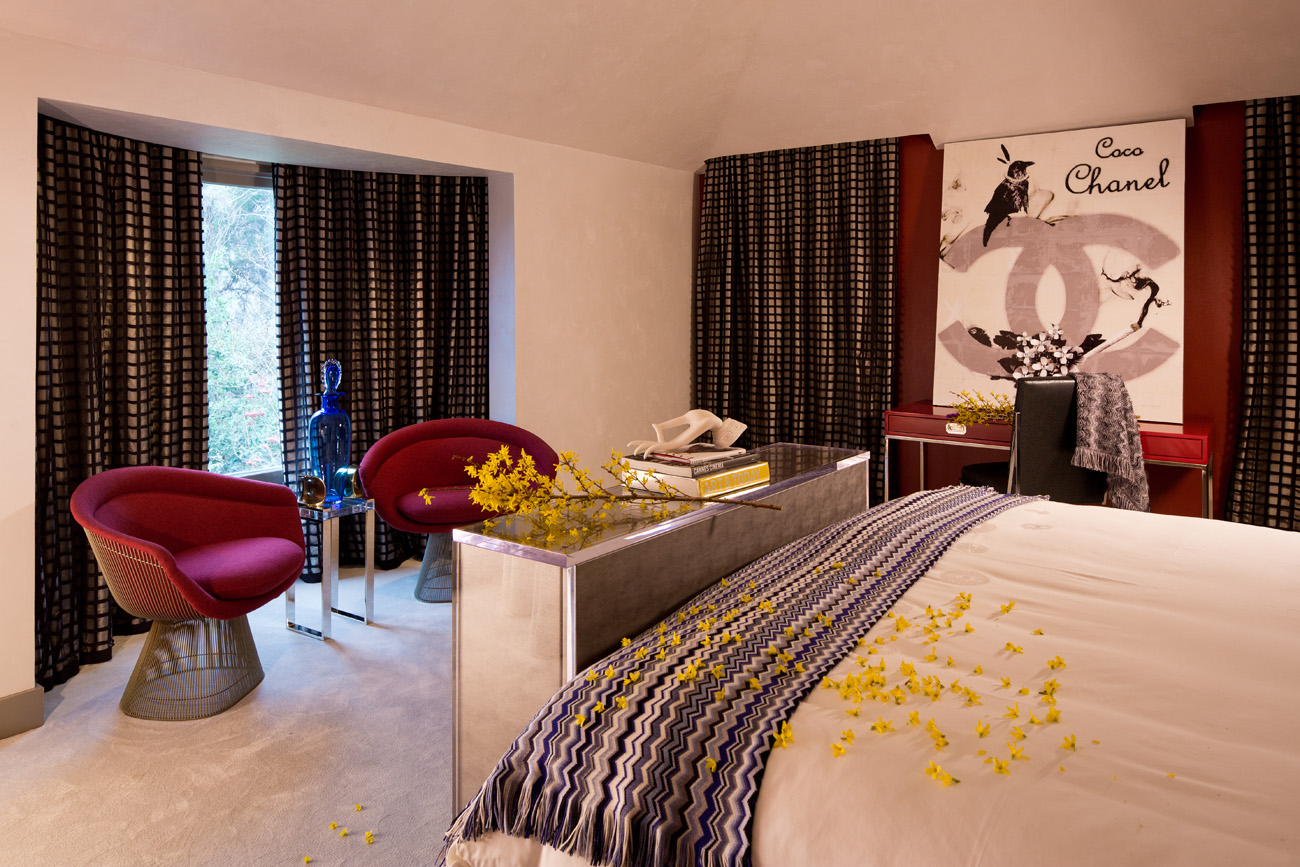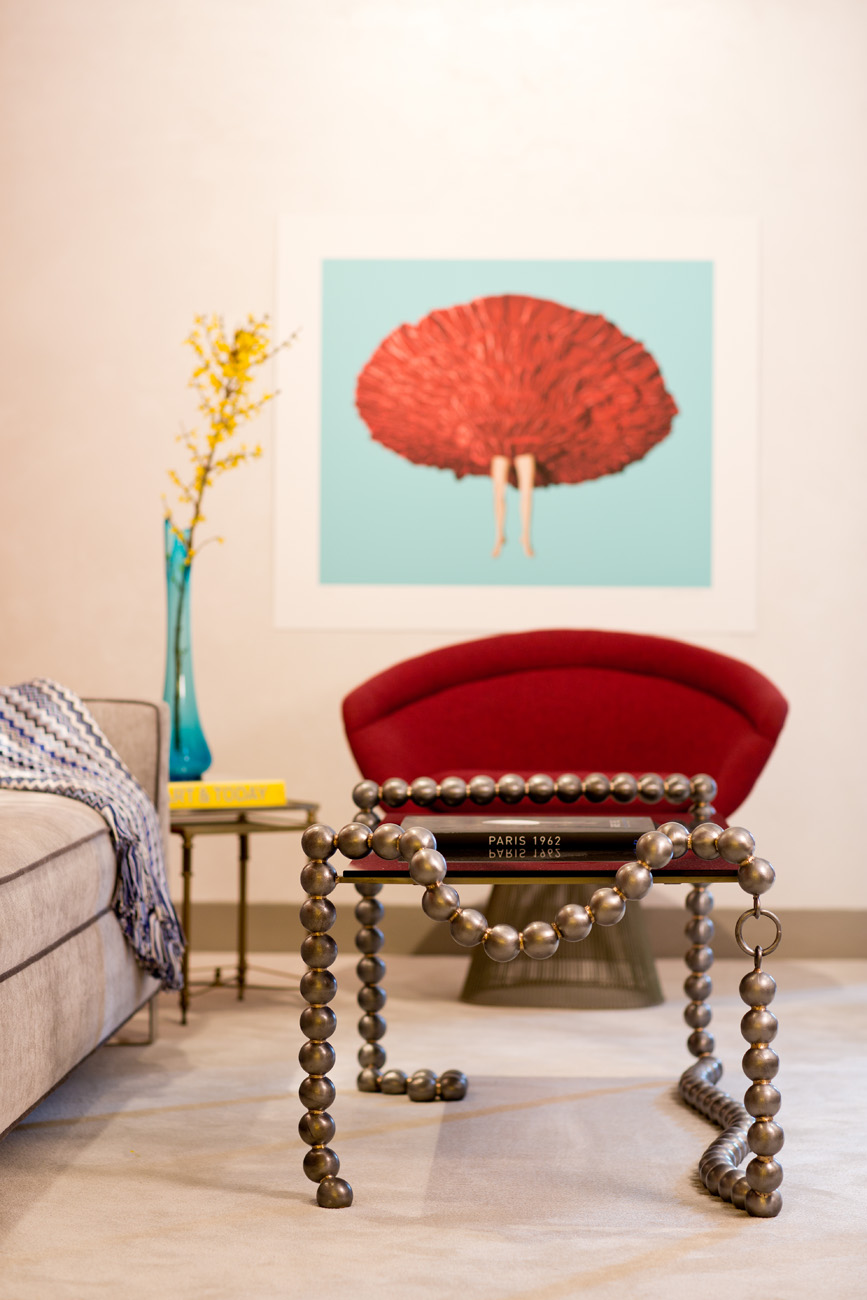 To achieve continuity in the lady of the home's master bedroom, green interior designer Kari Whitman mixed family heirlooms with new and vintage finds from around the globe. The resulting aesthetic is modern and chic with metallic accents at every turn. Whitman added mid-century modern chairs from Milo Baughman and combined them with one of her favorite art pieces from Deborah Richardson to make the space complete. "One of my favorite pieces is the 'Ball Bearing Necklace Table' which I designed as a gift for the lady of the house," artistic interior designer Kari Whitman says. "I was inspired by this gold ball bearing necklace I wear and I turned it into an idea for a coffee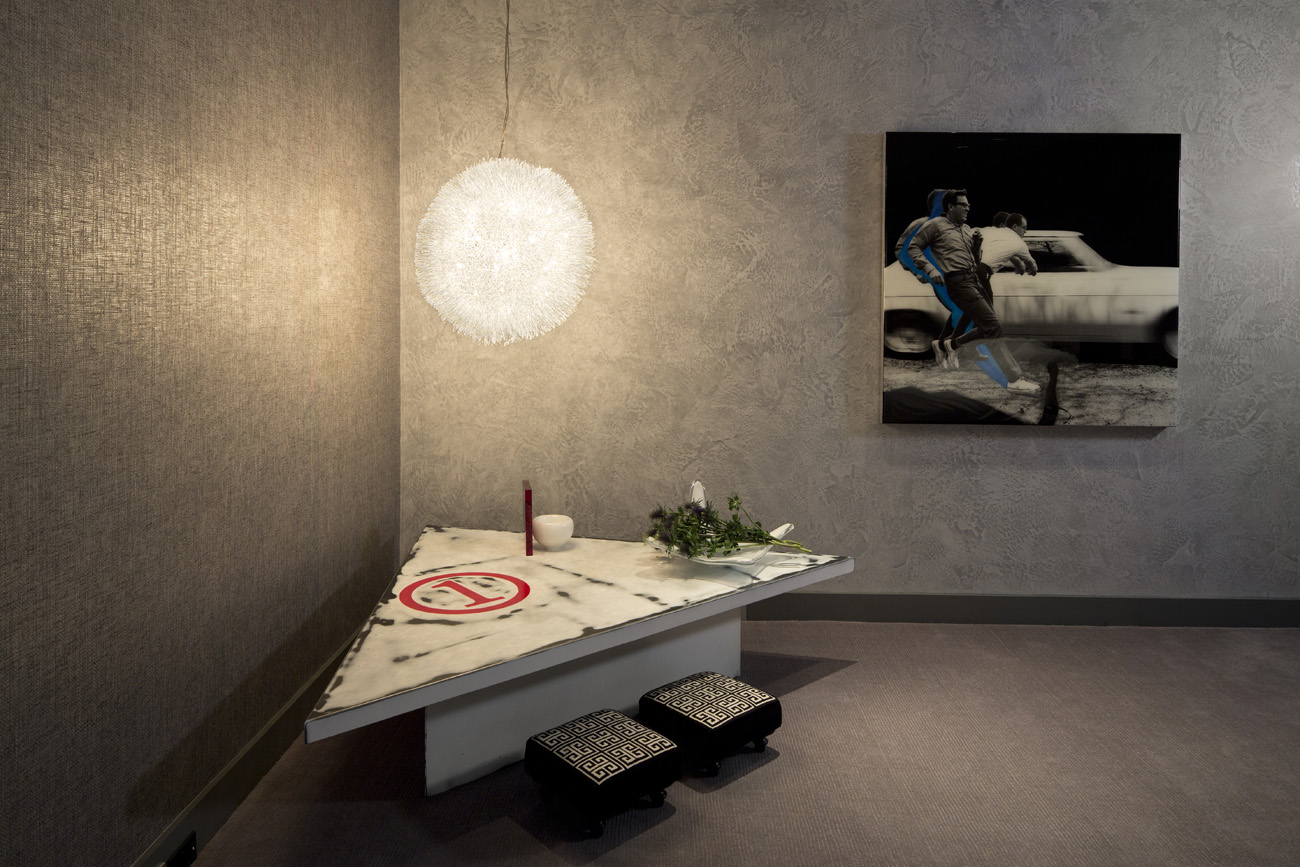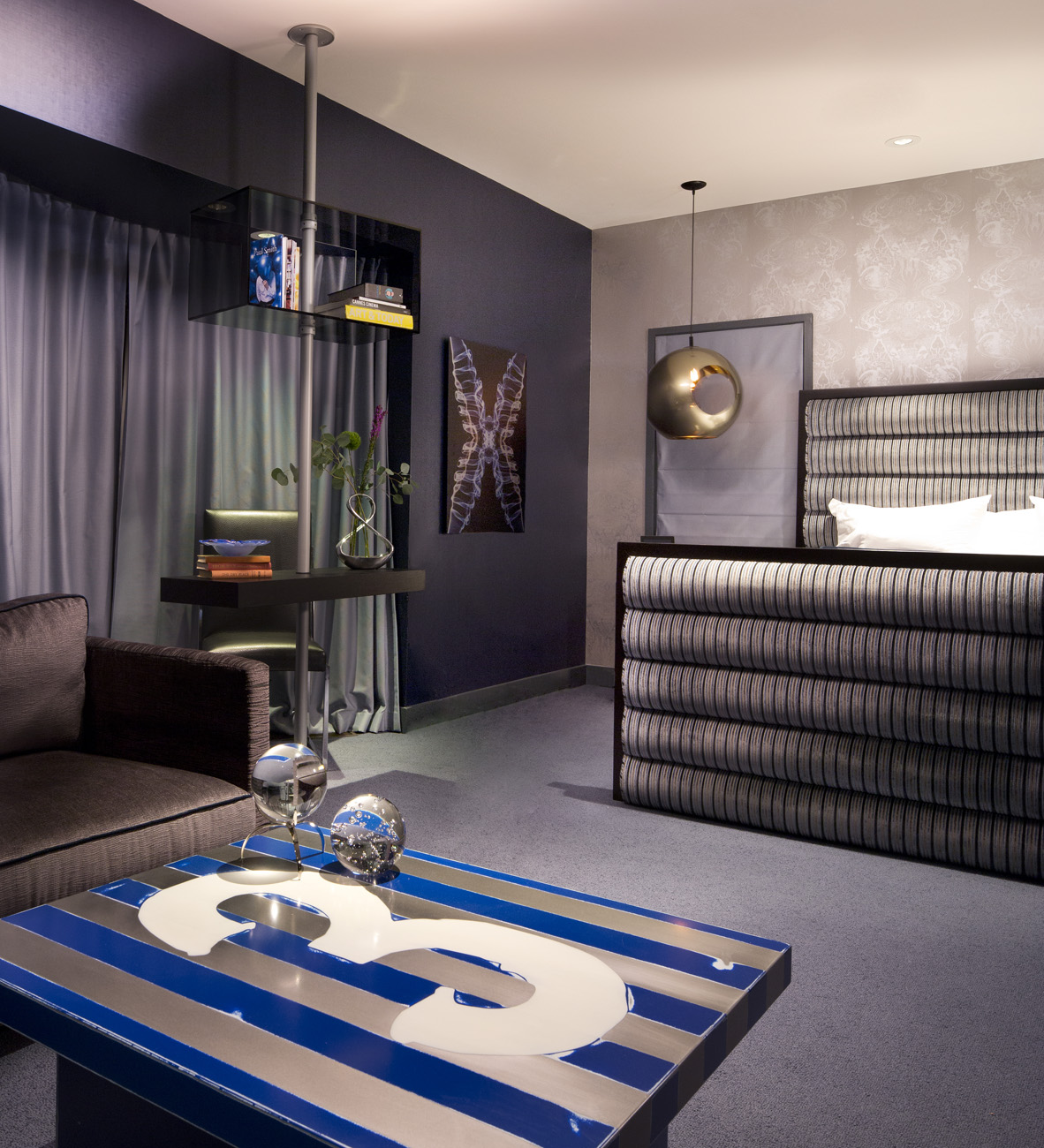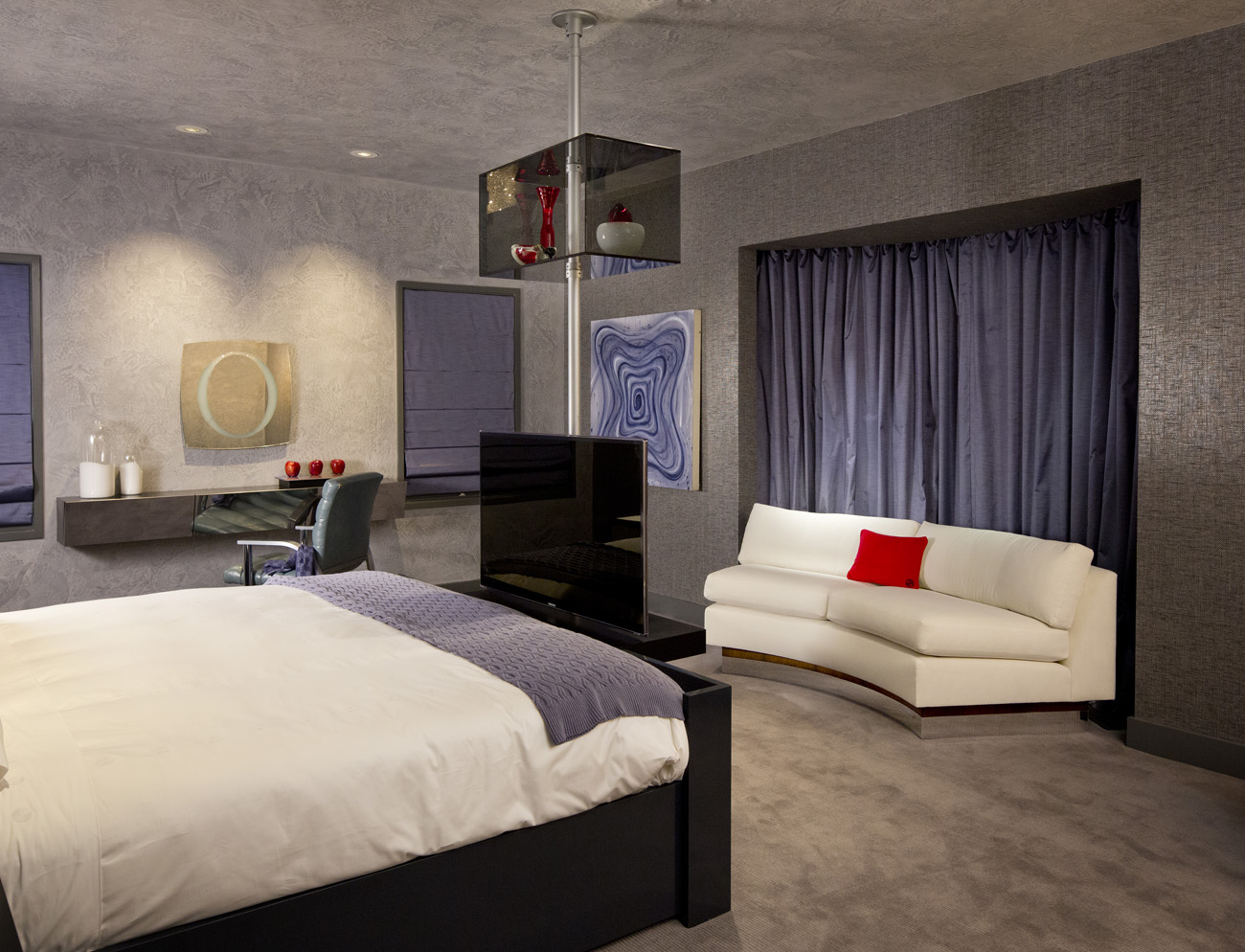 The Saudi royal family was intent on cultivating a distinguished art collection for their Dallas estate, which was perfect for international interior designer Kari Whitman because she loves art. It served as a primary source of inspiration for the project. "The clients have excellent taste, which makes it so great to work with them," she explains. "The art I used throughout the home adds an eclectic and colorful flow."
High-end interior designer Kari Whitman describes the home as having a great balance of masculine and feminine aspects, which is exemplified in these spaces. Dark wall coverings are brightened with a white, mid-century modern table set. Colorful vases keep the room from being too dark. Monochrome spaces are also given a second dimension through textured wallpaper and other elements. International interior designer Kari Whitman infused the estate with bold, artistic elements to add rock 'n' roll drama to the royal family's home. She designed about half of the furniture specifically for the project and reinvented the existing furniture to fit into the new eclectic and fun décor.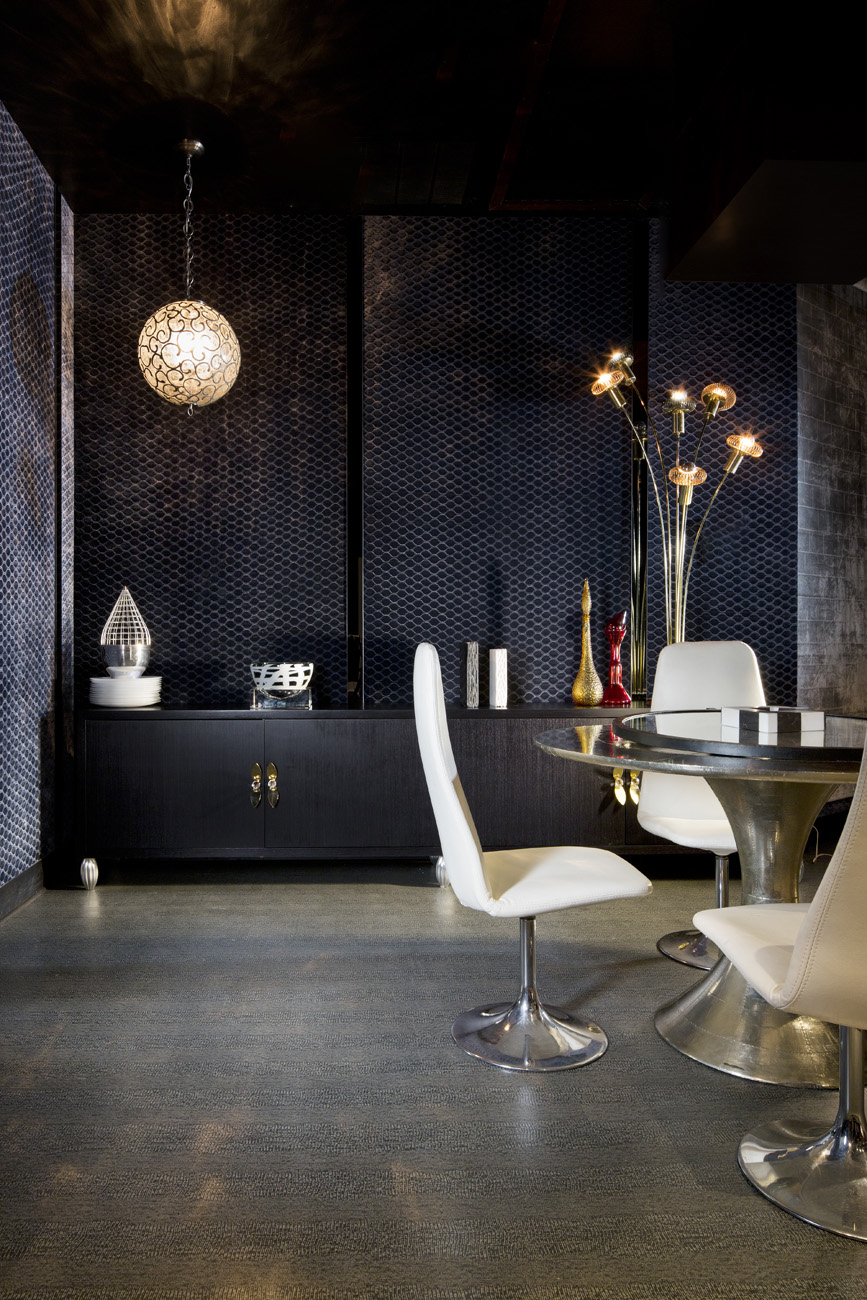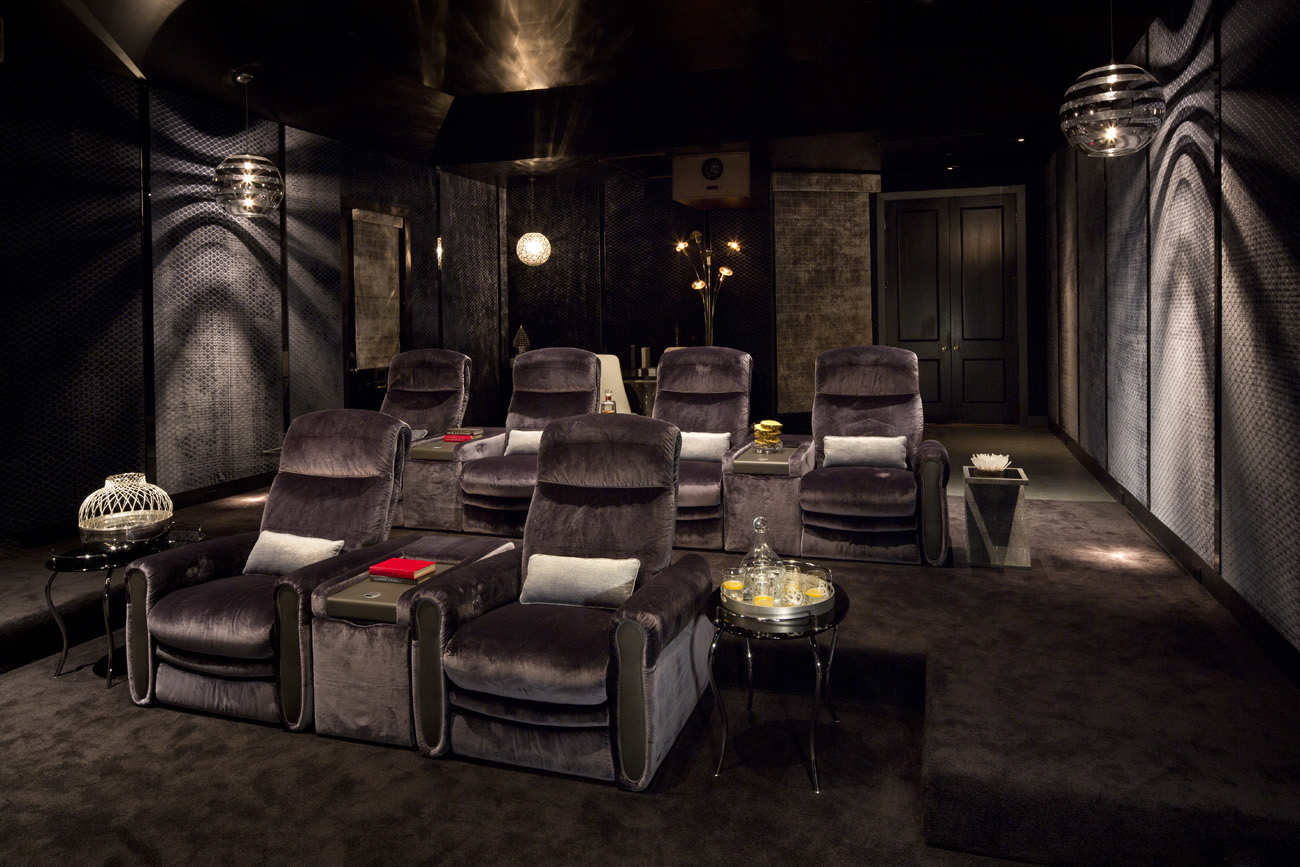 One of luxury interior designer Kari Whitman's favorite rooms in the estate is the cinema. "I was never really into them until I got to design this one," she says. "And now I can't wait to do another! It was important for my Saudi Arabian clients that the space be state-of-the-art, but cozy and a true hangout." The result is a room that invites everyone to relax and enjoy a favorite film (or, two).
Venetian plasters from Meoded Paints & Decoration in Los Angeles were hung throughout the home as showcased in this unique bathroom.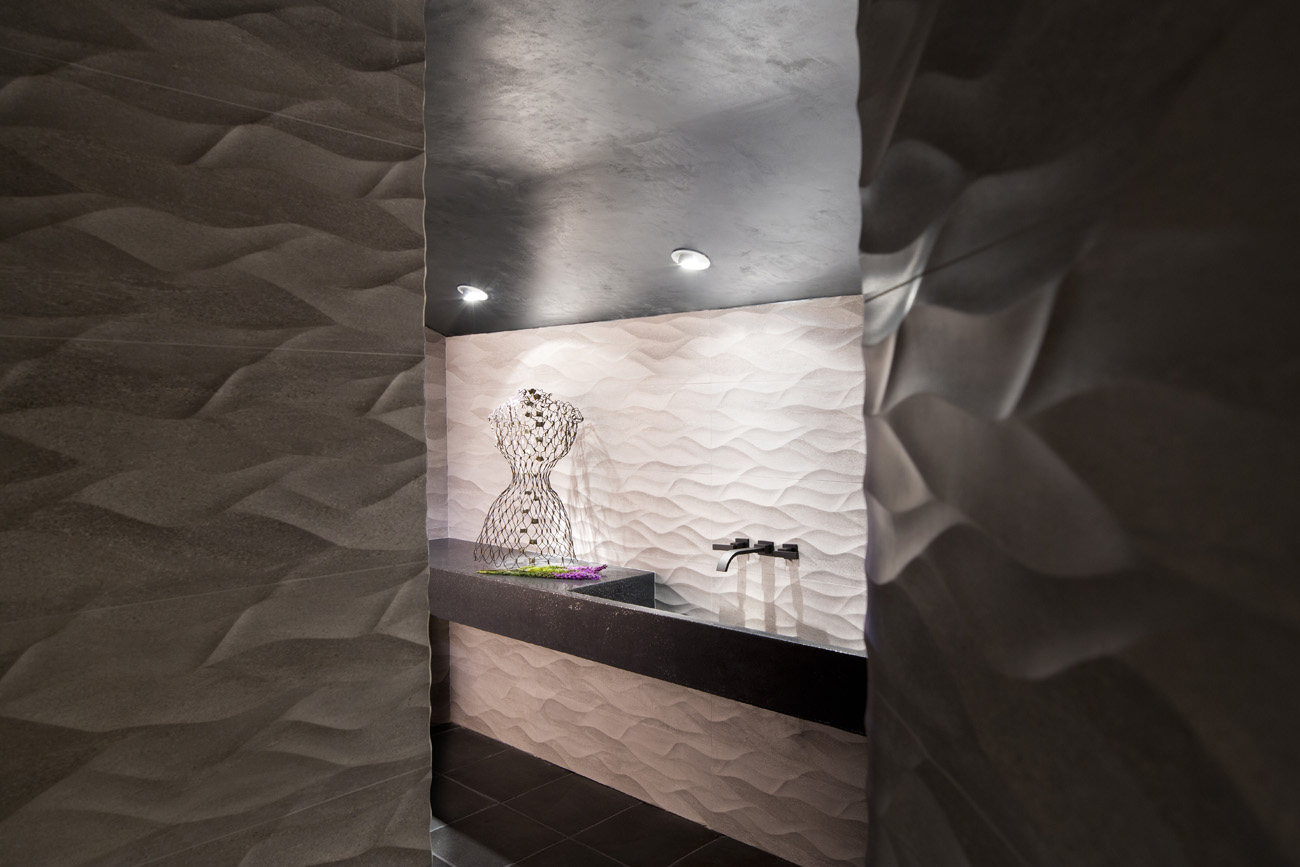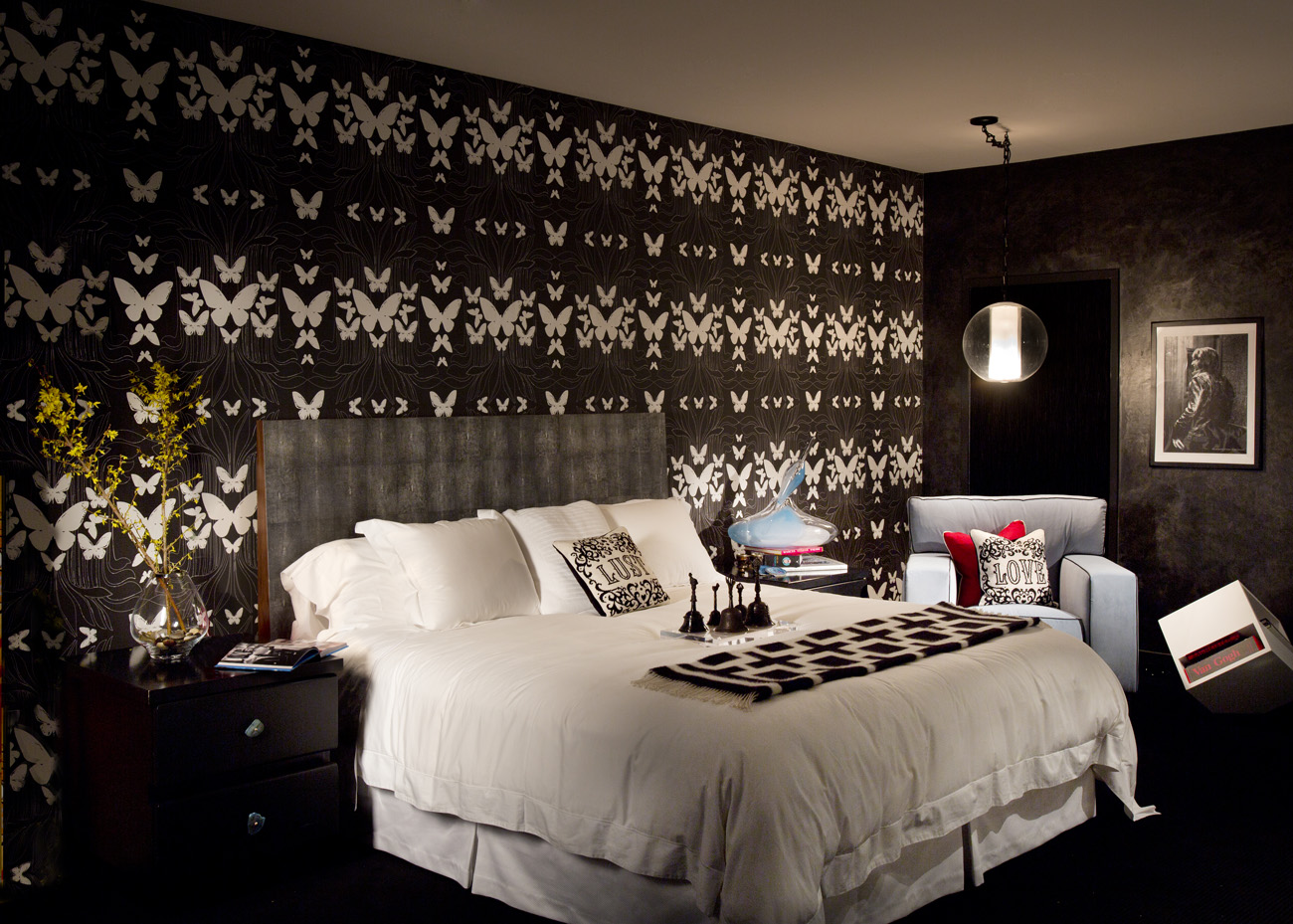 Many spaces rely on a two-tone color scheme infused with texture and patterns to add variation to the Dallas Estate designed by artistic designer Kari Whitman. "It's a huge home, but flows flawlessly," Whitman says. "The layout is fabulous, with views of the beautiful outdoors and 100-year-old trees from almost every room." Whitman used a butterfly motif in some of the property's bedrooms to add a sense of freedom to the home.
Whitman custom-designed the door for an elegant and interesting powder room. The vintage mirror was a fun find at an antique store in Paris.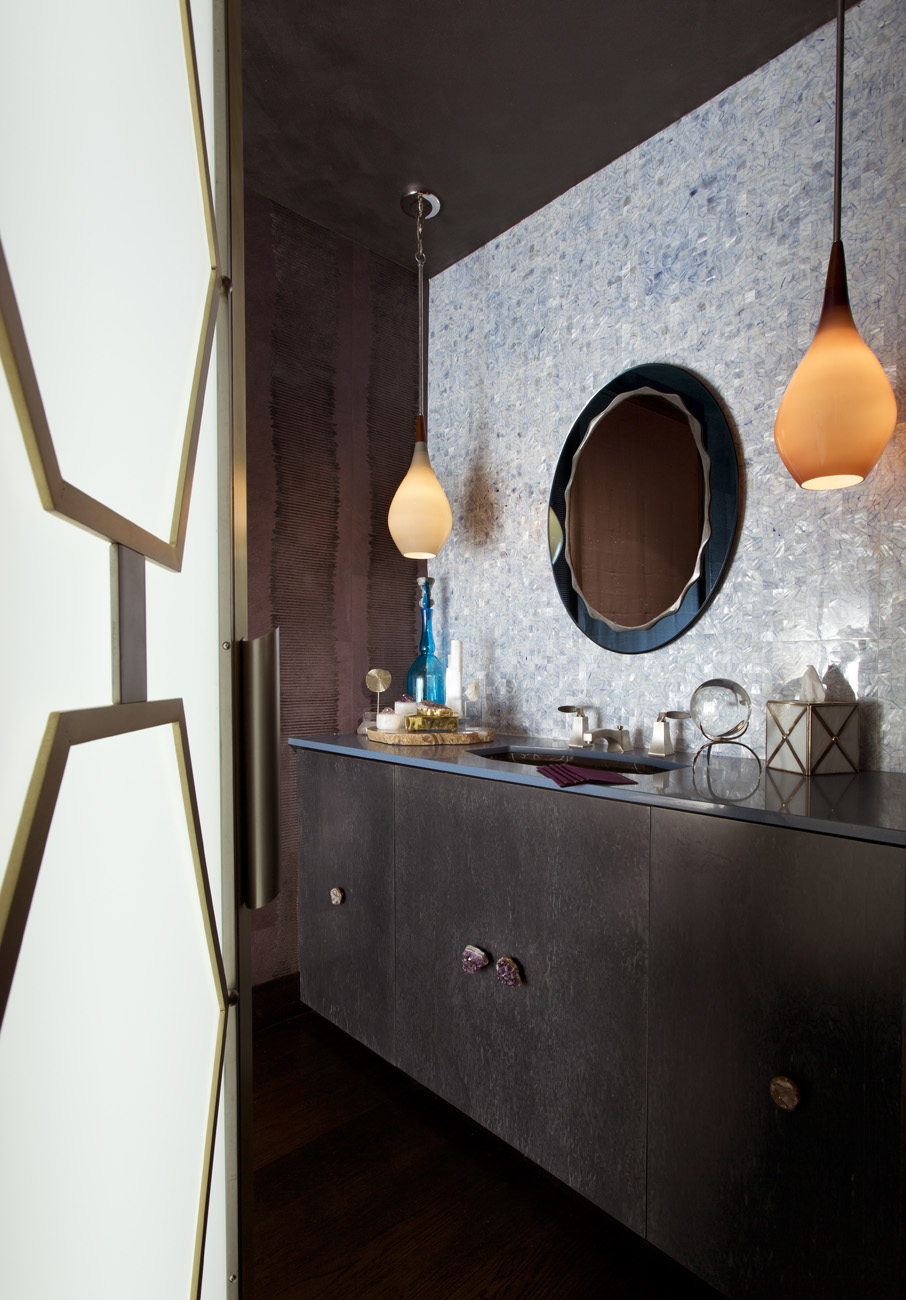 Kari Whitman added this black-and-white wallpaper to make for a bedroom that is both elegant and interesting. The plush bedding softens the space, offering the perfect mix of masculine and feminine elements. Timeless furnishings combined with pops of color, dramatic design, and varied textures add a second dimension to this cozy space. The bedroom centers around the butterfly motif which high end earth-friendly designer Kari Whitman infused to bring a facet of nature inside for a more peaceful sleep area. Ultimately, the revamped royal Dallas estate is a space that is simultaneously comfortable and elegant with lots of areas for entertaining.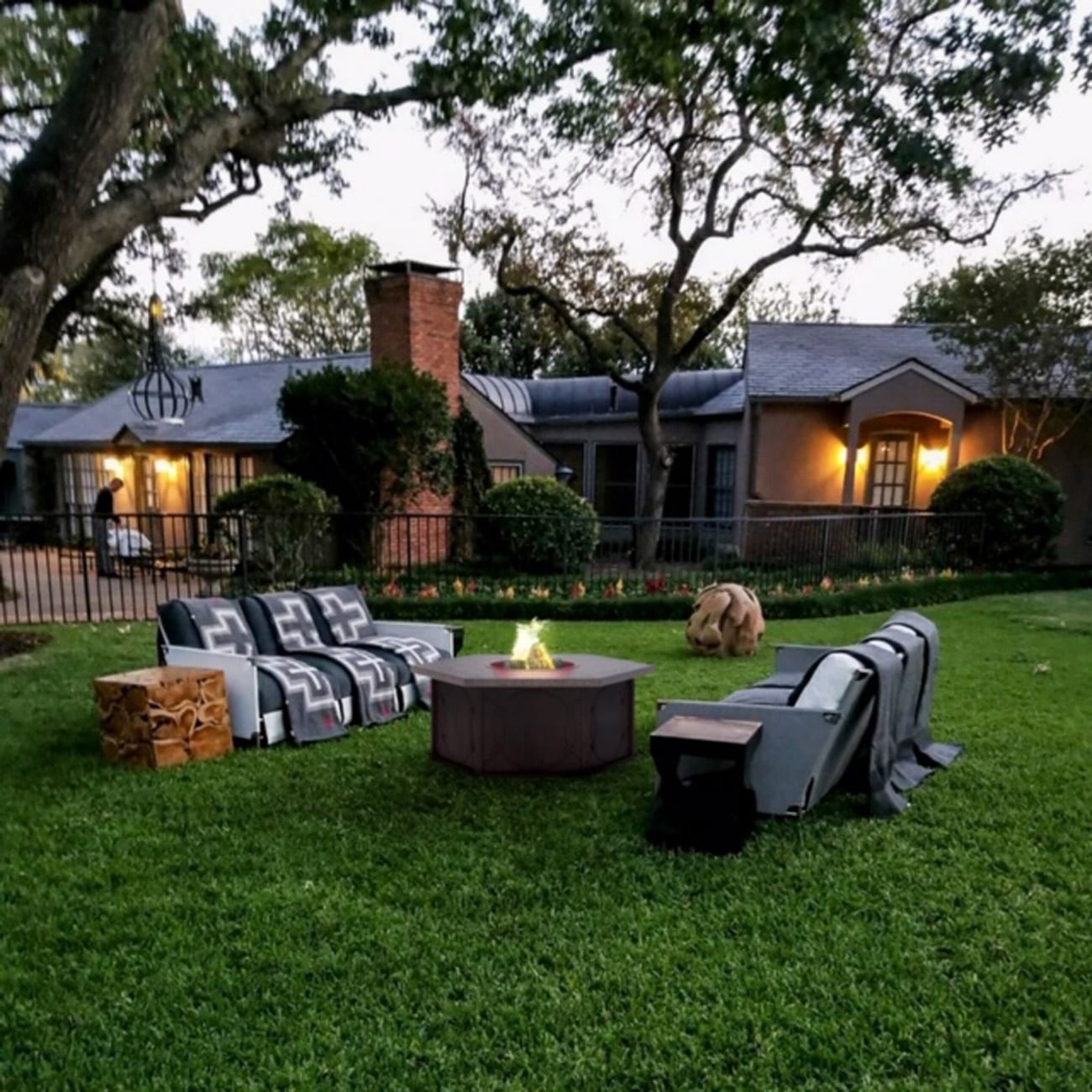 CLICK AN IMAGE BELOW TO VIEW THE FULL GALLERY