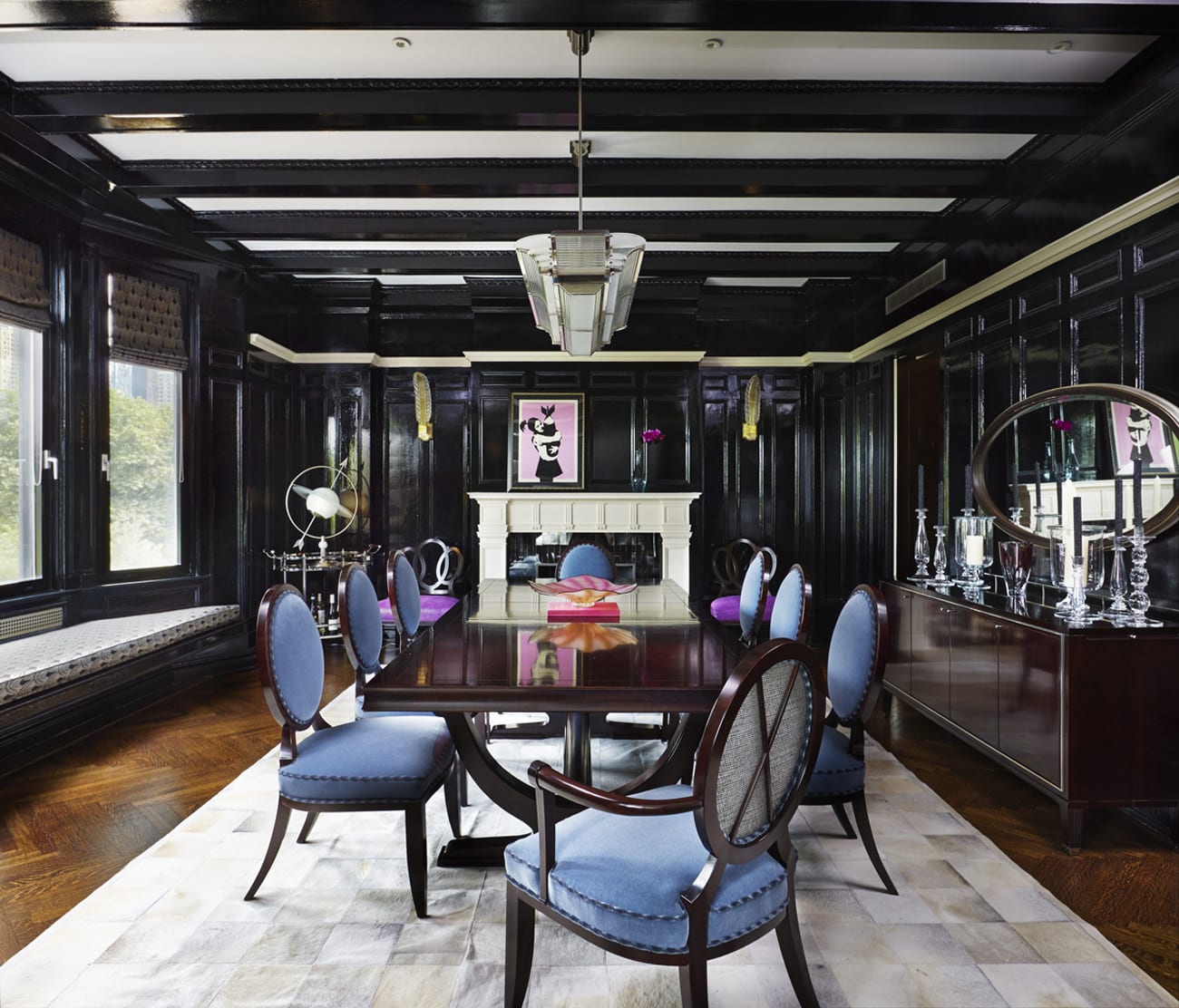 Luxury interior designer Kari Whitman updates Antonio Banderas and Melanie Griffith's historic New York City home at 50 Central Park West with an abundance of creative touches to give it fresh energy
Antonio Banderas and Melanie Griffith's enjoy their evenings in this elegant New York City Central Park West dining room designed by international interior designer. Whitman gave the space a chic, modern, but timeless feel with original art by Banksy, black lacquered walls, and mid-century lightning. Custom chairs by Baker and Baccarat crystal chandeliers also adorn the room. This is truly a one-of-a-kind New York City refuge.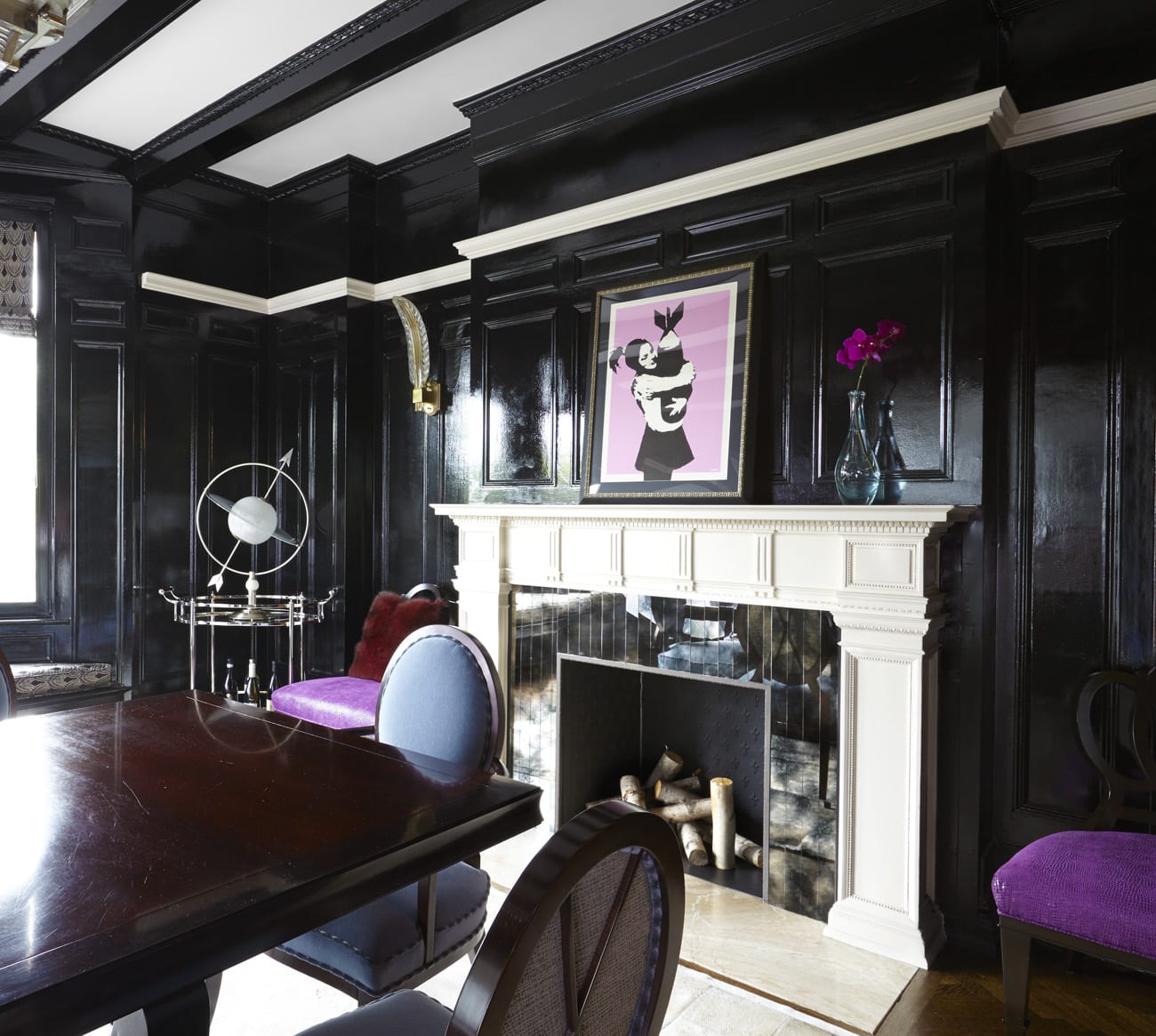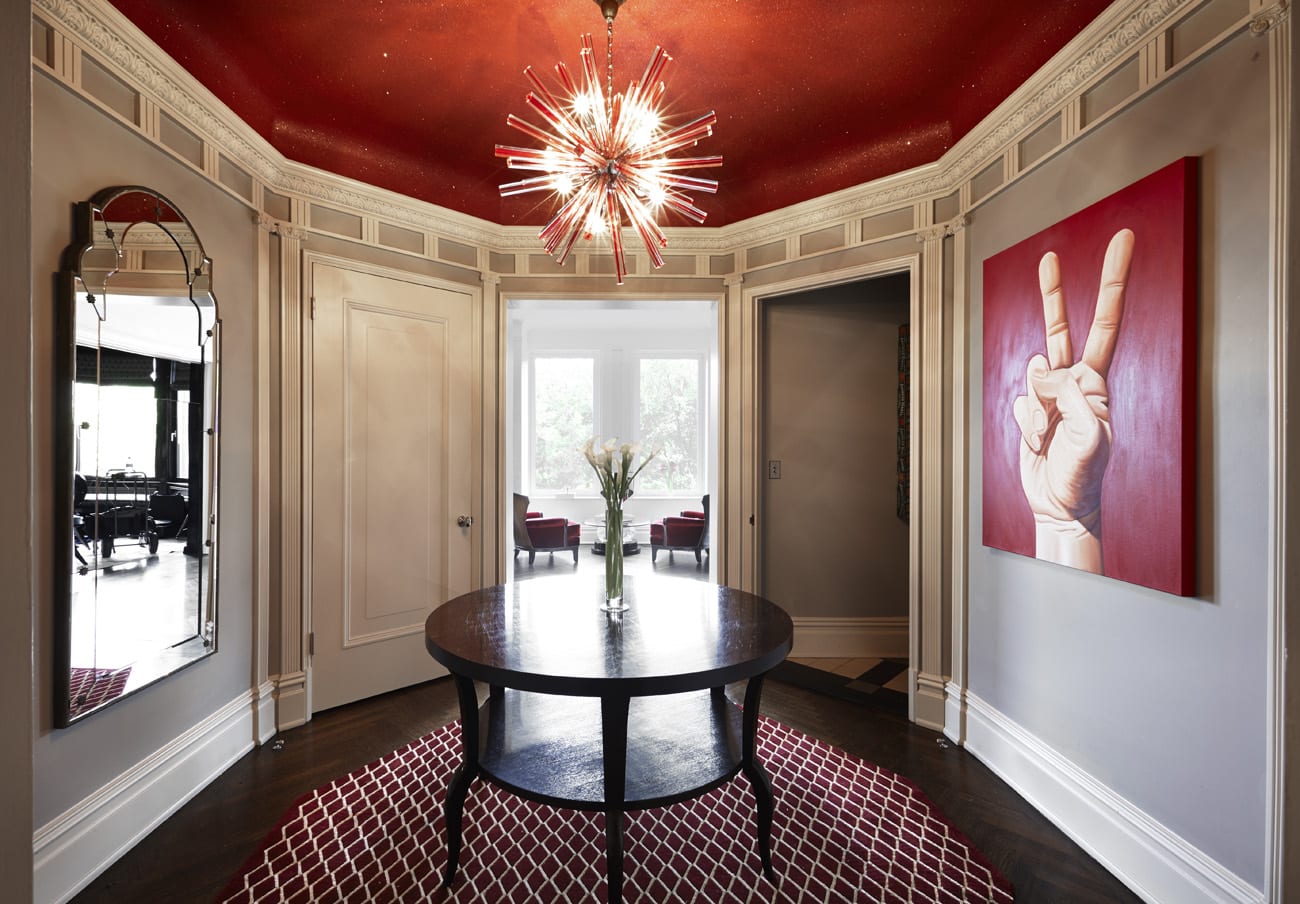 Great bones, original details, and sweeping views eliminated the need for Whitman to undertake any major remodeling. The Central Park West foyer welcomes you with a stunning chandelier from 1st Dibbs, mod art by Alwin Jackson, and beautiful carpeting by Stark Carpets. Next you enter into this bright sitting space loved by Melanie Griffith. Of the new design she says, "Kari Whitman is one of the most creative, fun interior designers around. She changed my NY apartment into a cool, elegant, yet funky beautiful place to live in. I love her style and I love her."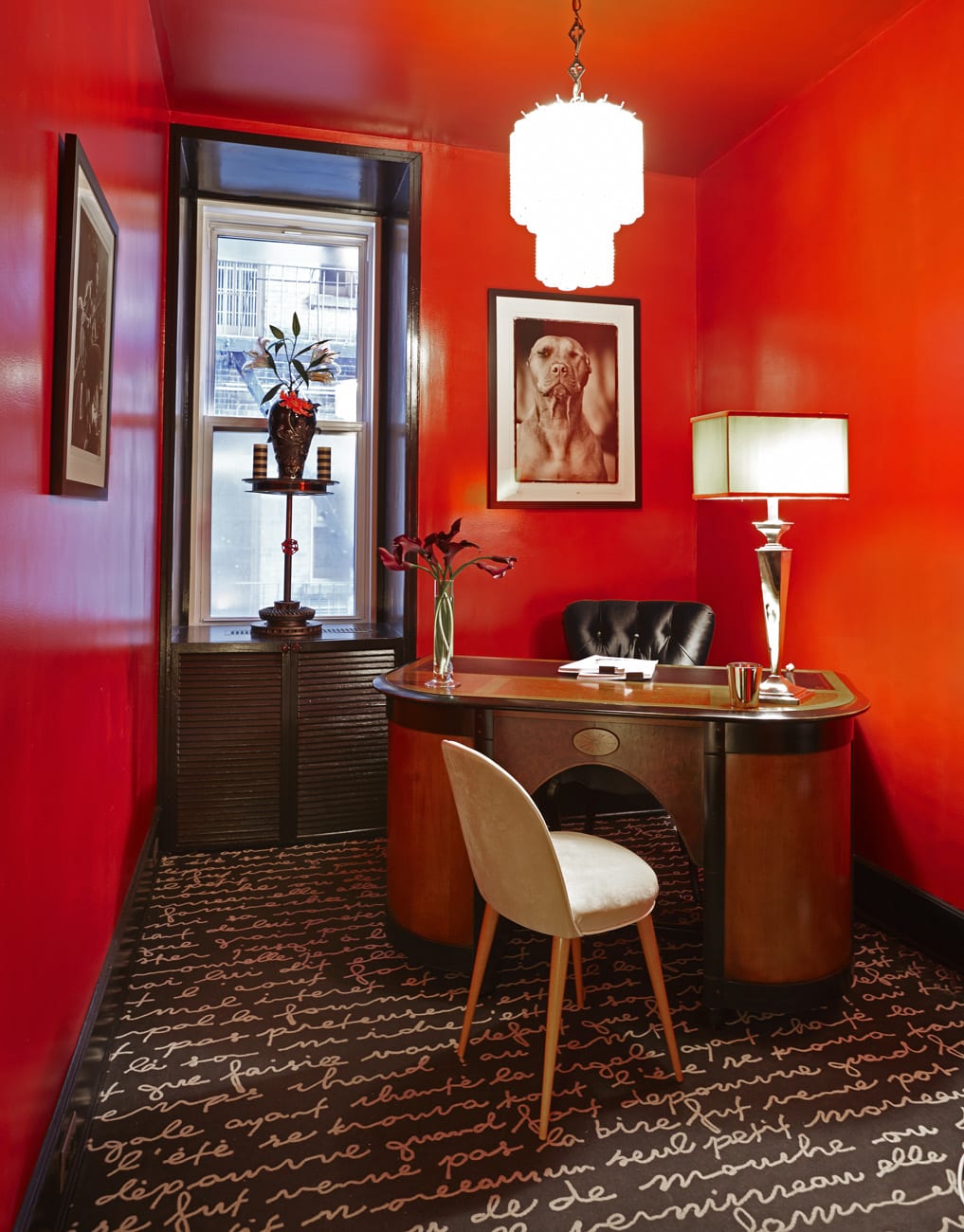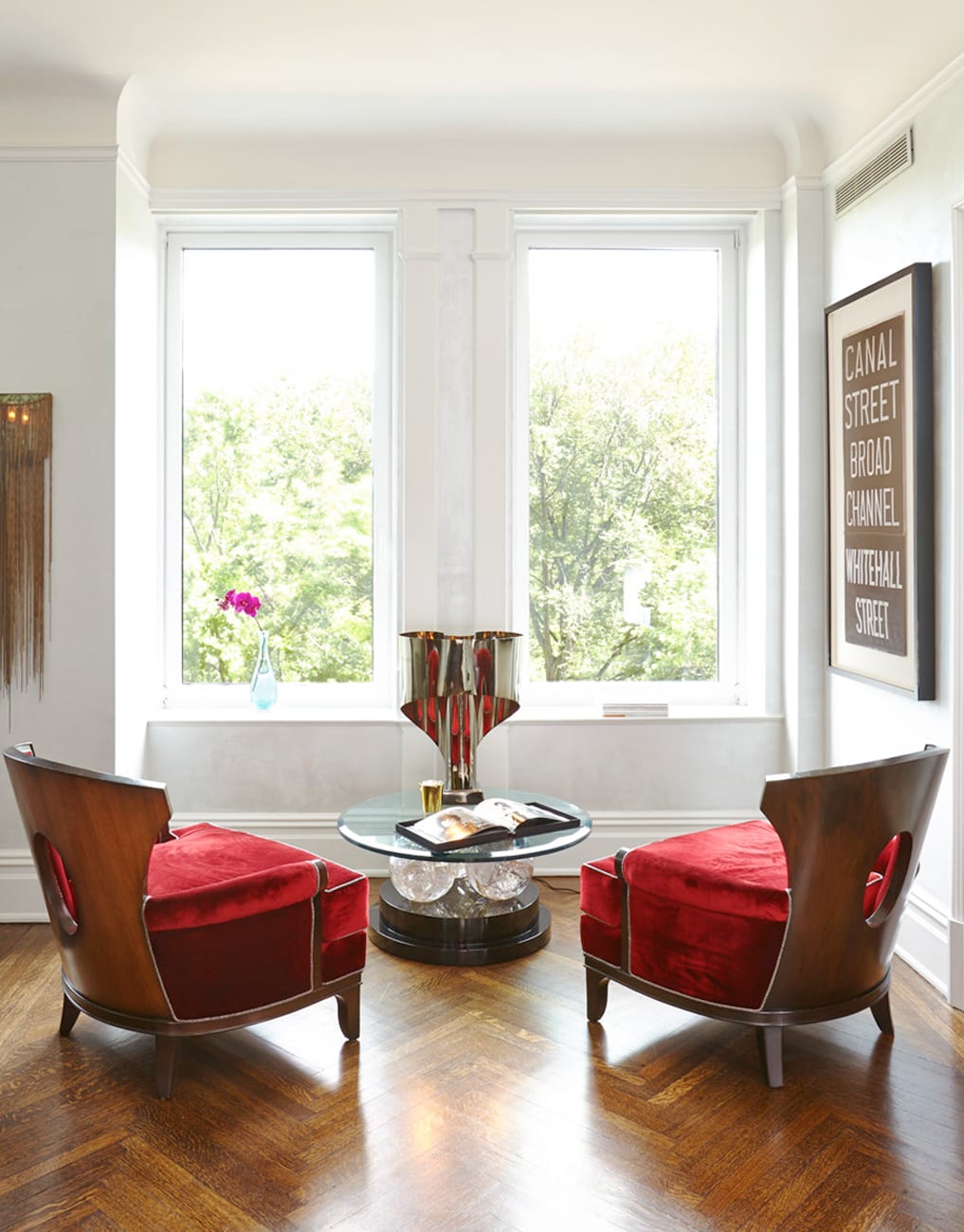 Artistic interior designer Kari Whitman and her New York City design team had so much creative freedom on this project. The 2,500 square foot home has incredible views looking over the trees and into the park across the street, conveniently located to accommodate Melanie's rescue dog Elliot (from Kari Whitman's dog rescue non-profit Ace of Hearts). The office was updated with red lacquered walls and Lerano felt carpet for a chic, modern feel.
CLICK AN IMAGE BELOW TO VIEW THE FULL GALLERY
About Kari Whitman Interiors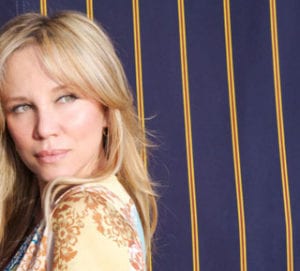 Celebrity interior designer Kari Whitman founded Kari Whitman Interiors in Los Angeles in 1994 as a design build firm specializing in high-end residential interior design. Now based in Los Angeles and Boulder, Colorado, Kari is one of Hollywood's most sought-after interior designer talents. Residential clients including Jessica Alba, Kristen Bell, Melanie Griffith and Antonio Banderas, Nikki Sixx, Justus Parmar, and Don Johnson have embraced her eclectic design style and knowledge of eco-friendly interior design. Kari's expertise also extends into commercial interior design, and projects range from condos to estate homes, boutique hotels to large-scale residential developments. As an Allied Member of the prestigious American Society for Interior Design (ASID), and a member of the Interior Design Society and the International Interior Design Association, Kari has showcased prominent design projects throughout California, New York, Denver, Colorado, Aspen, Jackson Hole, Miami, and Dallas. To spend more time in nature, Kari now operates out of her residential interior design office in Boulder, Colorado.